Germany's Angela Merkel Apologizes in Impassioned Christmas Plea to Follow COVID Rules
Chancellor Angela Merkel has pleaded with lawmakers and her fellow Germans to accept tougher coronavirus restrictions over the Christmas and New Year period.
Germany has been under a partial lockdown and social distancing rules since November 2. While stopping a growth in coronavirus cases, numbers have plateaued, leading health minister Jens Spahn to call for a "short and comprehensive" lockdown. He also wants a further shutdown in the retail sector.
Merkel has backed the recommendations made this week by the country's National Academy of Science calling for an extension to the Christmas school break and for all but essential businesses to be closed from Christmas Eve to January 10. She also opposes hotels opening over the holiday periods.
On a day when a record daily death toll of 590 people was reported, Merkel told the German parliament, the Bundestag, that restrictions over the holiday period were essential.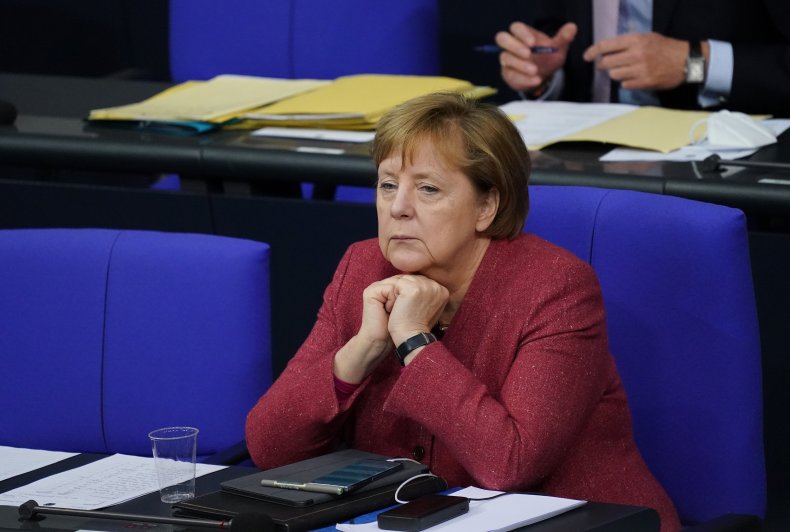 "As hard as it is and I know much love has gone into setting up the mulled wine stands and waffle stalls, this is not compatible with the agreement we made to only take food away to eat at home," she said on Wednesday.
"I'm sorry, I really am sorry from the bottom of my heart, but if the price we pay is 590 deaths a day then that is unacceptable in my view," she said to applause.
Merkel said the school holidays should start earlier, asking "What will we say when we look back on this once-in-a-century event if we weren't able to find a solution for these three days?"
"I only want to say: If we have too many contacts now in the run-up to Christmas and it ends up being the last Christmas with our grandparents then we will have done something wrong, we should not let this happen," she added, to further applause among the mainly unmasked lawmakers.
Merkel's government has faced criticism over its pandemic response and she faces resistance from the right-wing Alternative for Germany (AfD), whose co-leader in parliament, Alice Weidel called on Wednesday for an end to "counterproductive lockdowns."
Meanwhile, Christian Lindner, leader of the pro-business Free Democrats (FDP), said lockdown restrictions were ineffective, and "disproportionately undermine personal freedom."
Germany's public disease health authority The Robert Koch Institute announced that the death toll from the disease has reached 19,932, with more than 1.2 million infections.
The graphic below provided by Statista compares COVID cases in Europe with the U.S.