Merkel Comforts Crying Palestinian Asylum Seeker Facing Deportation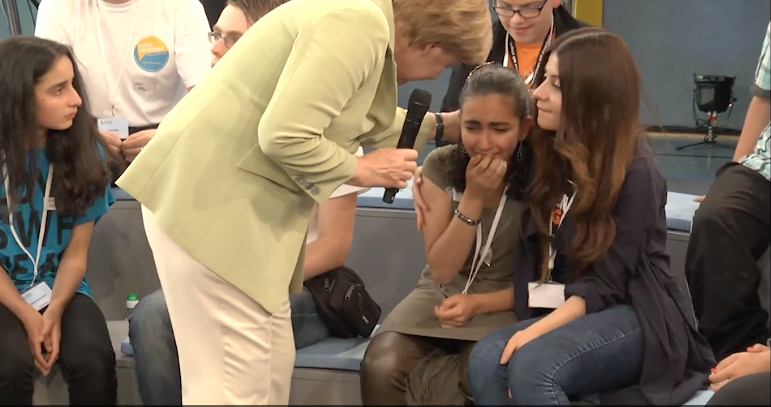 German Chancellor Angela Merkel was forced to console a teenage Palestinian asylum seeker who burst into tears after being told she could be deported in a televised meeting.
Merkel was meeting with a group of teenagers in Rostock, northern Germany, in a discussion entitled "Good life in Germany" when she was confronted by Reem, who said her family had been in Germany for four years after leaving a Lebanese refugee camp.
However, Reem said they only had a temporary right of asylum and could be deported at any time. "I have goals in life like anyone else. I want to study like them... it's very unpleasant to see how others can enjoy life, and I can't myself," the teenager said, in fluent German.
Merkel tried to be empathetic, telling the girl that she understood but that "politics is sometimes hard". The chancellor added that "there are thousands and thousands more in the Palestinian refugee camps in Lebanon" and that Germany could not cope with welcoming them all.
As Merkel continued speaking, the girl began to cry and the chancellor, obviously moved, went to comfort her by placing a hand on her shoulder and stroking her arm. "You were great ... I know it's difficult for you and you presented extremely well the situation that many others find themselves in," Merkel told the girl.
Germany has received an exceptionally high number of asylum applications this year. Almost 180,000 people have claimed asylum in the country already this year, with many coming from Syria, Iraq and Afghanistan. Officials expect the number of applications to rise to 450,000 by the end of the year.
Last year, Germany received more than 200,000 applications, a 160% increase on 2012 and six times more applications than the UK.
The incident caused a storm on social media, with the hashtag #MerkelStreichelt ('Merkel strokes') trending on Twitter shortly after it became public.
Merkel had another controversial televised moment earlier this week when she was interviewed by German YouTube star Lefloid, who has more than 2.6 million subscribers.
The interview, which covered a range of topics, touched on same-sex marriage, a controversial issue in Germany and within Merkel's governing party, the Christian Democratic Union (CDU).
Merkel said that she backed equal benefits for same-sex couples, including tax breaks, and wanted to eliminate discrimination towards homosexual couples.
However, she added that her personal view was that "marriage is the coexistence between a man and a woman". The CDU has previously said that legalising same-sex marriage in Germany, which recognises civil partnership, is not a goal of the governing party.
Jens Spahn, a CDU member of the Bundestag who serves in Merkel's cabinet, told Newsweek that, despite the chancellor's comments, he saw marriage equality as "the final logical step" in Germany.
"What gays and lesbians want is precisely what is important to us in the CDU: trust and commitment," Spahn said.
"We need to make clear to those who have doubts that same-sex marriage will not lead to fewer heterosexual marriages, nor will fewer children be born. Ultimately, this development strengthens the institution of marriage."