German Chancellor Angela Merkel slammed "protectionism" and "trade conflicts" during her Thursday commencement address to alumni of Harvard University, in what appeared to be an overt dig at President Donald Trump's hardline trade policies.
"You are among those who will lead us into the future," Merkel said in her address to this year's graduates as well as former Harvard alumni in attendance. "Protectionism and trade conflicts jeopardize free international trade and thus the very foundations of our prosperity," she warned.
The Chancellor took aim at nationalist and isolationist sentiments, which have been expressed by Trump as well as many right-wing groups across Europe. "If we want to go it alone. We could not achieve much," she said. "Our way of thinking and our actions have to be multilateral rather than unilateral, global rather than national, outward looking rather than isolationist."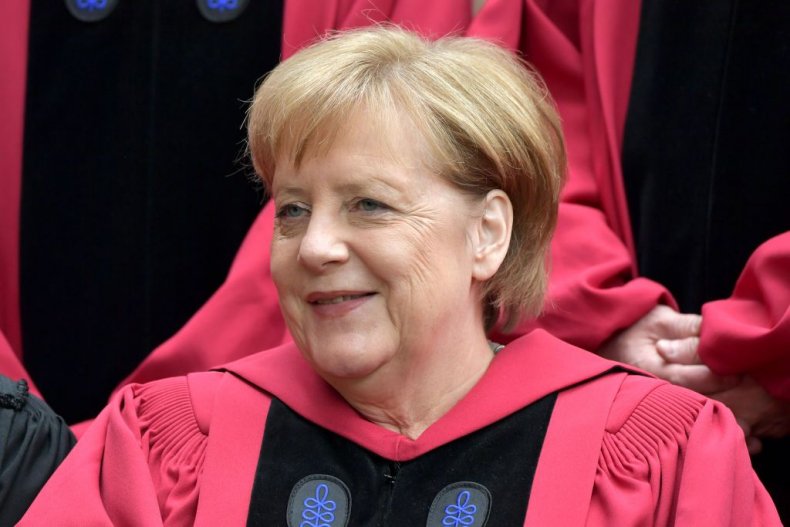 "In short, we have to work together rather than alone," she said.
Trump's trade policies, as well as other so-called "America first" positions, have become a source of major tensions between the U.S. and Europe. Despite the historically close relationship between Western Europe and the U.S., Trump and European leaders have sparred publicly over several international disagreements.
Merkel also criticized "walls" throughout her address, pointing out that her own life had been profoundly impacted by the Berlin Wall, which divided the present-day German capital while part of the country remained under Communist rule during the era of the Soviet Union. The chancellor grew up in Communist East Germany, and explained how she daily saw the physical wall separating her from freedom and democracy as a young college student.
Later in her speech, she against returned to discourage those in attendance from constructing physical and mental walls in their lives and within society. "Walls of narrow-mindedness and ignorance, they exist between family members, as well as between groups within the society," she warned. But Merkel optimistically added that "walls can collapse," arguing that even the world's greatest challenges can be overcome if people work together.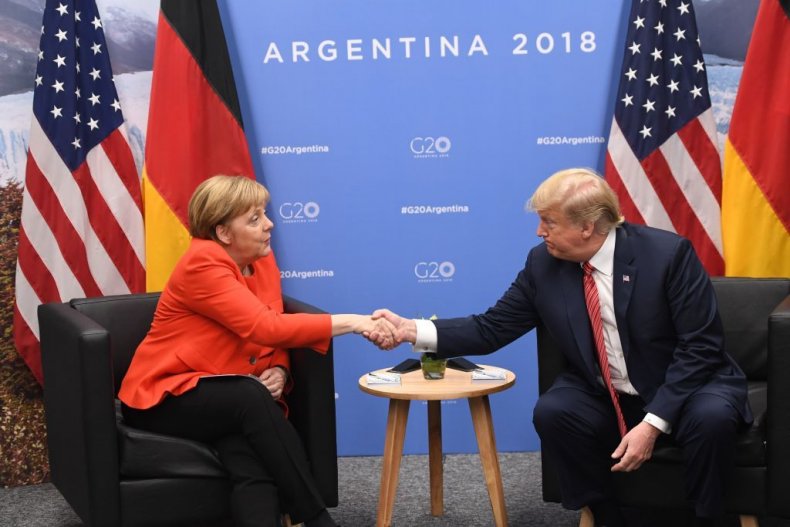 Trump campaigned on building a wall along the southern border of the U.S. with Mexico. Although the president has failed to secure funding for the enormously costly project from Congress, which critics have argued would be ineffective at curbing undocumented immigration or the flow of drugs, he has declared a national emergency in an attempt to reallocate funds already approved by lawmakers. His attempt to use the money to build the wall has faced legal challenges and strong criticism from Democrats and Republicans alike, as many see the effort to be unconstitutional.
Many attending Merkel's Thursday address stood and applauded as the chancellor discussed the importance of "truth." Explaining that working together can help society find "good answers even to difficult questions," Merkel said it's important to "take a moment to stop, be still, think, pause" instead of making "a snap decision." Pointing out that Harvard was the perfect setting for individuals to begin doing just that, she said "that requires us not to describe lies as truth and truth as lies." According to The Washington Post, Trump has made well over 10,000 false or misleading claims since taking office.
Merkel was one of several individuals to be granted an honorary degree by Harvard during the prestigious university's 368th commencement ceremony this week. The 64-year-old politician has served as chancellor of Germany since 2005, but has announced her plan to step down by 2021. In a recent interview with CNN's Christiane Amanpour, Merkel acknowledged that she has conflicts with Trump but said: "It's certainly always a challenge to debate, but I very happily take on this challenge."