Merkel Invites Greek PM to Berlin as Tensions Simmer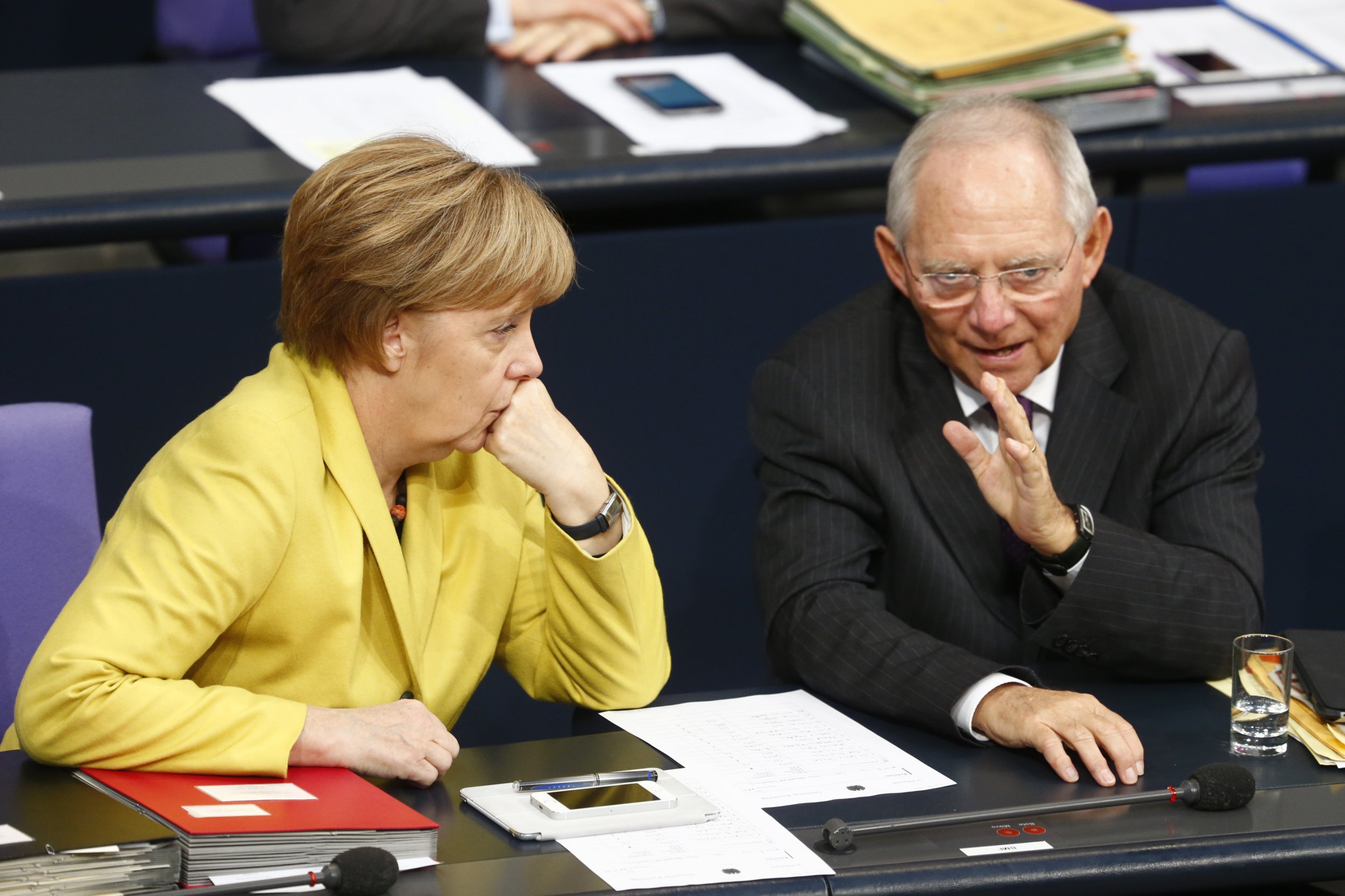 German Chancellor Angela Merkel has invited Greek Prime Minister Alexis Tsipras to Berlin for talks next week but tensions simmered as Germany's finance minister accused the new Athens government of destroying all trust in Greece.
The hardline comments from Wolfgang Schaeuble laid bear the fraying relations between the two countries, with Tsipras struggling to find any EU allies in his push to end austerity in Greece and renegotiate the terms of a mammoth bailout program.
Merkel spoke to Tsipras by phone on Monday and invited him to Germany for talks on March 23, their respective offices said.
They will face a difficult task in trying to smooth ties after a tumultuous few weeks.Germany is clearly alarmed at the prospect of Greece not honoring past financial pledges and triggering a crisis that could force it out of the euro zone.
"They have destroyed all trust once again," Schaeuble told a panel discussion in Berlin on Monday, saying he had no clue as to how Athens intended to solve its problems. "Among my colleagues at the international institutions I can find no one who can tell me how that might actually work," he said.
Highlighting a persistent problem that has exasperated officials, Greece announced a large revision of its 2014 budget surplus on Monday, saying it came in at just 0.3 percent of output compared with a previous estimate of 1.5 percent.
The unexpectedly low figure means Greece looks set to miss a key target of its bailout program.
Although Greece secured in February a four-month extension to its bailout, the accord did not give Athens access to funds already pledged to it from the euro zone and the International Monetary Fund, leaving it facing a cash crunch.
NO DEBT RELIEF
To obtain that money, it must agree on economic reforms with its creditors, but discussions have got off to a slow start and EU officials have expressed dismay at the sluggish progress.
"Whatever obstacles we may encounter in our negotiating effort, we will not return to the policies of austerity," Tsipras told daily Ethnos in an interview published on Monday, blaming budget rigor for Greece's record high unemployment.
Presenting a united front with Germany, the EU financial affairs chief Pierre Moscovici said on Monday that Greece could not expect to see any of its loans written off.
"Debt has to be repaid, that's clear. Debt cannot be wiped out. There will be no haircut, no debt relief," Moscovici said in Berlin, urging Greece to implement economic reforms.
Asked whether he had an alternative plan if his partners continued to refuse Greece leeway, Tsipras said he was confident the matter would be settled this week ahead of a European Union summit in Brussels on March 19-20.
"I don't believe we will need to apply alternative plans because the issue will be solved at a political level by the end of the week in the run up to the EU summit, or, if necessary, at the EU summit (itself)," he told the paper.
Hinting at a possible compromise, Greek Finance Minister Yanis Varoufakis said on Friday the government was prepared to delay some promised anti-austerity measures to win EU backing.
Asked whether such a delay was possible, Tsipras said: "This program has a four-year time span, and will be implemented fully. The way in which we spread out our work over time depends to a certain extent on the course of the negotiations."
Tsipras has already traveled to Cyprus, Rome, Paris and Brussels to see various leaders, but his meeting with Merkel in Germany, Europe's economic powerhouse, might prove decisive.
His leftist government has clashed repeatedly with Germany since winning election in January, and Tsipras himself angered Berlin last week by accusing previous German governments of using "legal tricks" to avoid paying World War Two reparations.
Varoufakis tangled yet again with Berlin on Monday after German television aired a 2013 video purportedly showing him making a rude gesture towards Germany. He said the video was fake, but a senior German politician said he was lying.