Merkel, Isolated and Under Pressure, Needs American Help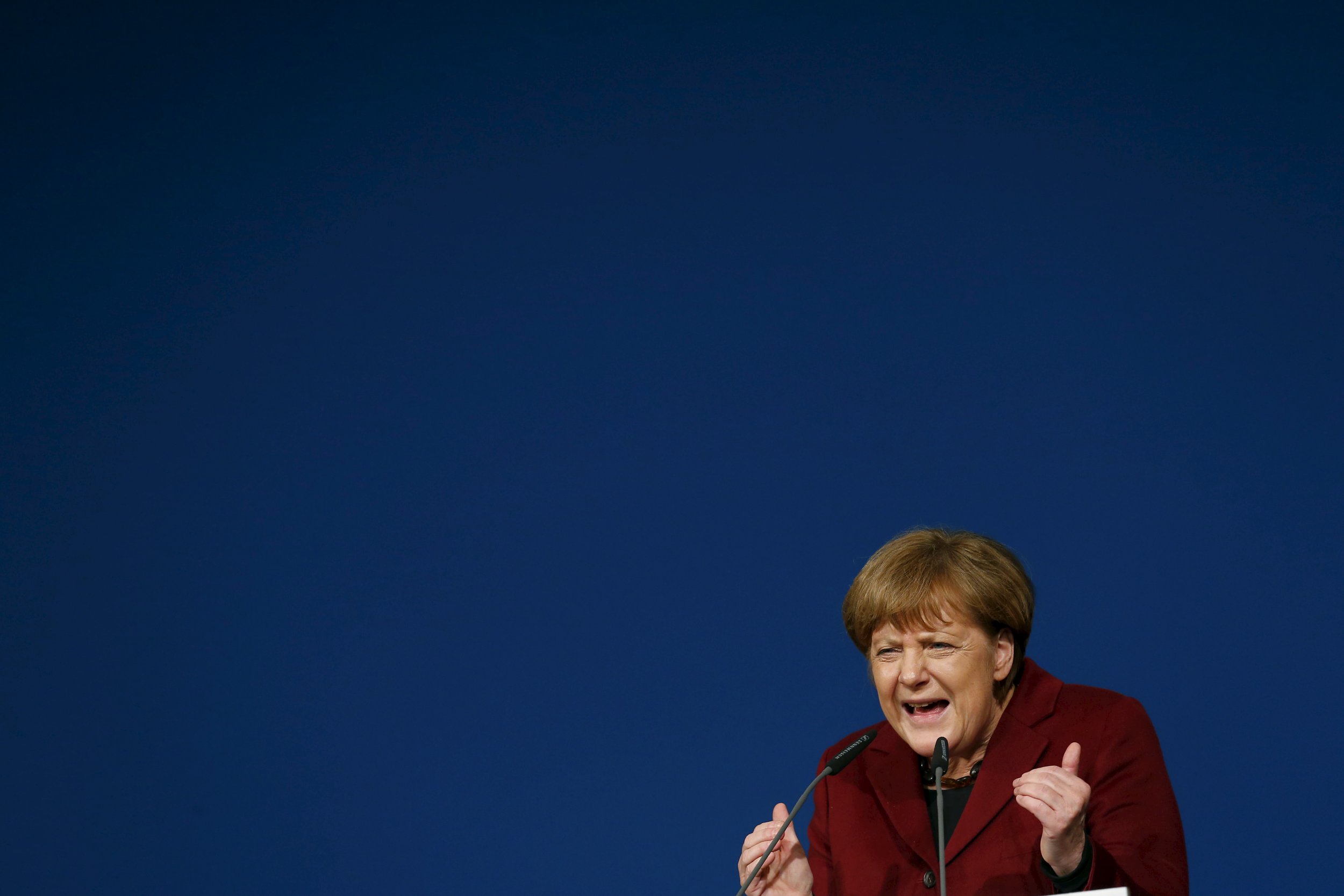 U.S. deference to Berlin on European matters has forced German Chancellor Angela Merkel to step up as Europe's leader. But she clearly needs U.S. help to get the continent through a series of historic crises.
In 1989, George H.W. Bush, addressing a then-divided Germany from the city of Mainz, called for Germany and the United States to act together as "partners in leadership." With the Cold War coming to an end, Washington saw the potential in a new, soon-to-be reunited Germany to become the United States' leading partner on the global stage. The Germans demurred, neither yet comfortable nor perhaps capable of assuming a position of leadership alongside the U.S.
Today, Berlin has been forced to take up this offer.
Barack Obama has revived Bush's offer to Germany in his own way by scaling back the U.S. role in Europe. There has been an explicit U.S. effort to empower and ensure Germany steps up to lead Europe, alleviating some of the burden on Washington. Indeed, in the White House today, the first question often asked about any European issue is, "What does the chancellor want?"
Obama's posture has required Merkel to occupy center stage during an unexpected series of crises. But for her leadership, the Union would neither have weathered the worst of the Euro crisis, nor would Greece have remained in the Eurozone. The European Union would neither have adopted tough sectoral sanctions against Russia following its invasion of Ukraine, nor renewed them in the face of growing dissent within the Union.
On a recent visit to Germany, in the wake of the Munich Security Conference, it was clear to me that Germans, or at least those who work around the chancellor, now understand that they are in charge. While the public remains ambivalent about this role, Berlin's leaders know they must help Europe find solutions or none will be found. They no longer instinctively turn to Washington on most issues.
And yet it's not clear Merkel can succeed without help in the latest crisis facing Europe. Today we are witnessing the worst humanitarian catastrophe impacting Europe since the end of World War II.
Leading from a place of conviction, Merkel has ensured that Germany maintains a welcoming posture. As a result, more than a million migrants arrived in Germany last year. But Merkel is virtually alone in the European Council as other nations—except for Sweden—have rejected accepting large numbers of migrants.
Now isolated, she is vulnerable.
The chancellor is still the dominant actor both in her party and her country. Most Germans say no one is ready to take her place, in part because she has sidelined potential successors. But her personal approval rating has dropped from 75 percent in April last year to 46 percent at the start of this year.
Merkel has long been considered too moderate by many within her conservative party, but party loyalists have embraced her because she delivers votes. If that calculus begins to change, her position could weaken rapidly. A rocky Brexit debate, another Euro crisis and a surge in migrants as the weather warms could also dramatically change the equation.
Germany is heading into three bellwether Länder elections this spring. For the German electorate, the clock is ticking to bring order to chaos.
This is where the United States comes in. Washington is already taking the lead, reluctantly but decisively, on bolstering the NATO alliance in response to Russian President Vladimir Putin's invasion of Ukraine and his aggressive posture toward NATO's eastern flank. But we have avoided such a catalytic role on the migration crisis.
Obama's visit to Germany this spring offers an opportunity to reposition the United States into its traditional role as a facilitator of European unity. The president could join the chancellor as her "partner in leadership" by helping to organize a response to the migrant crisis. It's not enough to help pay the bills, as we are generously doing.
Washington should join Berlin to organize a major initiative with Ankara and Athens that restores the EU's external borders, prevents the flow of migrants across the Aegean, provides generous support for refugees in Syria's neighbors and begins to organize orderly repatriations.
Only by demonstrating some control of the current chaotic situation will Germans be able to retain their humanitarian impulse. Otherwise, things could turn ugly.
As part of this initiative, the president should work with Congress to change the terms of the U.S. debate on this issue and dramatically increase the number of migrants from the Middle East that the U.S. will accept.
George H.W. Bush was a unified Germany's strongest backer. But he could not quite count on Germany to be the "partner in leadership" he envisioned. Merkel, albeit cautiously, is finally prepared to lead. Yet too often she stands alone. Washington is deferring to her, rather than offering her a true partnership in leadership.
The Obama administration's posture toward Europe, and the migration crisis, might make sense in a benign environment. Today, however, Europe faces a confluence of crises. And while the chancellor is central, American leadership and engagement may just determine whether she succeeds and the European Union holds.
Damon M. Wilson is executive vice president for programs and strategy of the Atlantic Council.