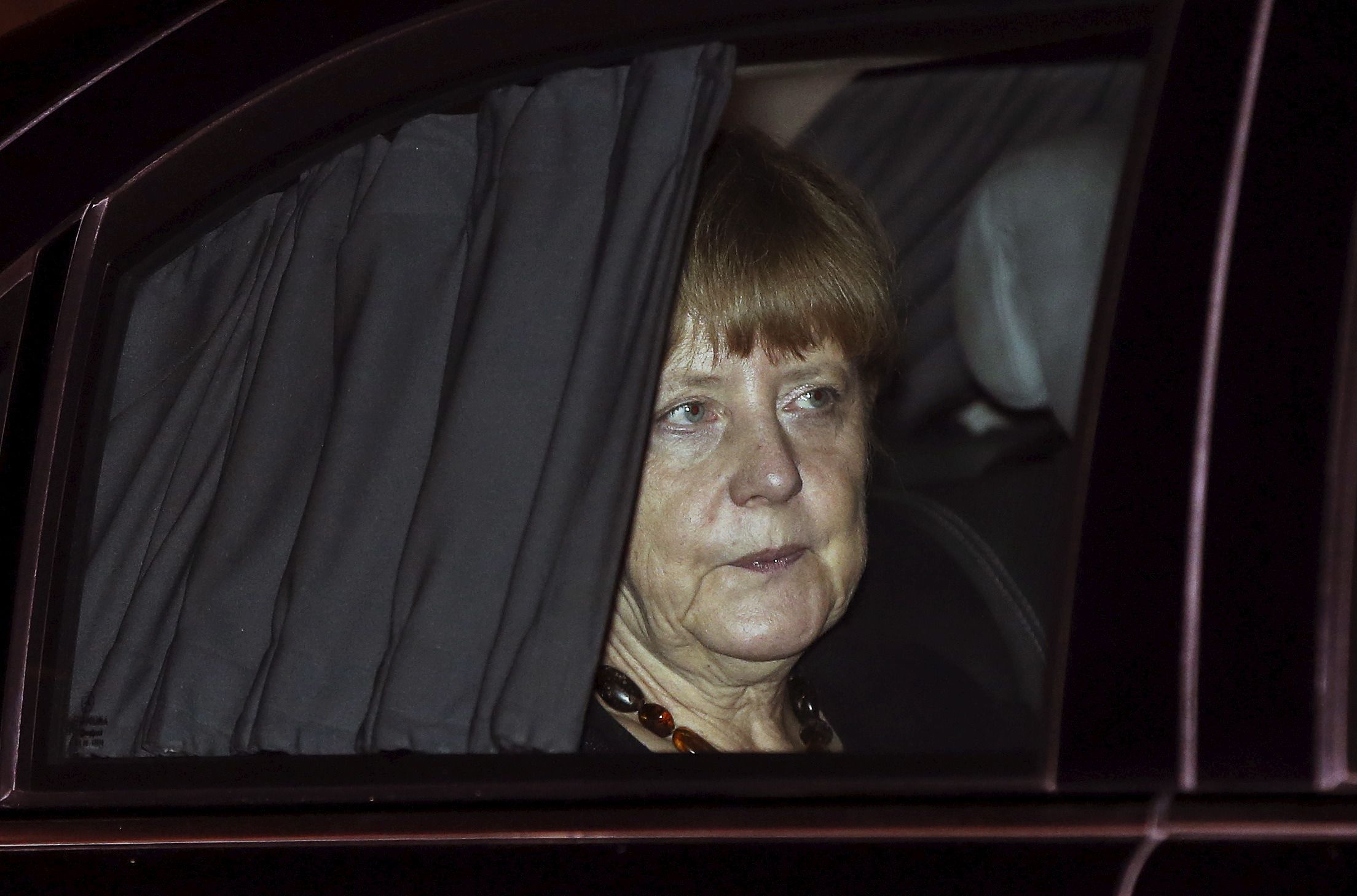 This article first appeared on the Carnegie Council Europe site.
As German Chancellor Angela Merkel began her official visit to India on October 5, she left behind a growing chorus of criticism from her conservative bloc and the Social Democratic Party of Germany, her coalition partners.
Both sides are now speaking out about the mounting pressures faced by local and regional authorities in coping with the tens of thousands of refugees who have arrived in Germany in recent weeks.
In September alone, more than 200,000 people sought refuge in Germany. If the numbers continue at that pace, it would mean that about 1.5 million would arrive in the country by the end of this year.
The strains are beginning to show.
Merkel's once unassailable popularity is being dented as recent opinion polls confirm. Her approval ratings have fallen 9 percentage points to 54 percent—yet still formidable for a leader who has been in power for a decade.
The main criticism leveled against Merkel is her unilateral decision in September to throw open the country's doors to refugees. That decision let Germany's EU partners off the hook.
Now, Germany in particular and the EU in general are seeking ways to stem the flow of refugees by tightening the EU's external borders and establishing large reception centers in Turkey. As it is, Jordan, Lebanon and Turkey have taken in more than 3.5 million refugees fleeing the war in Syria and have little remaining capacity to take in any more people.
There is now a new dimension complicating the refugee crisis—and challenging Merkel's leadership, both domestically and in Europe. It is President Vladimir Putin's decision to intervene in Syria in order to shore up President Bashir al-Assad's regime.
Putin initially said that Russia would be bombing so-called Islamic State targets. Russia is now targeting "terrorists." In practice, this means bombing opposition forces fighting against Assad whom Putin is determined to defend—and keep in power.
Russia's intervention in Syria has serious implications for Europe. It will lead to even more refugees trying to escape the bombing. Despite efforts to tighten EU borders, many refugees will try to reach Europe. Populist parties and movements across Europe are having a field day. They are gaining ground at the expense of established parties.
These same populist parties and movements have a certain empathy with Putin and indeed Putin sees these parties as useful pawns. Their Eurosceptic and xenophobic policies have the potential to weaken and divide Europe precisely at a time when Europe needs a strong foreign security and defense strategy. Anything that can weaken Europe is to Putin's advantage.
Just as important, anything that can weaken Merkel's commanding positions in Germany and in Europe benefits Putin.
After all, thanks to Merkel, the 28 EU member states held together and imposed sanctions on Russia for its illegal annexation of Crimea in March 2014 and its invasion of Eastern Ukraine.
And again under Merkel's leadership, the EU held together over Greece's chronic economic and financial crisis.
Merkel is also overseeing the Minsk accords, aimed at ending the fighting in Eastern Ukraine. For the first time in many months a ceasefire seems to be holding.
But Merkel is in no rush for the EU to lift the sanctions. "When we look at the provisions of Minsk, nothing has been respected 100 percent," she said after talks in Paris on October with her French, Russian and Ukrainian counterparts.
In short, Merkel has set the agenda over sanctions, over Greece's economic crisis, and implementing the Minsk accord. No wonder a weakened Merkel would suit Putin.
Merkel has now added the refugee issue to this complicated in-tray.
The refugee crisis is the most complex of the crises on Merkel's plate because it is the most visible. Unlike Greece's economic woes, Russia's meddling in Eastern Ukraine, the EU's sanctions on Russia, and the Minsk accords, the refugee challenge is visible for every German to see.
And because it is going to be an immense effort to prepare the infrastructure to care for these refugees, to integrate them, and for Berlin to establish once and for all an asylum and immigration policy, Merkel is going to need all the public and political support she can muster.
"We stand before our new tasks, the scale and scope of which we do not yet know," Merkel said in a recent radio interview with Deutschlandfunk. What she does know is that failure is not an option for her leadership and, for that matter, for Europe.
Judy Dempsey is a nonresident senior associate at Carnegie Europe and editor in chief of Strategic Europe.