Merkel: Trump 'Even Made a Contribution' on Climate Change Discussion At G20 Summit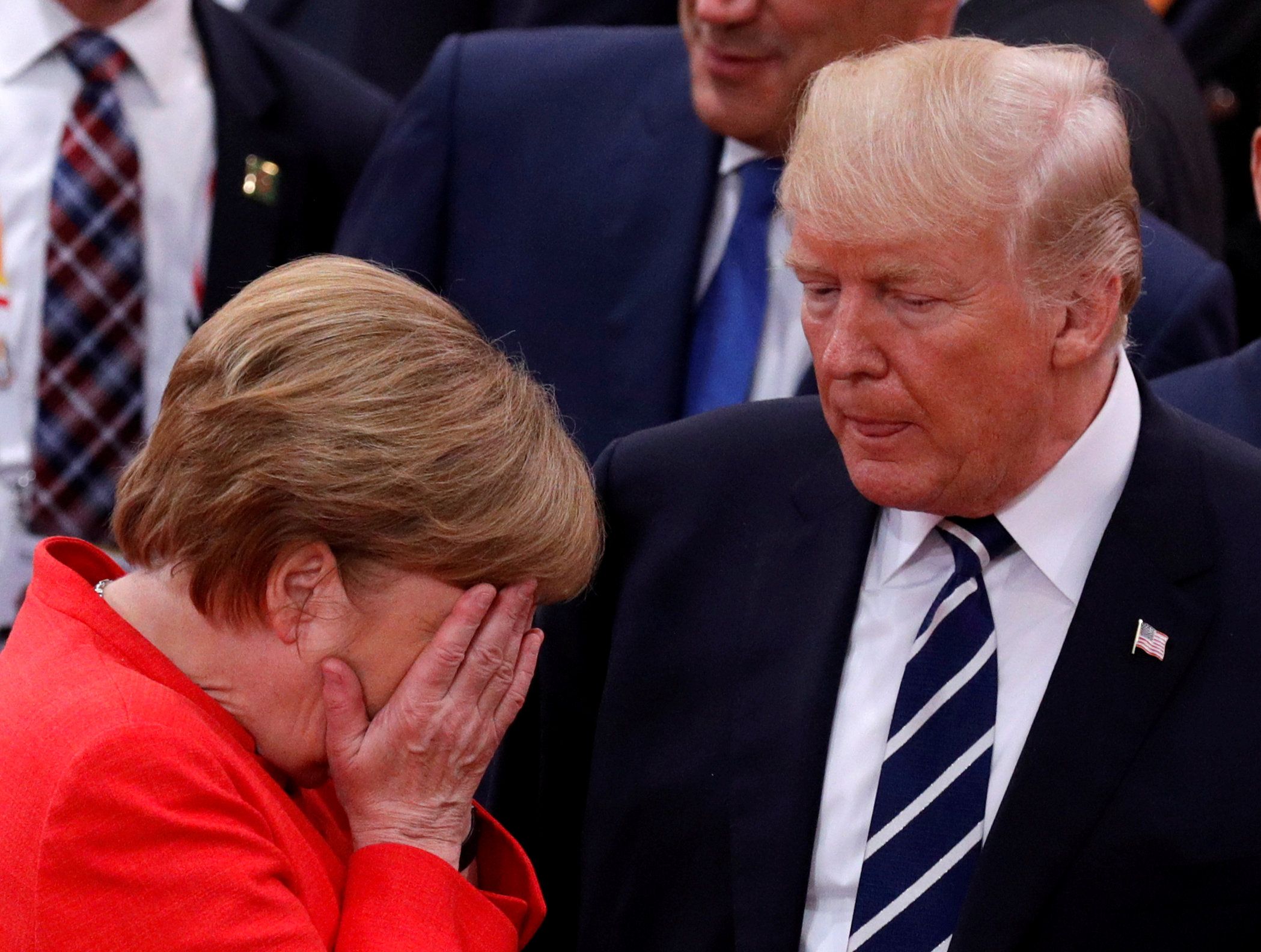 Even when seemingly attempting to compliment President Donald Trump Friday, German Chancellor Angela Merkel couldn't help but sound like she was damning the president with faint praise. Following a session at the G20 summit in Hamburg, Merkel told reporters that Trump not only participated in it but "even made a contribution," according to CNN.
Related: In G20 Photo, Trump Couldn't Shove His Way to the Front And Center of World Leaders
Trump, of course earned the ire of much of the rest of the world, including Merkel, when he announced that he was pulling the United States out of the Paris climate accord last month. In doing so, the U.S. joined just two other countries not signed up to the historic global agreement to tackle climate change.
Immediately following the announcement, Merkel was one of a number of world leaders to criticize the move.
"The decision of the U.S. President to withdraw from the Paris climate agreement is extremely regrettable, and I'm expressing myself in very restrained terms," she said.
That was not the only example of Merkel being unafraid to lock horns with the U.S. president. Following Trump's first visit to Europe as president in May, Merkel stated that the era of Europe being able to depend on the U.S. was over. During his visit, Trump notably failed to pledge U.S. commitment to NATO's Article 5 on the principle of common defense.
"The times in which we could completely depend on others are, to a certain extent, over," she said at a rally in Munich. "I've experienced that in the last few days. We Europeans truly have to take our fate into our own hands."
Merkel has been particularly firm on the issue of climate change, pledging to forge on, even without U.S. involvement.
"Since the withdrawal of the U.S. [from the Paris climate accord], we're more determined than ever that this be a success," Merkel said last week. "We can't wait for the last man on Earth to be convinced by the scientific evidence for climate change."
It has been far from a one-sided disagreement, however. Trump has blasted Germany, and other European countries, for not spending enough on defense and for what he views as unfavorable trade deals.
"We have a MASSIVE trade deficit with Germany, plus they pay FAR LESS than they should on NATO & military," Trump tweeted at the end of May. "Very bad for U.S. This will change."
Such friction may well be why, unlike when Barack Obama was president, the U.S. is no longer described as a "friend" in the campaign literature for Merkel's conservative party, the Christian Democratic Union.