Donald Trump's Approval Rating Lower Than Angela Merkel's, New Poll Finds Ahead of G-20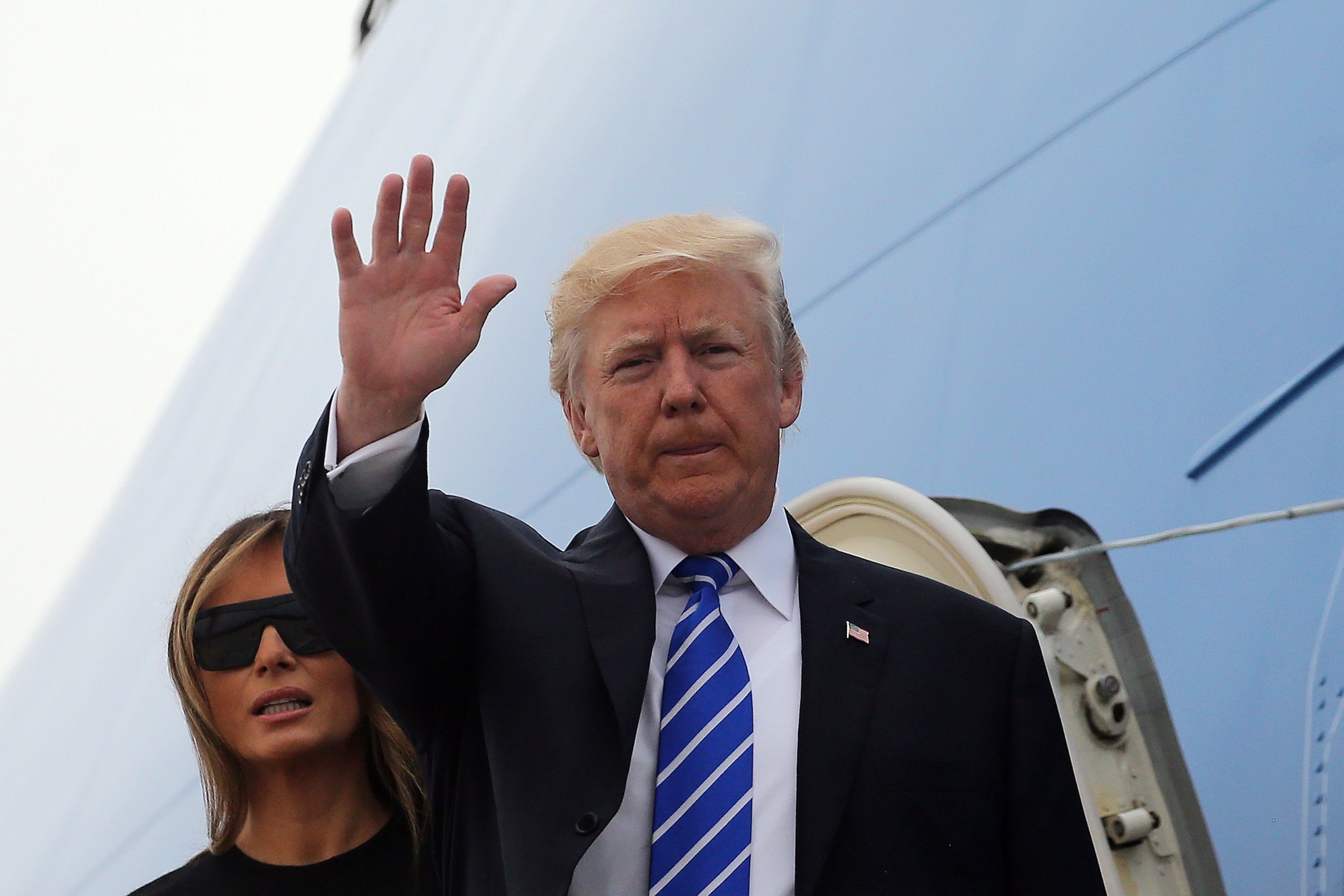 With President Donald Trump's approval rating already lower than the percentage of people calling for his impeachment, a majority of Americans are expressing less confidence in their president than in another renowned foreign leader: German Chancellor Angela Merkel. Trump, who has lately seen his national approval rating range between the low 40s and the low 30s, is set to meet other world leaders at the Group of 20 summit this week.
A Pew Research Center poll released Wednesday found Trump has a lot of ground to make up when it comes to Americans' views of his capabilities as a world leader, as well as the views of people in 37 other countries around the world, including the 20 to be represented in Hamburg, Germany.
All told, 56 percent of Americans have confidence in Merkel, compared with Trump's 46 percent, the poll showed. Like many polls involving the Republican, a stark partisan divide was found: Sixty-four percent of Democrats expressed more confidence in Merkel and only 16 percent felt so about Trump, while 89 percent of Republicans were behind Trump and 50 percent felt the same way for Merkel.
The lack of support from his own citizens stems from his stances on issues like global trade and climate change, according to the poll. A mere 38 percent of Americans supported Trump's standpoint on trade deals.
The strong showing for Merkel, who had an awkward first encounter with Trump and has publicly condemned many of his nationalist policies, like the decision to pull out of the Paris climate accord, was even greater across the globe. People in 17 of the 19 G-20 countries (the 20th is a delegate for the European Union) picked Merkel over Trump, with only India and Russia swinging for the billionaire.
In many countries, including those long serving as allies to the U.S., Merkel dwarfs Trump as a figure of confidence in world affairs. In France, she has 79 percent support, while South Korea (74 percent), the United Kingdom (68 percent), Canada (66 percent), Japan (57 percent) and Australia (70 percent) also gave her very strong backing.
The showing of global support could help Merkel as she faces a new election in September. The 62-year-old saw her approval ratings plummet last year due to terror attacks in Germany and her open immigration policy for refugees from the Middle East. But of late she and her Christian Democratic Union party have rebounded. In March, Merkel earned a 60 percent approval rating, an increase of five percent, even though the party itself had remained level in terms of support, DW reported.
Polls released in May found Merkel even picked up significant support from younger voters. Forty-seven percent of those between the ages of 18 and 24 said they would choose Merkel over the Social Democrat's candidate, Martin Schultz, for Germany's highest executive office.
Trump hasn't received nearly as much national support during his first six months in office. Recent polls found that Trump had a 37 percent approval rating, compared to 47 percent of the country that wants him to be impeached.
The American cross section of the Pew poll took results from 1,505 people between February 16 and March 15, and had a margin of error of plus or minus 3 percentage points.