Rifts Apparent in First Trump-Merkel Meeting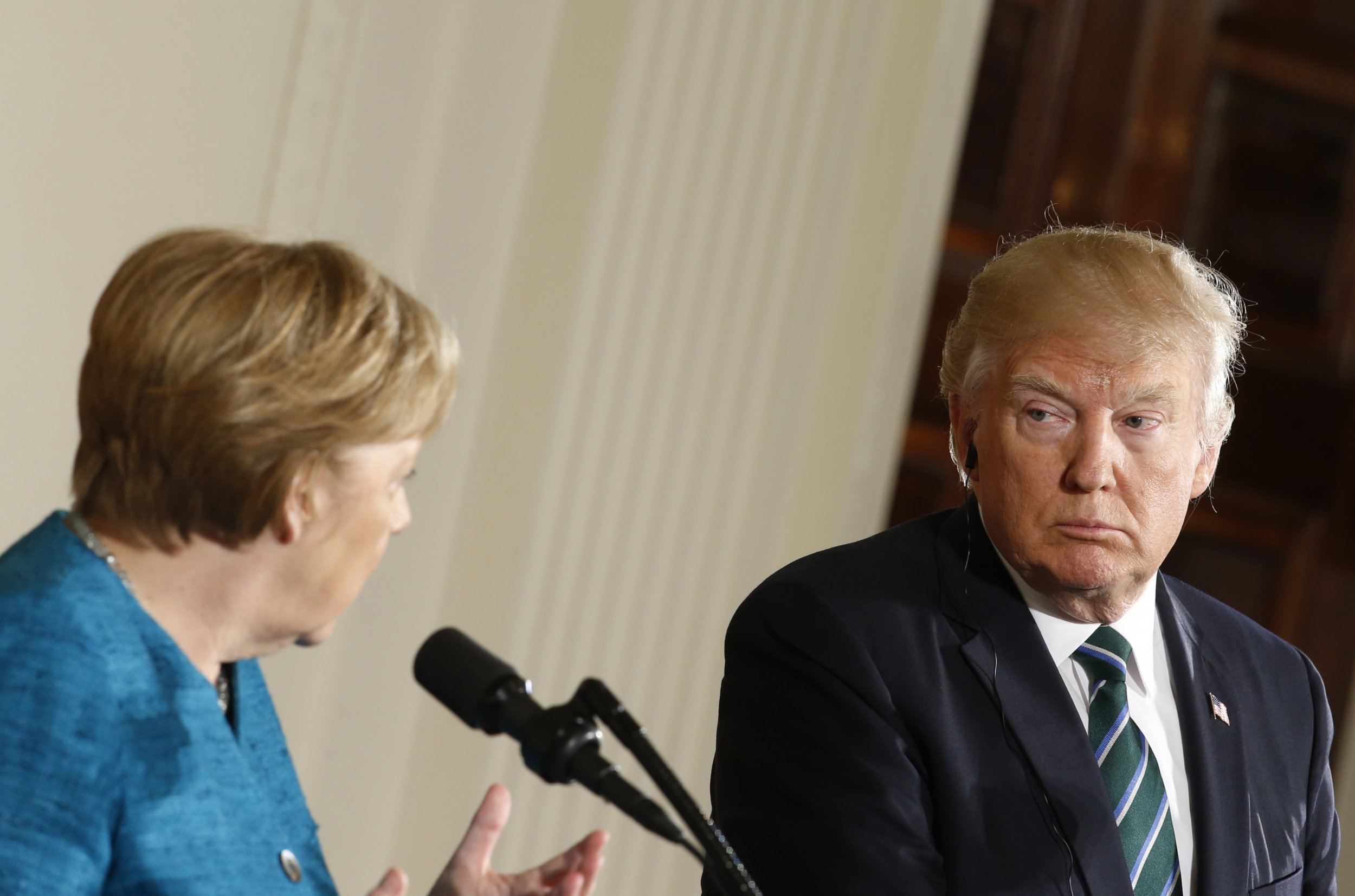 In their first in-person meeting Friday in Washington, President Donald Trump and Germany Chancellor Angela Merkel spoke of their "shared interests" and desire to work together. But after the two sparred over immigration and the future of Europe in the course of the 2016 U.S. presidential campaign, it was readily apparent that the fissures opened up between the two countries are still gaping.
Related: The deal Trump needs to make with Merkel
The White House meeting, one of Trump's first with a foreign leader since his inauguration, is a recognition on both sides of the importance of U.S.-German relations. On the economy as well as international security, Germany has emerged as Europe's unrivaled leader in recent years. And though Trump regularly dismissed America's traditional alliances during his run to the presidency, he has been more conciliatory to America's staunchest allies, including England, Japan and Germany, since entering the White House.
The president has backed down, for example, on the importance of the NATO treaty, after questioning the need for the transatlantic alliance during the campaign. In his opening remarks at a joint White House press conference, Trump reiterated his support for the treaty—a key German priority. But in the same breath, he castigated European countries for failing to meet the defense spending threshold that NATO requires. "Many nations owe vast sums of money from past years, and it is very unfair to the United States—these nations must pay what they owe," the president complained. Germany has long been one of those countries: Even with recent budget increases, it is still spending well less than 2 percent of gross domestic product on its military, the agreed NATO sum. Trump did thank Merkel for Germany's recent commitments to increase defense spending.
The U.S. president was mum, meanwhile, on one of the biggest challenges currently facing NATO: the threat from Russia. Trump acknowledged Germany's leadership on the conflict in Ukraine, "where we ideally seek a peaceful solution." But he failed to mention that Russia is the one responsible for the instability there, raising alarms all across Eastern Europe. Trump's embrace of Russia, both as a candidate and as president, has further unnerved European leaders, who favors a tough approach to Moscow, including continued economic sanctions for its conduct in Ukraine. Merkel, for her part, emphasized that when it comes to Ukraine, "the relationship with Russia has to be improved."
The two leaders also seemed on entirely different pages when it came to trade and immigration, even as they tried to paper over their differences. Both emphasized the need for fair trade, but Trump couldn't help but complain that Germany is currently profiting at America's expense. "Hopefully, we can even it out," he said. "We don't want victory. We want fairness." Questioned by the German press, however, Trump vehemently denied that he supports an isolationist policy. "I am a trader. I am a fair trader," he insisted. Trump, however, said little about ongoing trade negotiations between the United States and the European Union, even as Merkel expressed optimism that the U.S. and EU could hammer out an agreement where "both sides win." And she argued that such an agreement would fit under Trump's rubric of negotiating only bilateral trade deals, reasoning that the European Union operates as one unified economic zone.
In recognition of Trump's heavy emphasis on immigration and border security, the German chancellor nodded to the need for European countries to better control their borders. But she also defended Germany's decision to take in hundreds of thousands of refugees pouring out of the Middle East and Africa, a policy Trump at one point during the campaign suggested was "ruining Germany." The responsibility for housing refugees, Merkel added, was something the two leaders had "an exchange of views" on.
The businesslike tone of their exchanges also illustrated the distance between the two leaders. When asked by a German reporter about Trump's contrasting style compared with his American predecessors, Merkel observed, with nary a hint of irony, that "people are different." But she didn't deny there were rifts. In their morning discussions, the pair "addressed areas where we disagree," Merkel said, and "tried to find a compromise which is good for both sides.… Sometimes it's difficult to find compromise, but that's what we've been elected for."
Still, the chancellor insisted the American and German sides were making strides in their meetings on Friday. "It's much much better to talk to one another and not about one another, and I think our conversation proved this," she said in her opening remarks, nodding to Trump.