Merrick Garland Tests Positive for COVID Hours After Holding Press Briefing
U.S. Attorney General Merrick Garland tested positive for COVID-19 Wednesday, hours after holding a Justice Department press briefing.
Garland's office said in a statement that he is not experiencing any symptoms at this time and will be isolating at home for five days in accordance with guidelines from the Centers for Disease Control and Prevention (CDC).
Garland is fully vaccinated against the virus and boosted, the statement said.
Garland held the press briefing along with several other high-ranking officials, including Deputy Attorney General Lisa Monaco and FBI Director Christopher Wray. He is the second Biden administration Cabinet secretary to test positive Wednesday, joining Commerce Secretary Gina Raimondo.
The Justice Department said in its statement that it will conduct contact tracing following Garland's positive test in accordance with CDC guidelines.
Garland asked to be tested for the virus after learning that he may have been exposed, according to the statement. An antigen test revealed that he had, in fact, contracted the virus.
The statement did not specify how Garland could have been exposed. He plans to work virtually while isolating at home and then return to the office after receiving a negative COVID-19 test, the Justice Department said.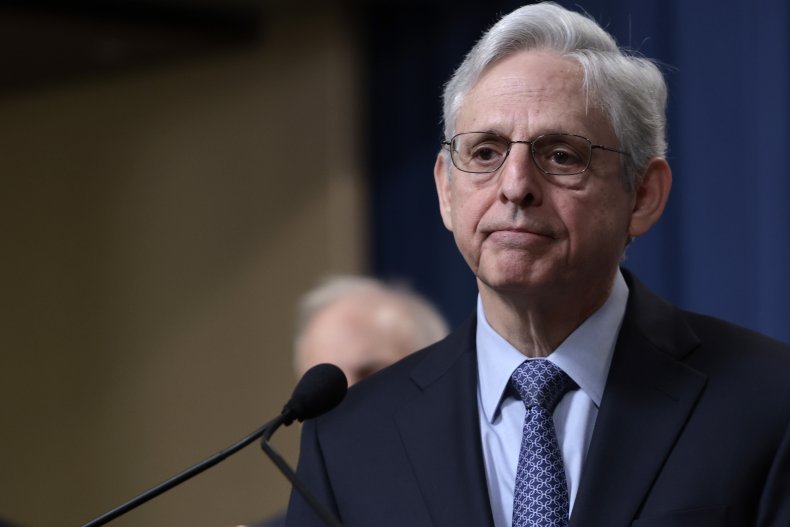 During the press briefing on Wednesday, Garland announced several recent actions taken by the Justice Department to "disrupt and prosecute criminal activity associated with the Russian regime" amid the Russia-Ukraine war.
These actions included the unsealing of an indictment against Russian oligarch Konstantin Malofeyev, who was charged with sanctions violations, and the disruption of a global botnet that was controlled by Russia's military intelligence agency. Monaco and Wray also gave remarks during the briefing.
The Commerce Department announced Raimondo's positive COVID-19 test in a statement Wednesday. She is currently experiencing mild symptoms and decided to share her test results "out of an abundance of transparency," the statement said.
The Commerce Department said that Raimondo is fully vaccinated against the virus and boosted and believes that the vaccine has prevented her from experiencing more severe symptoms. She plans to isolate at home for five days, working there in the meantime, and return to the office after receiving a negative test, the statement added.
Her office is conducting contact tracing as well and notifying anyone who may have had close contact with her.
Newsweek has reached out to the Justice Department for additional comment but did not hear back by publication time.
Update 4/6/22, 4 p.m. ET: This story was updated with additional information and background.