Meryl Streep Once Called Harvey Weinstein a 'God,' Now Actress Is Calling Him 'Disgraceful'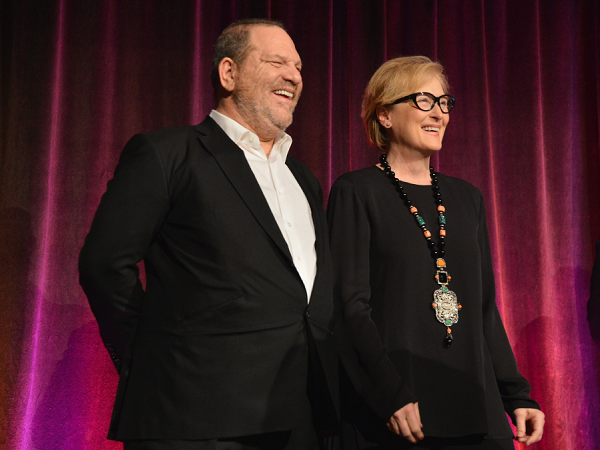 Five years ago, actress Meryl Streep accepted the award for best actress in a motion picture drama at the 2012 Golden Globe awards. She thanked God for giving her the opportunity to star as Margaret Thatcher in 2011's The Iron Lady. But the God she was referring to was not in heaven.
"I just wanna thank my agent Kevin Huvane and God, Harvey Weinstein, the punisher, Old Testament, I guess," Streep joked at the time. She would go on to win the Oscar for the same role, an award that Weinstein lobbied hard for.
Flash-forward to today, and Weinstein, who was fired Sunday from his film company, is now, it seems, a "disgraceful" individual, according to Streep.
Weinstein's dismissal from the Weinstein Co. came after a New York Times report last week revealed decades of accusations of sexual harassment against former employees, including actress Ashley Judd. Streep has worked with the movie mogul more than once, and it's hard to imagine that the 68-year-old winner of multiple Oscars was unaware of Weinstein's reputation, given that Hollywood is powered by gossip. She says, however, that the news was a surprise.
And yet Hollywood could paper the walls of a studio with the stories of his verbal and sometimes physical abuse of colleagues and employees. That was somehow OK. The guy was an Oscar machine; he made careers and money for countless directors and actors, which, in Hollywood, is enough to overlook very bad behavior.
Sexual harassment has been a constant in the movie industry since the first camera rolled. Exposing it, however, is new. On Sunday, in The Wrap, Sharon Waxman wrote of a 2004 investigation she had conducted for the New York Times, the same paper that has now upended Weinstein's career. Waxman's reporting revealed "oft-repeated allegations of sexual misconduct," but the paper's then-culture editor killed the story. At that point, sexual abuse wasn't important enough to report on.
Money was at stake (Weinstein was then a major Times advertiser), and guilt is likely attached to the silence of Hollywood A-listers today. So give Streep credit for speaking out, even if she's a few days late. In the statement she released to The Huffington Post Monday, Streep wrote, "The disgraceful news about Harvey Weinstein has appalled those of us whose work he championed, and those whose good and worthy causes he supported. The intrepid women who raised their voices to expose this abuse are our heroes."
She went on, "One thing can be clarified. Not everybody knew. Harvey supported the work fiercely, was exasperating but respectful with me in our working relationship, and with many others with whom he worked professionally. I didn't know about these other offenses; I did not know about his financial settlements with actresses and colleagues; I did not know about his having meetings in his hotel room, his bathroom or other inappropriate, coercive acts. And if everybody knew, I don't believe that all the investigative reporters in the entertainment and the hard news media would have neglected for decades to write about it."
Streep called Weinstein's behavior "inexcusable" and an "abuse of power." The actress, who has a long history of advocating for women's rights, praised the accusers for coming forward, noting that every "brave voice that is raised, heard and credited by our watchdog media will ultimately change the game."
Changing the game isn't just up to the media, of course. It's up to Hollywood and the people who run it to change entrenched behavior and create a place where it is safe to speak out against abuse.