Message in Bottle Found by Research Scientist in Hawaii Is From 1998 Kindergarten Class in Washington State
A message in a bottle sent by a kindergarten class 21 years ago has been found by a scientist doing remote field work in Hawaii.
Paige Mino works as a seasonal research assistant for the Hawaiian Monk Seal Research Program in Oahu. She first shared news of the find in a October 22 blog post on the National Oceanic and Atmospheric Administration (NOAA) website.
Mino says the discovery happened just after she had been dropped off on Bird Island, which is a small islet in the Pearl and Hermes Atoll, in the far northwestern portion of the Hawaiian Islands chain. She spotted the bottle while looking for seals as part of her NOAA research.
"Nothing is special about that, the atoll is littered with plastics and glass bottles," wrote Mino. "But this one is different, I can see that there's something inside. Walking over to the bottle I pick it up and examine the contents. Instantly I realize what I've found: a message in a bottle."
After finishing her work on the island, Mino was stunned when she uncorked the bottle and discovered that it contained a letter from a kindergarten class in North Bend, Washington, dated June 15, 1998.
In the letter, the class teacher explains that the bottle had been dropped in the ocean between San Francisco and Hawaii. It also includes questions from each of the children in the class. Some of the questions students asked include whether there is a volcano nearby and whether or not the person opening the bottle likes cats or has any gold. It is accompanied by a class photo and several pages of drawings by the children.
Mino was later able to contact the now-retired Kindergarten teacher, who explained that her husband had dropped the bottle into the ocean while participating in the 1998 Pacific Cup sailing race between San Francisco and Hawaii. The researcher surmised that the bottle must have been carried to the atoll by a large system of ocean currents known as the North Pacific Gyre. It then ended up at Bird Island, partly because the atoll attracts ocean debris which can include plastics, nets, toys, shoes and bottles.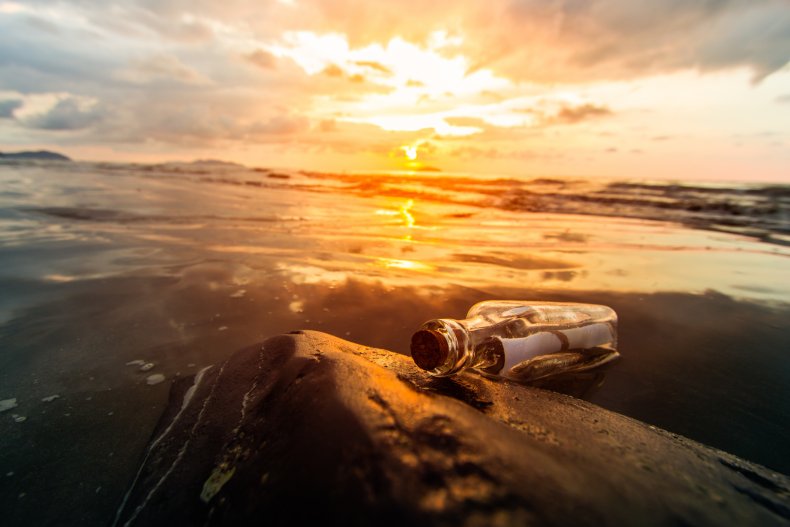 Seemingly improbable stories of people finding messages in bottles happen more often than some may imagine. On Thursday, a man was kayaking in Eaton Rapids, Michigan when he reportedly found a bottle that contained a message dated April 4, 1976.
The writer of the message in the Michigan bottle identified himself as Troy Braman and included his address. Stan Reinke, who found the bottle, was shocked to discover a message from 1976, but he was able to contact Braman on Facebook.
Braman was surprised to hear about the bottle, which he had forgotten about in the intervening decades. He says he was 14 years old when he wrote the message, and that there may be more bottles with his messages waiting to be discovered.
"You know, I thought, forget about it. And then once I seen my signature on it kind of clicked in my head and I remembered doing it. But you wouldn't think that 43 years later you would get that information," Braman told WILX.
Recent stories of newly discovered messages in bottles don't end there. In July, a 9-year-old boy in Australia found a bottle containing a message a 13-year-old boy had written in 1969. And in August, a man in Alaska found a bottle with a message written by a Russian sailor, also in 1969.