'Messiah' on Netflix Release Date, Cast, Trailer, Plot: Everything You Need to Know
The release of Messiah may still be a few days away on Netflix, but already the show is generating controversy across the world, with a Change.org petition signed by over 4,000 people calling the series "evil" and "anti-Islamic" propaganda.
However, as tends to be the way with these kinds of controversies, this has actually increased curiosity for the series, which stars Mehdi Dehbi as a figure claiming to be the second coming of Jesus Christ.
When is Messiah out on Netflix?
Messiah will be Netflix's first new series of the 2020s, with the first season coming to the streaming service on Wednesday, January 1, 2020. As with most of Netflix's original series, the new show will be released all at once at one-minute past midnight Pacific time, which is 3:01 a.m. Eastern/2:01 a.m. Central.
The first season of Messiah will have 10 episodes.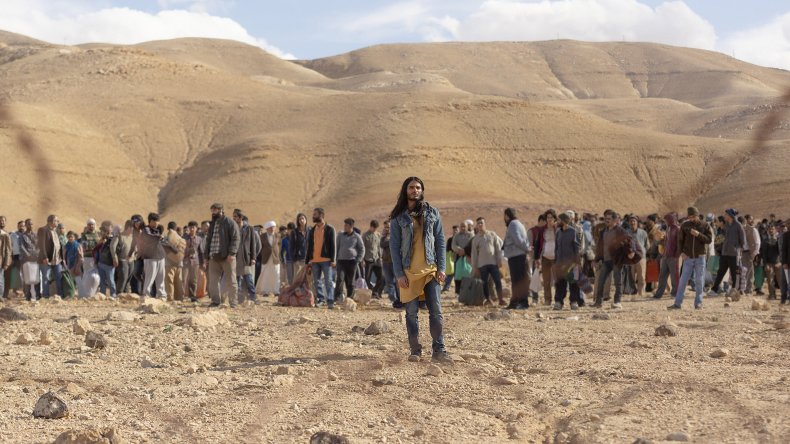 Who is in the cast of Messiah on Netflix?
The eponymous Messiah in the Netflix show is Al-Masih, who will be played Belgian actor Mehdi Dehbi. The actor has previously appeared in films like A Most Wanted Man, London Has Fallen and the FX series Tyrant.
The cast's biggest star, however, is Michelle Monaghan, star of the Mission: Impossible films as well as movies like Kiss Kiss Bang Bang, Gone Baby Gone and Source Code. Monaghan plays FBI Agent Eva Gellar, who is trying to find out whether Al-Masih is really who he claims to be.
However, the show has a global feel, with scenes told through the perspective of different characters, including an Israeli intelligence officer (Tomer Sisley), a Palestinian refugee (Sayyid El Alami), as well as a Texan preacher (John Ortiz). Other major characters include journalist Miriam Keneally (played by Jane Adams).
Speaking to the Boston Herald, Monaghan said of the cast, "This has a very multicultural cast, but it didn't really matter what any of our own personal beliefs were. I was just so appreciative to be in a cast with such a global reach that audiences all over the world will be able to relate to all of the characters."
What is Messiah about?
The synopsis for Messiah reads, "When CIA officer Eva Geller (Michelle Monaghan) uncovers information about a man (Mehdi Dehbi) gaining international attention through acts of public disruption, she begins an investigation into his origins. As he continues to cultivate followers who allege he's performing miracles, the global media become increasingly beguiled by this charismatic figure. Geller must race to unravel the mystery of whether he really is a divine entity or a deceptive con artist capable of dismantling the world's geopolitical order."
Arabic speakers have also seen what they think might be a major plot spoiler in the name of the main character. They believe that Al-Masih may be a reference to Al-Masih ad-Dajjal, an anti-Christ-like figure known as "the deceiving Messiah."
Messiah is released on January 1 on Netflix.