Mesut Özil Blames Racism for Decision to Retire From International Soccer
Arsenal star Mesut Özil announced his retirement from international soccer, citing "racism and disrespect" as the motivating factors behind his decision.
In a scathing attack against the German soccer federation (DFB), the midfielder said he had been subject to unfair discrimination after his meeting with the Turkish President Recep Tayyip Erdoğan in May.
The federation criticized Özil and Manchester City midfielder Ilkay Gündoğan for posing with Erdoğan for a picture. Turkey's leader has long been accused of human rights abuses and running an iron-fist regime.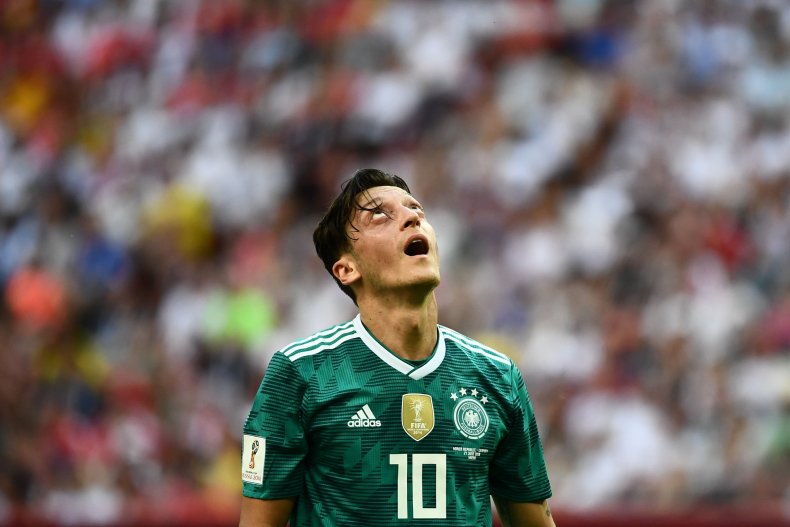 Both players were born in the German city of Gelsenkirchen and chose to represent their country of birth even though they are of Turkish descent.
In a lengthy statement released on Twitter on Sunday, Özil explained the reasons behind his meeting with Erdoğan and had strong words for the federation.
"For me, having a picture with President Erdoğan wasn't about politics or elections, it was about me respecting the highest office of my family's country," he wrote on Twitter. "My job is a football player and not a politician, and our meeting was not an endorsement of any policies.
"The treatment I have received from the DFB and many others makes me no longer want to wear the German national team shirt. I feel unwanted and think what I have achieved since my international debut in 2009 has been forgotten."
The 29-year-old, who played 92 times for his country and scored 23 goals, was particularly scathing toward DFB president Reinhard Grindel, insisting he would no longer play the role of scapegoat for the German federation.
"People with racially discriminative backgrounds should not be allowed to work in the largest football federation in the world that has players from dual‑heritage families," Özil wrote.
"Attitudes like theirs simply do not reflect the players they supposedly represent. In the eyes of Grindel and his supporters, I am German when we win but I am an immigrant when we lose.
"It is with a heavy heart and after much consideration that because of recent events I will no longer be playing for Germany at international level whilst I have this feeling of racism and disrespect. I used to wear the German shirt with such pride and excitement, but now I don't."
Özil, who joined Arsenal from Real Madrid in summer 2013, was part of the team that won the World Cup in 2014 and played two of Germany's three games at this year's tournament.
The midfielder started in defeats against Mexico and South Korea, the latter of which condemned Die Mannschaft to first-round elimination for the first time in its history.