'I Met My Boyfriend on a Video Date During Lockdown'
I'm 23-years-old and living in London. I left Ireland and went to University at 18, and for around four years I was moving around a lot. So I've had a few boyfriends here and there, but I've never had a long term partner.
I've used dating apps before, but I'd only go on for one hour once in a while. I went on a couple of dates, but apps take up a lot of time and you have a lot of the same conversations. One experience that stands out was when I was talking to a guy on Hinge and he asked me for a date. The date lasted an hour, 40 minutes of which were spent watching him eat in a KFC restaurant.
That sort of experience is why I tend to stay away from dating using apps. I just think that I could be sitting home, reading a book and drinking a glass of wine, and really long message conversations on Bumble or Hinge don't really suit me.
I hadn't been on any apps for a few months when COVID-19 hit. I'd gone back home to Northern Ireland, and after several boring evenings I went on to Bumble. Then, after less than a day, I saw an ad on Instagram for a new dating app called The Intro. The app took out the messaging element and went straight to a date, or a video chat date during the COVID-19 lockdown. Which suited me perfectly – less boring chat and less wasted time.
Antony was actually my first video date on the app. He had a picture on his profile of him at a wedding, swinging his nephew around. I thought he looked sweet and fun. But his profile didn't have lots on it, so if I had been on Bumble for an hour, would I have swiped him? I don't know, because there wasn't lots to go on. But I did want to know more about him.
Our first date was on May 3. When we matched we gave our availability and we had a video date scheduled for 5.30pm. I did have a few butterflies, but the first video date timed out after 30 minutes, so I knew I'd be OK if it didn't turn out well.
I talk a lot, and once the conversation got going, I think I just blurted information at Antony for 30 minutes. Then we swapped numbers and talked for another hour and a half on a separate FaceTime call.
After that first video date he sent me a text saying he thought I was really pretty and that he couldn't wait to talk to me again. Our second FaceTime a few days later and it lasted for five hours, we had so much to talk about.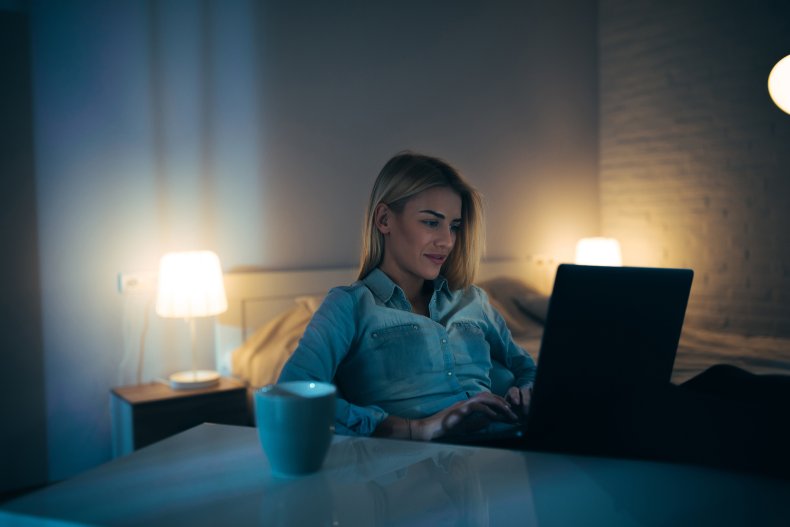 When I was able to, I travelled back to London. Antony drives so we went for a socially distanced walk. We went to a park, sat on the grass and talked for hours.
I was more nervous for that date than any other date I've ever been on in my life. I remember hoping he was the same in real life, but of course the date went really well
We might have only been on two FaceTime dates at that point, but dates like that are intense. I got to know things about Antony that would maybe have taken me six dates to find out in another situation. There's not a lot going on to talk about during lockdown—you get into serious, deep stuff quickly—so by that point I knew I really liked him.
Lockdown gets most of us down, and I really wanted to plan a trip. I felt like by the end of August it should be alright to travel, but my friends didn't want to. So on our second "real life" date, in a park, I asked Antony if he wanted to go to Mallorca with me. I thought it would be a test of who this guy was, and whether he was as spontaneous as I am. He said yes, so we booked the holiday on our fourth official date.
On date number five, on May 30th, I asked him to be my boyfriend. The whole COVID-19 lockdown has made me realize that you never know what's going to happen, and if you want something, you should do it. I sensed he was going to ask me that day, if not very soon. It was a bit of a feminist move to ask him, I wanted to get in there first.
It's not like we've skipped anything, or any important conversations. In a way it's progressed more slowly—we're yet to go to a restaurant together. We booked a holiday before we had dinner!
We've hung out a lot more since then, sticking to the guidelines of course. And we've booked a weekend away together in July. I've made a reservation for our first ever dinner date while we're there.
There's so much I like about Antony. He has emotional intelligence, which is something I've found has been lacking in the majority of men I've dated.
And he's open minded. We come from quite different backgrounds—I went to university and he went straight into the world of work—and we come from different places, but we discuss our opinions in a respectful way. Men I have met in the past have told me to be quieter, but Antony really embraces discussion.
He is 27, and in the process of buying a place, I think if that had happened sooner we might have ended up isolating together. And as households will be allowed to mix in early July, hopefully I'll be able to meet his parents soon.
My mum is super happy about the relationship. She just wants me to be with someone who is kind, treats me with respect and appreciates me, and Antony does.
I would say to anyone considering a video date on an app, give it a go. It's the quickest way of finding out if you click with someone. Having a cocktail in a really nice bar can sometimes make you think you're clicking with someone, when you're not.
But sitting in your room on a Sunday night, on FaceTime with someone, I think within minutes you can just tell. I knew I liked Anthony about 20 minutes into that first chat.
I'm not religious or overly spiritual but I do feel the universe puts people in your path, and you can make a decision that changes how things turn out. Because to meet someone in this way, at this time, during a global pandemic, what are the odds of that happening?
Natalie McAleer is 23 and lives in London.
All views expressed in the piece are the writer's own.
As told to Jenny Haward.