Watch the Met Gala Live Stream Starring Rihanna, Beyonce and All Your Other Red Carpet Favorites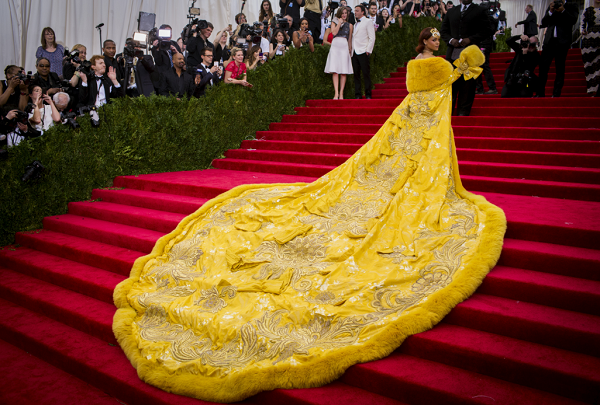 As exhilarating as it would be to dine on baby white asparagus with white sturgeon caviar and sip Napa Valley's finest 2014 vintage red blend while dripping in crystal encrusted Versace couture inside the striking halls of New York City's Metropolitan Museum--amongst the fashion and entertainment industry's most elite at that—more than likely, most of us will never actually have the chance to.
But fret not, because even the most fashion sense-less will be able to experience the splendor of the Met Gala Monday night via live stream. Considered to be one of fashion's most grandeur events of the year, the super exclusive Met Gala will bring out 600 high-profile fashion figures and entertainers. The event itself is never televised. However, people who want to get a glimpse of the Gala's red carpet glamour will be able to get in on the action from the comforts of their couch now that the E! network and other online outlets are airing coverage of the event's red carpet.
So although everyday people won't be able to put on their Sunday best and head to the museum to celebrate Comme de Garçon's founder Rei Kawakumo—the gala's theme this year is Kawakumo's Art of the In-Between exhibit—they will still get a chance to see celebrities like Rihanna, Beyoncé, Blake Lively, Sarah Jessica Parker and Vogue's editor-in-chief Anna Wintor as they walk the Met Gala steps in their avant-garde gowns before heading into the private venue and partying the night away.
E! will air a live stream of the event on its Facebook page along with a live show airing on the network at 7:30 p.m. EST. For the first time ever, Vogue will host 360-degree live coverage of the event including extensive pre-show footage and looks behind-the-scenes. Viewers can tune in on the Met Gala's red carpet and inside looks of the venue on the magazine's Facebook page from 7 to 8 p.m. EST.
Although social media is restricted during the event, there will more than likely be a steady flow of Met Gala related content streaming on both Vogue and E!'s Instagram, Twitter and Snapchat.
Of course, it's unclear as to who will actually pop up on the Met Gala red carpet Monday. Wintor, who serves as a chairperson for the event, always gives the final approval for the 600-person guest list, which costs about $30,000 for a ticket and up to $275,000 for a table, and celebrity invitees usually aren't made known until their arrival.
Kawakumo's exhibit will open to the public at the Met Thursday.