As one of the most exclusive events in the world, you'd expect that the Met Gala would offer its guests a five-star dining experience.
This year's menu promises to be like no other, as 10 New York chefs will be working together in the kitchen to cook for fashion's A-List.
Is the Met Gala Menu Vegan?
Not only is the 2021 Met Gala menu fully plant-based, it's also made up of sustainably sourced ingredients.
The chefs serving up this vegan fare were carefully selected by Bon Appétit and the head chef of Red Rooster Harlem, Marcus Samuelsson.
One of those chosen, Sophia Roe, said of the menu in a statement seen by Vogue: "Climate change, food sovereignty, global value chains, accessibility, species conservation, and industrial accountability must be the driving force in every facet of our lives, and yep, that means fashion too.
"What better way to integrate these necessary action-forward conversations into the fashion sphere than with the Met Gala?"
What Is on the Met Gala Menu 2021?
As this year's Met Gala theme is: "In America: A Lexicon of Fashion," the dishes on offer will pay homage to American cuisine.
Each chef will create their own interpretation of regional American food in their canapés, entrées and desserts.
While we don't know for certain what will be on the menu just yet, two of the chefs participating, Roe and Junghyun Park, have shared their recipes for a plant-based Nicoise Salad and Burdock Mini Gimbap.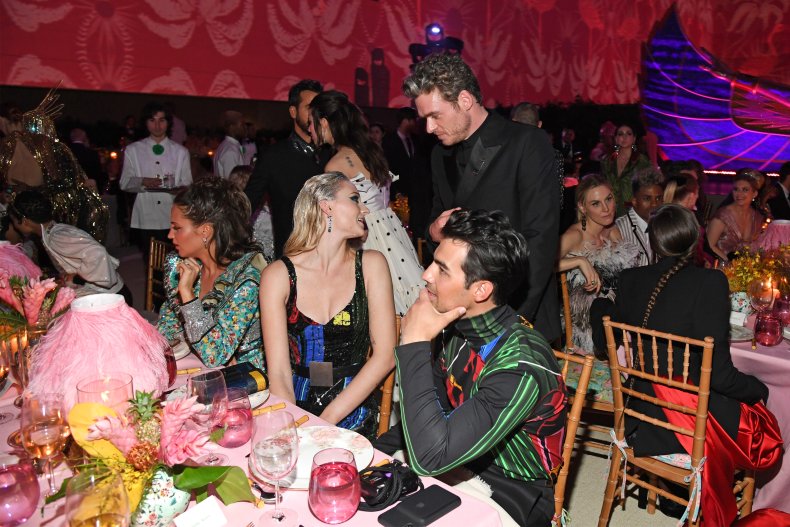 At the last Met Gala in 2019, caterer Olivier Cheng served filet of beef with beet horseradish crema, accompanied by tomato rye tartlets, haricot adorned with edible orange flowers and an array of rainbow carrots, as well as a dessert with a twist inspired by the camp theme.
"We developed a lovely Gianduja cake with a "male-female" topper—male on one side, female on the other," Cheng told Vogue. "Bit of a double entendre."
Who Are the Met Gala Chefs?
Samuelsson and Bon Appétit worked to select up-and-coming chefs like Roe, who hosts Vice series Counter Space for which she became the first black woman to be nominated for an Emmy in the culinary category.
Park is the head chef and founder of Korean restaurant Atoboy and previously earned two Michelin stars while chef de cuisine at Jungsik.
Fariyal Abdullahi is the culinary manager of R+D Kitchen Dallas, while the woman behind Sofreh, Nasim Alikhani, will also be in the kitchen for the prestigious event.
Swedish chef and holder of two Michelin stars at her restaurant Aquavit, Emma Bengtsson also makes up the team.
Lazarus Lynch is a face you may recognise from TV, having won Chopped twice. He's also the host of Snapchat's first ever cooking show Chopped U.
Chef behind the Peruvian restaurant Llama Inn, Erik Ramirez will also be cooking up a storm, as will pastry chef at Le Bernadin Thomas Raquel.
Simone Tong is the chef at Little Tong Noodle Shop and Silver Apricot and the final chef making up the lineup, Fabian von Hauske, co-owns the restaurant Contra.