What Is Metal Fatigue? The Issue Contributed to Southwest Engine Failure Accident
The National Transportation Safety Board (NTSB) has cited evidence of "metal fatigue" as a contributing factor in the engine failure of a Southwest flight that made an emergency landing and resulted in the death of one woman on Tuesday. Investigators said that a fan inside the plane's jet engine broke off from its hub, causing the failure.
"Our preliminary investigation of this was that there's metal fatigue, where the blade separated. We located that immediately and sent photos to our materials lab," said NTSB chairman Robert Sumwault during a press conference Tuesday.
Sumwault said that the investigation is ongoing and that it could take 12 to 15 months to complete.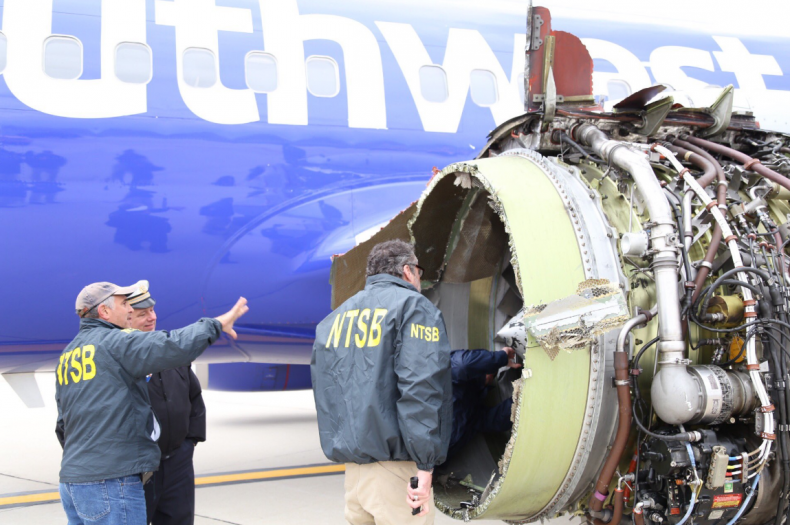 Metal fatigue is the eventual weakening of metal parts of a machine or structure due to the stress of continual use or other types of pressure. It can ultimately lead to the metal fracturing.
"A majority of unexpected failures [of structural metal parts] are due to fatigue," said MIT metallurgy professor C. Cem Tasan in the journal Science. Tasan is working on a way to reduce the effects of stress on metal.
The phenomenon became a focus of aviation engineers after cabin pressure metal fatigue occurred in the fuselage break-up accidents of the world's first jetliner, the de Havilland Comet, in the 1950s.
Metal fatigue has long been a safety issue in commercial aircraft and the Federal Aviation Administration set rules to limit the use of aging aircraft to prevent metal fatigue incidents in 2010.
The Southwest jet was en route to Dallas from New York on Tuesday and made an emergency landing in Philadelphia. A piece of the engine that broke off cracked a window in the plane and sucked a woman partially out. Passengers were able to pull her back in but the woman, identified as Jennifer Riordan, later died. Several other people suffered minor injuries.