Metallica's Lars Ulrich on WorldWired's Hottest Show on Earth, Lady Gaga, Thrash Roots, Tennis
When Metallica frontman James Hetfield roars "Gimme fuel, gimme fire" in concert this summer, he really means it. On the group's WorldWired tour, a massive pyro display heats up a gargantuan stage show that's both ferocious and artful. Towering flames, like geysers from hell, shoot upward often enough to keep the crowd warm and cozy (as was the case at Metallica's show at MetLife Stadium in New Jersey back in May.) During "Moth Into Flame," from the band's latest album, Hardwired... to Self-Destruct, big masses of fire creep across the stage as the band avoids getting barbecued.
"It definitely keeps you on your toes," Metallica drummer Lars Ulrich tells Newsweek. "I can feel the kerosene or whatever it is in my eyes."
The stage itself extends nearly the entire width of the stadium field. Over the band are several huge screens, and at various times, video images blend with various mega-props for some knockout presentations: During "For Whom the Bell Tolls," a huge bell swings over the stage; for "Master of Puppets," marionette strings from above reach down to Ulrich, while an endless sea of graves cover the screens.
Metallica continues its tour at Camping World Stadium in Orlando, Florida, on July 5, Hard Rock Stadium in Miami on July 7, and Suntrust Park in Atlanta on July 9. (Here's the full itinerary).
Ulrich spoke about what Metallica aims for in its concerts, including the band's 2014 gig in Antarctica (which made Metallica the first band to play all seven continents); how Hardwired ranks with previous releases; the group's botched-microphone performance with Lady Gaga at this year's Grammy Awards; the band's intriguing collaboration with Lou Reed on 2011's Lulu; and the latest on his tennis game.
Over the years, Metallica has earned a reputation for being a band that tours often, not unlike the Grateful Dead.
Not only do we tour a lot on the back of records but we also tour even when there's no records. Touring is obviously an important thing for us—to get out and run away with the rock and roll circus, and increasingly now, with more of the far corners of the world opening up in terms of infrastructure and production elements. So there are more places you can play and more countries you can visit.
RELATED: James Hetfield rides the lightning with Newsweek
You can play your own shows, you can play festivals. We kind of found a way to do it in a way that's tolerable. We do it in two-week increments so we never leave home for more than two weeks and no one goes off the deep end or loses their mind. You minimize the risk of the whole thing derailing into the black abyss. We managed to get a functioning, balancing dynamic. We never feel like we're away from our domestic situations for too long. Its working for us. For me, getting out there, I'd say in my day the two hours onstage is the safest place. There's no one to bug me. I'm the captain of my own ship up there and the best thing in the world is those two hours up on stage.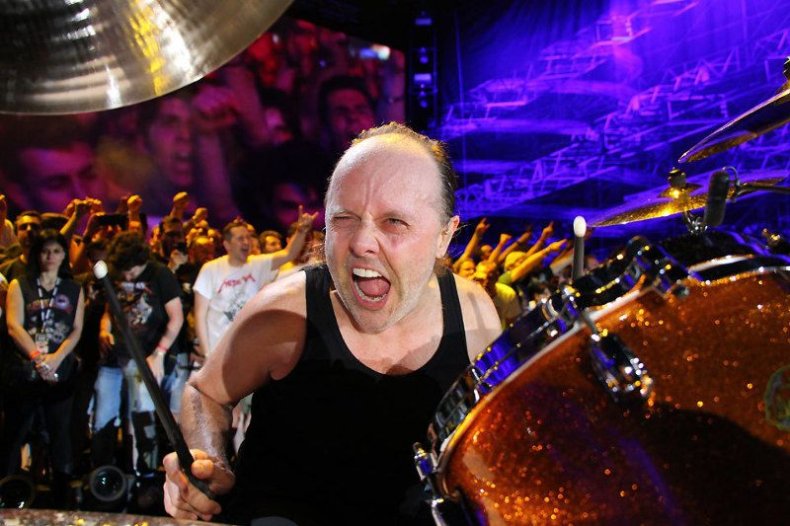 Metallica performed an Antarctica gig in 2013. What was especially cool about that show?
The sense of adventure always runs deep in Metallica and, like I've said, we played so many wonderful places in the last few years. Finally getting to China, Malaysia and Indonesia. Hitting new frontiers in Latin America like Ecuador or Costa Rica, Panama, Abu Dhabi. Someone called us up a couple years ago saying they were putting this thing together on a Chilean research base in Antarctica and they wanted a band to come and play for some contest winners. And we said, "OK, we'll be there, just name the time and date and we'll fly in."
So we had a wonderful three days. We all stayed on a big ice breaker that I think was a research ship. So we stayed with the audience that we were playing for. This ice breaker that was anchored on this beautiful bay, and we went over on land and they had this tent set up. There was always a huge throng of people there and we did it in silent disco style, where the only amplification was coming through the headphones. So there was no noise pollution for the endangered species and there was 400 happy contest winners and a happy band.
It was one of those moments where it just all came together and nothing in the world could change the beautiful feeling that was in that tent.
On the WorldWired tour, you guys are utilizing massive amounts of pyro.
The people running it are obviously highly trained individuals and its fine. It's all good.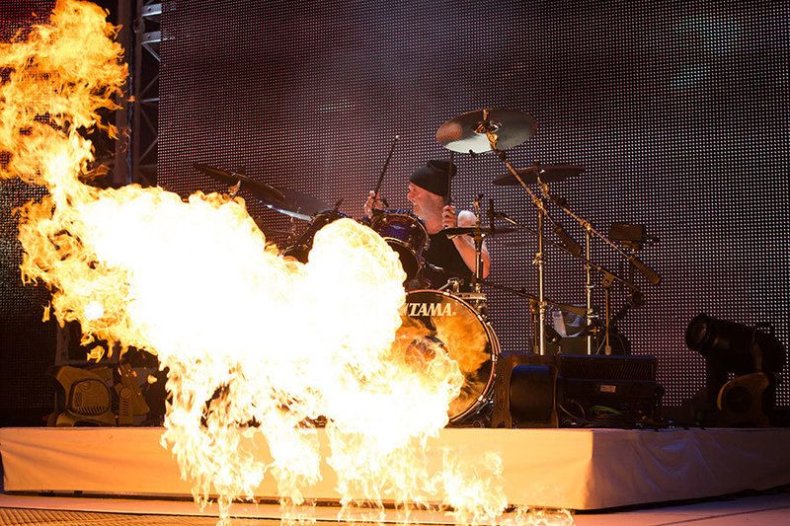 The pyro displays, including a giant fireworks display at the end of the show, certainly works well for a large stadium show. But Metallica has also been known to play small, intimate club shows. Any thoughts on one vs. the other?
When you go out there and you play the big places like the football stadiums, they can have such a bland uphill feel to them. It's difficult to create a sort of atmosphere of intimacy, so adding a few gadgets [works well], and the more people there are, the better the gadgets. The smaller the place you're playing, the more you can rely on the music. But gadgets are important when you're playing to 75,000 people because it gives everybody, even the people that are not close to you, something they can focus on. You try and create as much of an atmosphere and intimacy as possible, and sometimes some shit that blows up and some flames or something is always good.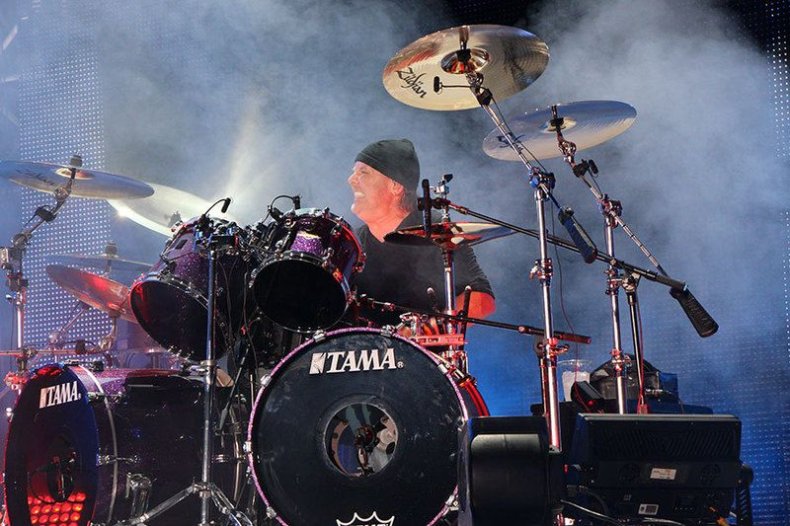 The show gets quite creative during "Master of Puppets," when marionette strings can be seen stretching down to you and your drum kit. Nice!
We work very closely with the guys that help produce our shows. You try to play with the themes of the songs, the themes of the records, and it's just a matter of trying to come up with the coolest stuff that you can, that will transcend that the upper echelons of any stadium but also to lend itself to some element of creative value. And you want to keep an eye on what your peers are doing because you don't want to go out and present the same show that the other bands are doing. You want to come up with something that's your own.
RELATED: John Lydon says rotten things about Trump, Green Day
The video screen presentation in the stadium show is massive.
You want to try to find the right balance. Obviously having big screens is great to give a sense of intimacy to people that are far away. But at the same time, you don't want to rely on them. Obviously technology keeps moving forward into areas where a lot of newer creative things are possible. It's kind of exciting. The creative process doesn't end just with writing a song or making a record, [but with] how you sell a record, how you share a record, how you put on a show. And it's all increasing parts of a creative experience.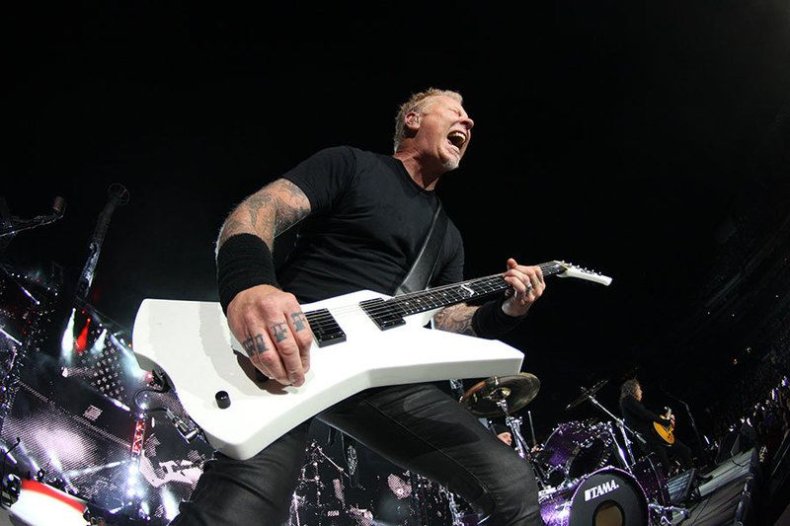 In the early '80s, Metallica recorded two albums for Megaforce Records, which was based in Old Bridge, New Jersey, and you guys lived with Megaforce's owners part of the time. At the MetLife Stadium Show in May, Metallica acknowledged its Old Bridge roots, and while doing so, set up a platform in the audience to play "Seek & Destroy."
Well, 35 years in, the main thing we try to do is connect with the audience no matter what situation we're in. When we play inside, for the last 25 years, we've played in the middle or "in th round," and we've loved being in the middle of the audience. When we're playing a stadium, we [usually] play at one end instead of in the middle. So [setting up in the audience] was an attempt to sort of get in the face of as many of the fans as possible and get close.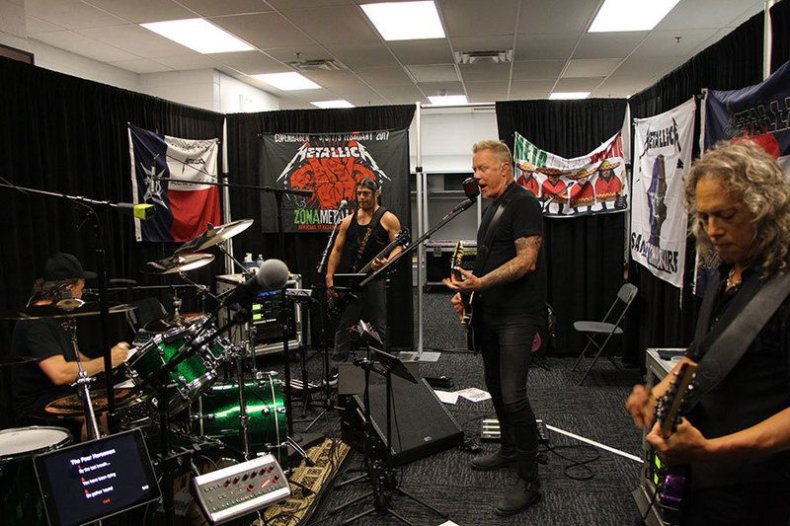 Let's talk about your drumming for a bit. Looking back, which drummers influenced you?
I grew up in the early to mid '70s in Copenhagen, Denmark, so most of the bands that I was influenced and inspired by were the British bands like Deep Purple, Black Sabbath, Uriah Heep, Status Quo. A little bit later I started getting into the newer wave of harder rock and heavy metal bands like Iron Maiden, Motörhead, Judas Priest and so on. Those were kind of the bands I grew up on. I'd say for me the two main drumming inspirations had been Ian Paice from Deep Purple and Phil Rudd from AC/DC. I love Ian Paice's technical ability and his insane energy. Then I love Phil Rudd's bounce and his groove and his simplicity and the way he makes it swing like crazy with a minimal approach.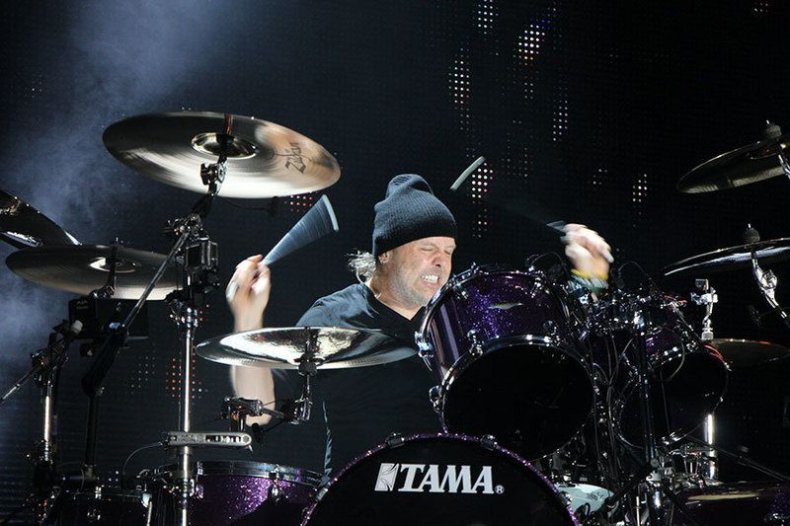 How do you think Hardwired … to Self Destruct differs from other Metallica records?
It's hard for me to sort of sit here and give you an intellectual, detailed description. On Death Magnetic, which came out last, [many of] those songs were really long and quite introverted in certain areas. I just think this new record is more concise, a little tighter, a little leaner, a little more simpler in places and relies more on the atmosphere, the sort of groove and bounce, that kind of stuff. Greg Fidelman produced this record with us. He's been our main go-to guy in the last 10 years in anything that has to do with recording, and I think he finally brought it all together on this new record in terms of sonics and how the overall thing sounds. There's been an amazing reception to this record. People have received it in such a warm and embracing way, and it's a little bit surprising or overwhelming. So it's a good time to be in Metallica right now.
Another key Metallica album is "The Black Album." I've noticed during this tour that many of its songs, like "Wherever I May Roam," with its big, brawny riffs and dramatic tone, are well-suited for a big stadium performance.
I mean, generally, without being too black and white here: Simpler sort of songs have a tendency to play better in bigger places, so the more progressive, introverted kind of stuff gets lost when you're playing to 75,000 people in a stadium. So we have a tendency to be a little more adventurous with the setlist and go into deep cuts and so on when we're playing smaller places. When we're playing stadiums, you want to try to cast the net wide to the so-called, I say this word cautiously, hits and the songs that are more on the toe-tapping side.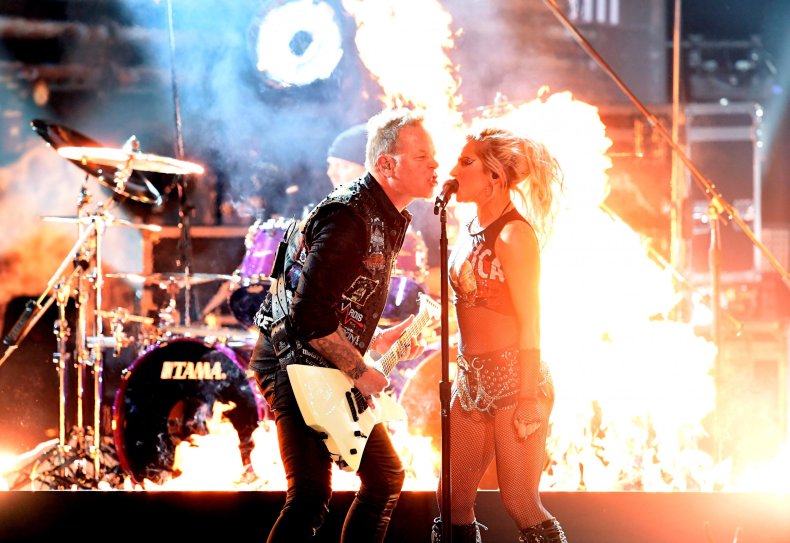 "Moth Into Flame" [from Hardwired] is one of those hits. Even with the microphone problems that interfered with James's vocals during this year's Grammys, I thought Metallica's performance with Lady Gaga went well.
Thank you. Yeah, she is awesome. She has a rock mentality, a rock DNA in her. It was completely effortless. She was so up for it and so enthusiastic and brought a real creative element to the whole project. She was a great fifth member and I think her voice and James's voice together worked well and harmonized well, so it was really cool.
You and bassist Robert Trujillo are quite a rhythm section. What's especially noteworthy about his playing?
It's what he brings to the band. He's just an incredible spirit to have in the band. He's such a vibe to be around, his energy is very stable and he always makes you feel very calm and confident. He's beyond a gifted musician but he has a soothing and effortless vibe to be around. He's always up for it and it's great. He's been in the band for 14 years now and it's just awesome.
On this tour, you're doing a tribute to Cliff Burton [Metallica's first bassist, who died in a bus accident in Sweden in 1986] with a rendition of "Anesthesia Pulling Teeth," with Cliff being shown on screen.
Cliff is always a part of the band and his spirit always rides with us and shines with us. He's an integral part of the make-up of this group of people. So I think throwing a shout out in his direction is well deserved and it's important for us to acknowledge him and I think the fans appreciate that we sent our thoughts. You don't want to not do a shout to a brother that's no longer with us.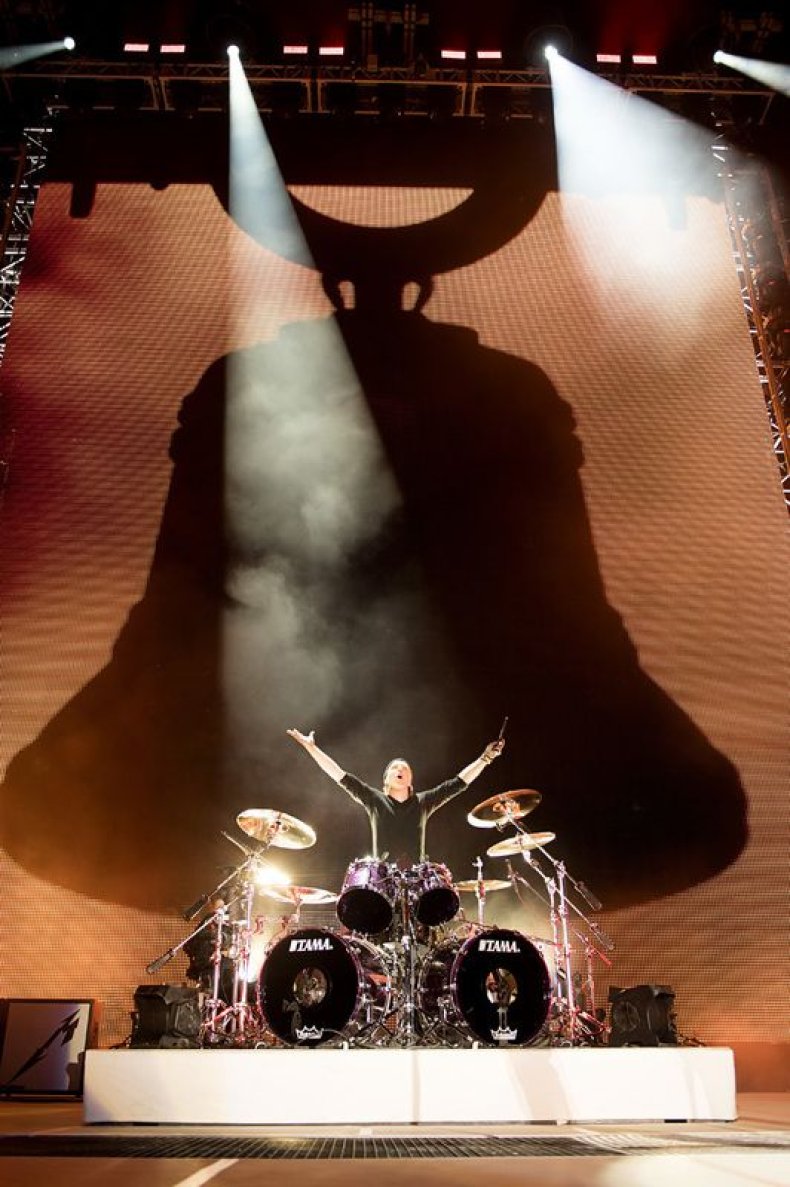 On the WorldWired tour, some of the visuals that accompany songs like "Disposable Heroes," "Battery" and "One" show images associated with war, but is there more to those songs?
I wouldn't say that it deals with war, more with individuals.
RELATED: Ian Anderson on climate change, prog-rock cred
The individual's struggle?
Yeah. Anxiety, fears, set in the background of being in a war-like situation. So it's the helplessness, the struggle with confidence, which deals with elements of mortality—dealing with issues of your own strength and the potential imminent death. A lot of those songs are just written about particular states of mind.
Your shows on this tour begin with a clip from The Good, the Bad and the Ugly that features the composition "The Ecstasy of Gold." Metallica has been presenting that since the early '80s.
Yeah, we've been doing that for about 35 years. It goes back to our old manager Jonny Zazula, who felt that there was an epicness to that [Ennio] Morricone piece that was fitting. So it's been with us all these years and has become a signature.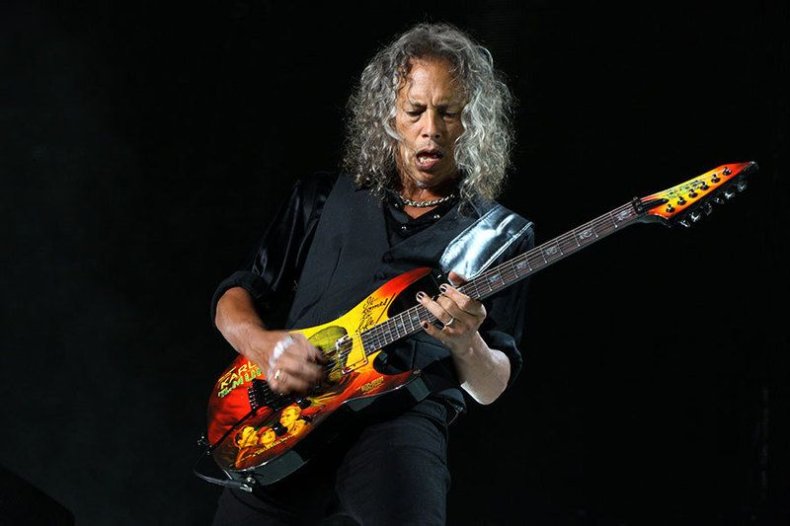 Metallica worked with Lou Reed on 2011's Lulu. What did you learn from him?
Lou is one of those incredible, awesome characters who you just want to try to soak up so much from. You want to be a sponge around him. He was such a beautiful artist and he taught us a lot about being in the moment, about impulsivity, about believing in yourself, about trusting that what you just did is good enough. That it had a quality all of its own. That it could never be repeated instead of trying to better it, that's there's no such thing as perfection. Being in that universe for almost a full year was magical and I miss him dearly and it was an incredible experience to work with him creatively, to make that record, and then go play the TV shows and be around him.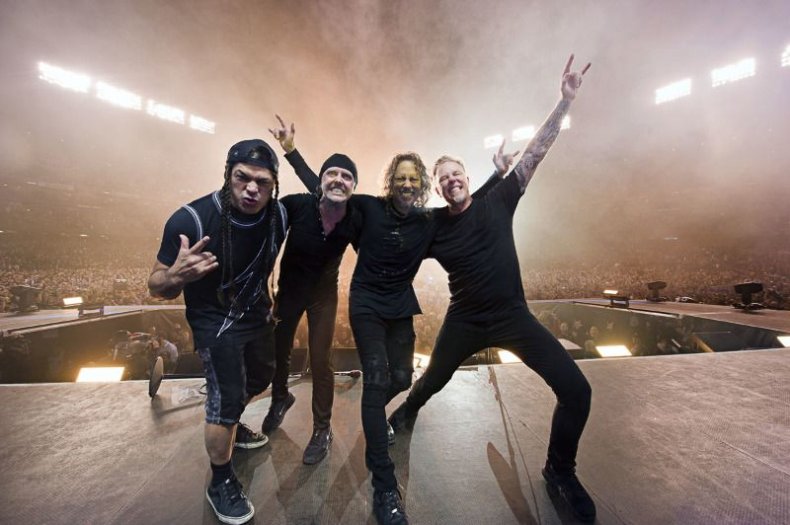 Another interesting chapter in the Metallica story featured the band performing with the San Francisco Symphony in 1999, the results of which were on S&M. How do you think those shows turned out?
Anytime we get a chance to do a creative undertaking that's original and has creative challenges to it or an unknown creative territory, it's always super-exciting. So [conductor] Michael Kamen came along and suggested we play with a symphony and suggested all the pieces. He was driving this project, and Michael has such a beautiful enthusiastic quality that's so infectious and he was great to spearhead this project. We played probably six or eight concerts on the back of that, with different symphony orchestras in different parts of Europe and New York and San Francisco.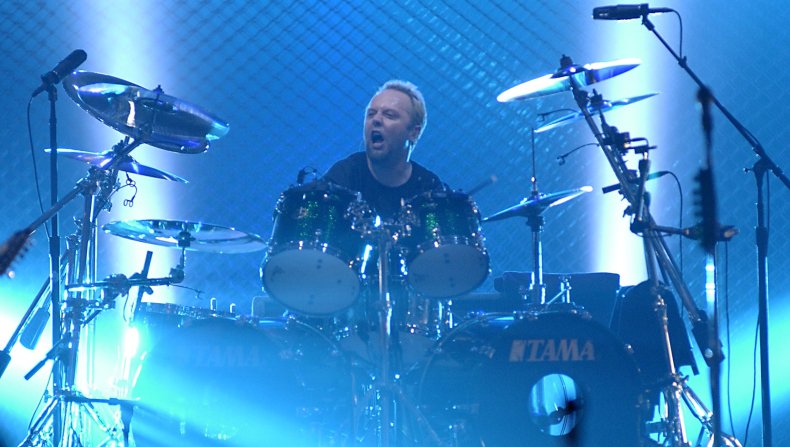 Do you have a favorite Metallica album?
I'll go with the latest one. So right now I'd say it's Hardwired... to Self-Destruct no question.
It's a long one—a double album.
I don't even know if people look at it like that. And it's not like we make a record every three months. The fact that there's enough out there for people to sink their teeth into for a longer period of time is a cool thing. We had the songs, we had the material, we felt good about it, and so we decided to go for it.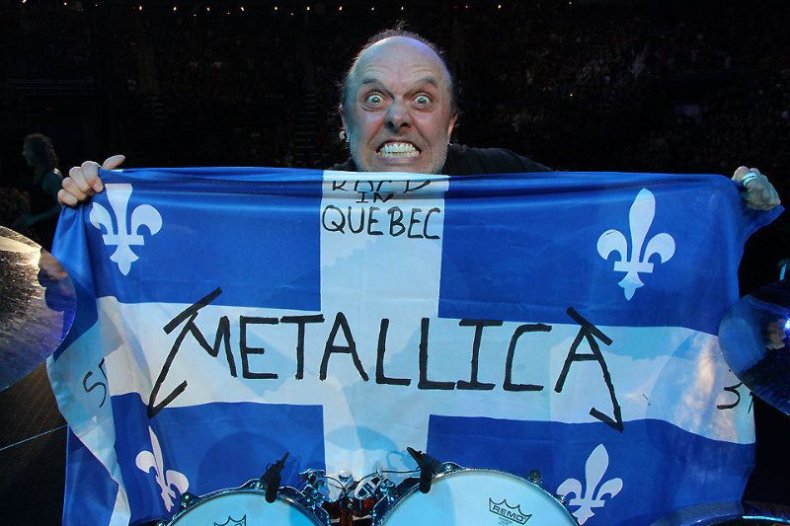 Before you co-founded Metallica, you were an elite tennis player. Do you still play?
I don't play enough tennis. Thanks for asking. Occasionally, but it's kind of sad. I play a bit with a couple of my friends once in awhile.
One more question about the WorldWired shows. As the crowd is leaving the concert, you guys present an interesting movie that shows random scenes from what the audience was experiencing before the concert.
Yeah, it's kind of our shout out to the day, you know? Whatever city we're in, we have a little crew that puts together a movie, a shout out to the fans—basically an outro, the end credits. Like, "Thank you for coming, this is what you look like on the big screen."