13 Metallica Lyrics to Celebrate James Hetfield's Lyrical Genius on His Birthday
James Hetfield, founding member of Metallica, turned 57 Monday. Born in 1963, the son of an operetta singer and a truck driver, in 1981 Hetfield responded to a newspaper ad placed by drummer Lars Ulrich ("drummer looking for other metal musicians to jam..."), leading to the formation of Metallica.
With bassist Ron McGovney and lead guitar Dave Mustaine, Metallica played their first live show in Anaheim, California in 1982. Before recording their first album, Metallica replaced Mustaine with the band's third ongoing member, guitarist Kirk Hammett, while McGovney was replaced by a succession of bassists—Robert Trujillo most recently.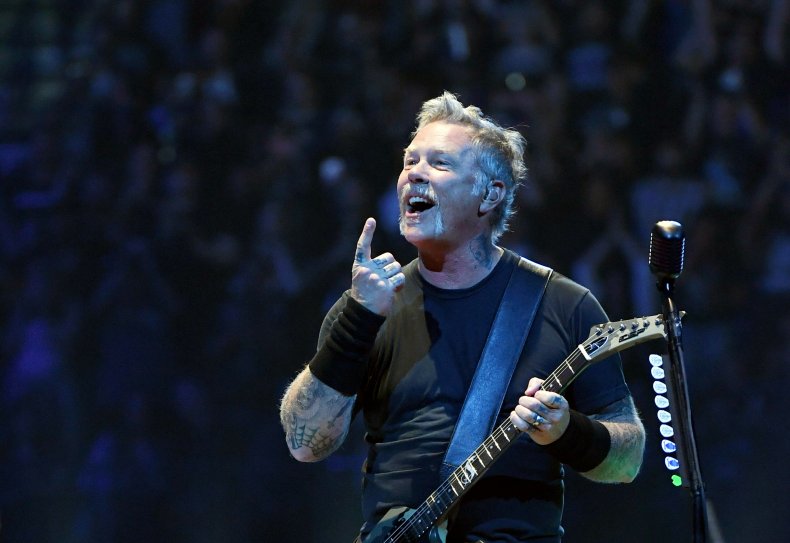 But whatever the composition of Metallica, Hetfield's lyrics have remained one of the band's anchor points. Most Metallica songs are credited to Hetfield and Ulrich (with Hammett also frequently credited)—who often begin with instrumental licks, riffs and bars, then refine them into furiously-paced arrangements—but almost all Metallica lyrics, across ten studio albums, were penned by Hetfield.
It wouldn't be metal without the omnipresence of death, but Hetfield's lyrics often write about our last moments as a confrontation with something dark and terrible. Hetfield's lyrics have also long been focused on powerful forces that burn down the lives of soldiers and young people, who are often only compensated with the final, sublime truth of their destruction.
In "For Whom the Bell Tolls," off Metallica's second studio album Ride the Lightning (1984), Hetfield writes of five soldiers who charge a hill and find their deaths:
"Take a look to the sky just before you die
It's the last time you will
Blackened roar, massive roar fills the crumbling sky
Shattered goal fill his soul with a ruthless cry
Stranger now are his eyes to this mystery
Hears the silence so loud"
Some of Hetfield's most famous lyrics also describe the body's decay, or the sensation of feeling alienated from our own forms—a recurring theme from a songwriter who once seemed haunted by his mother's death from cancer when he was 16, and the Christian Science beliefs that disallowed treatments. While several Metallica songs are more explicitly inspired by the loss of Hetfield's mother Cynthia Bassett, the theme was more often expressed through Metallica's repeated invocation of soldiers, buffeted by powers larger than themselves.
In "One," their third single from their fourth studio album, 1988's ...And Justice for All, Hetfield described a soldier whose limbs and face were blown off by a landmine, who wishes for death from inside the prison his body has become. The music video famously used scenes from Dalton Trumbo's 1971 anti-war movie Johnny Got His Gun, in which the terribly wounded soldier eventually learns to communicate with his doctors and nurses, signaling "kill me" in Morse code over and over with movements of his head.
"Darkness imprisoning me
All that I see, absolute horror
I cannot live, I cannot die
Trapped in myself, body my holding cell
Landmine has taken my sight
Taken my speech, taken my hearing
Taken my arms, taken my legs
Taken my soul, left me with life in Hell"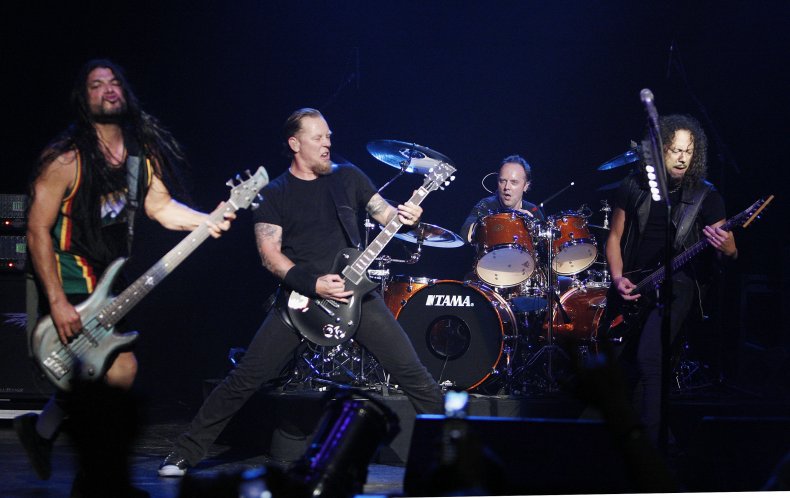 Here are 11 more reminders of what's coming, and that one year's birthday will be your last.
"Ride the Lightning" - Ride the Lightning (1984)
"Guilty as charged, but damn, it ain't right
There's someone else controlling me
Death in the air, strapped in the electric chair
This can't be happening to me
Who made you God to say
'I'll take your life from you?'
Flash before my eyes
Now it's time to die
Burning in my brain
I can feel the flame"
"Fade to Black"
-
Ride the Lightning
"Things not what they used to be
Missing one inside of me
Deathly loss, this can't be real
Cannot stand this hell I feel
Emptiness is filling me
To the point of agony
Growing darkness taking dawn
I was me, but now he's gone"
"The Unforgiven" - Metallica (The Black Album) (1991)
"New blood joins this Earth and quickly he's subdued
Through constant pained disgrace, the young boy learns their rules
With time the child draws in this whipping boy done wrong
Deprived of all his thoughts, the young man struggles on and on
He's known, ooh, a vow unto his own that never from this day
His will they'll take away, yeah
What I've felt, what I've known
Never shined through in what I've shown
Never be, never see
Won't see what might have been
What I've felt, what I've known
Never shined through in what I've shown
Never free, never me
So I dub thee 'Unforgiven'"
"Creeping Death" -Ride the Lightning
(lyrics with Kirk Hammett)
"So let it be written
So let it be done
I'm sent here by the chosen one
So let it be written
So let it be done
To kill the first born Pharaoh son
I'm creeping death
Die, by my hand
(Die) I creep across the land
(Die) Killing first born man
Die, by my hand
(Die) I creep across the land
(Die) Killing first born man
"I rule the midnight air
The destroyer
Born, I shall soon be there
Deadly mass
I creep the steps and floor
Final darkness
Blood, lamb's blood painted door
I shall pass"
"The Thing That Should Not Be" - Master of Puppets (1986)
"Fearless wretch
Insanity
He watches lurking beneath the sea
Great old one, forbidden site
He searches, hunter of the shadows is rising
Immortal
In madness, you dwell
Crawling chaos, underground
Cult has summoned, twisted sound
Out from ruins once possessed
Fallen city, living death"
"The Outlaw Torn" - Load (1996)
"The more I search, the more my need for you
The more I bless, the more I bleed for you
You make me smash the clock and feel
I'd rather die behind the wheel
Time was never on my side
So on I wait my whole lifetime
I'm Outlaw torn"
"Just a Bullet Away" - Beyond Magnetic (2011)
"Eternal borderline
All the faces intertwine
Oh God... now I see mine
In the shine of the midnight revolver"
"Eye of the Beholder" - ...And Justice for All
"Doesn't matter what you see
Or into it what you read
You can do it your own way
If it's done just how I say
Independence limited
Freedom of choice is made for you, my friend
Freedom of speech is words that they will bend
Freedom with their exception"
"Disposable Heroes" - Master of Puppets
"Bodies fill the fields I see, hungry heroes end
No one to play soldier now, no one to pretend
Running blind through killing fields, bred to kill them all
Victim of what said should be, a servant 'til I fall
Soldier boy, made of clay, now an empty shell
Twenty-one, only son, but he served us well
Bred to kill, not to care, do just as we say
Finished here, greeting death, he's yours to take away
Back to the front
You will do what I say, when I say
Back to the front
You will die when I say, you must die
Back to the front
You coward, you servant, you blind man"
"Frantic" - St. Anger (2003)
"If I could have my wasted days back
Would I use them to get back on track?
Stop to warm at Karma's burning
Or look ahead, but keep on turning?
Do I have the strength to know how I'll go?
Can I find it inside to deal with what I shouldn't know?
Could I have my wasted days back
Would I use them to get back on track?
You live it or lie it, you live it or lie it
(You live it or lie it, you live it or lie it)
My lifestyle determines my death style
My lifestyle determines my death style"
But it's not all doom and gloom. There are compensations, such as the life on the road described in "Wherever I May Roam," off their 1991 self-titled Black Album.
"And the Earth becomes my throne
I adapt to the unknown
Under wandering stars I've grown
By myself but not alone
I ask no one
And my ties are severed clean
The less I have the more I gain
Off the beaten path I reign
Rover, wanderer
Nomad, vagabond
Call me what you will"
Happy birthday, James. Keep rocking until that blackened, massive roar fills the crumbling sky.