Back in the '8os, Metallica was extremely prolific, recording four of metal's mightiest albums in just five years. Since then, though, the band's pace has slowed. In the past 15 years, they've recorded only three studio albums, and it took eight years for Metallica to release Death Magnetic's successor, Hardwired...to Self-Destruct. For the latter, it was worth the wait. And on February 12, the foursome will perform some of the new album at the Grammy Awards (and potentially take a ninth award home). In a conversation with Newsweek, frontman/guitarist James Hetfield speaks about the making of Hardwired, his all-time favorite Metallica album and how he secretly wants to play drums.
Throughout Hardwired, you guys lock in so tightly. Staying together for a long time obviously has its advantages.
Sure. Lars [Ulrich] and I have been married for 35 years [laughs]; you get to know each other pretty well. We're brothers that hate each other, love each other, can't stand each other. Can't continue without each other, all of that stuff [laughs]. I've known him longer than anybody except for family members. There are times when he'll just do a count in, and we both start playing the same song. And who knows how or why that happens, but there is an energy between us. I know his limitations, he knows mine, and we try to push each other a little bit. He's able to suggest things for riffs, vocals, and I'm able to suggest things for drums. Like I'm a frustrated drummer, he's a frustrated guitar player/singer, ya know?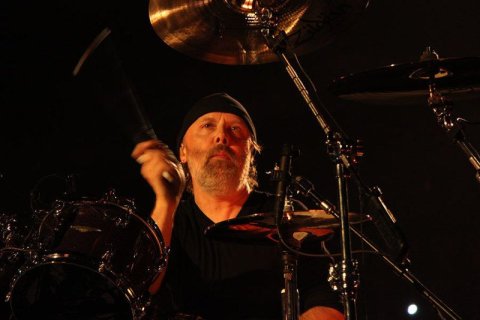 Any routines when it comes to writing riffs?
Basically there's a riff pile, and it doesn't say anyone's name on it, and we just pick out the best stuff. And I guess the difference this time would be that there was no [producer] Rick Rubin, who would come and just basically be a really neutral ear, and he would say, "That is good, that is not good; more that, less of this." This time, as we jammed, we could just take pieces and use them. Death Magnetic was different because the songs were completely written, and then we went in and just performed them.
Kirk [Hammett, lead guitarist] reportedly had a bunch of riffs on his cellphone, but he lost it. How much of a setback was that?
Well, there could have been some really good riffs on there, maybe, maybe not. There were some riffs that Kirk contributed. They just did or didn't make the heavy metal 40-year ear—we know if there's a good riff!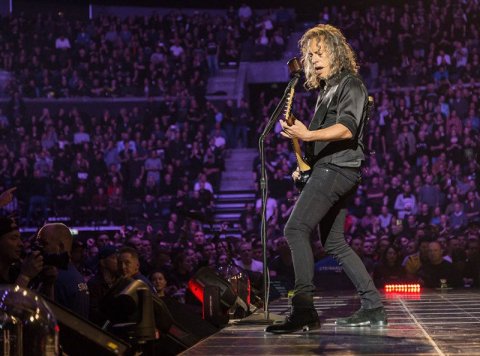 You've been Metallica's main lyric writer from the beginning.
I get to put my loves, fears, hates, question marks into this music, and it definitely helps me. I've written all the lyrics except on St. Anger. St. Anger was a unique time in our lives, where we all felt, OK, let's make this a huge band effort and see how that goes. And it was great.
On "Hardwired," you sing, "We're so fucked, shit out of luck." What's that about?
What do you think it's about?
The state of our society.
Well, that's what works for you. And there's always some fucked part of your life [laughs]. And you can apply it to that. At least in my opinion, it's more of a just a cynical look at the world, maybe as a parent. I think every generation tends to look at the world and think, "Oh my God, I'm glad I'm not a kid."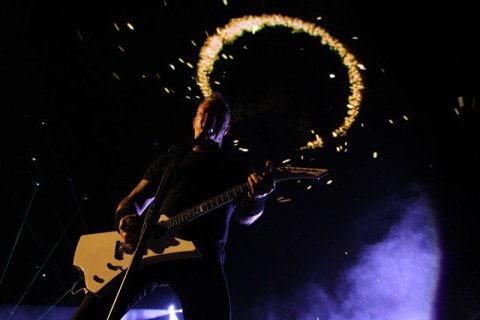 Hardwired pays tribute to some of the giants of metal. The deluxe edition features "Ronnie Rising Medley," which was previously available on 2014's Ronnie James Dio–This Is Your Life tribute album. The record also features "Murder One," a song about Motörhead's Lemmy Kilmister.
We all have our mentors, and we need them, or at least I do. I need someone who I'm lookin' up to, to either try and chase or learn from. We were asked by Dio's wife, Wendy, to contribute to [This Is Your Life]. And that was kind of a no-brainer. We're no strangers to doing covers. So the "Ronnie Rising Medley" was kind of a combination of all the good stuff we loved from Dio. It's great to challenge myself with singing stuff like that. It helps me grow. And it also helps me push limits that I think I'm stuck in.
Lemmy in particular was an icon, sort of a godfather for people who love heavy metal. He was the captain of the ship. And we all felt he was immortal [laughs], doing the hard, hard, hard livin' for such a long time on the road, and just really goin' for it [laughs]. We knew it would come to an end at some point. But we really didn't expect it. There's certainly no Metallica without a Motörhead.
We would get to jam with Lemmy. He was a very friendly guy. We covered quite a few of their songs. You know, Motörhead never made it into the Rock and Roll Hall of Fame, which is a shame. But he did win a Grammy for a song called "Whiplash" that we had recorded on Kill 'Em All. We were trying to write a Motörhead song. He covered our song [for Motörhead's 2006 album, Kiss of Death] that was kind inspired by him, and he wins a Grammy for it. That is very cool.
Can you talk about some of your influences as a guitarist?
So guitar influences for me—really percussive. As I mentioned earlier, I'd love to play drums too [laughs], you know? What I do is play drums on the guitar. I'm very rhythmic, and obviously I'm a rhythm guitar player, so there's some great rhythm guitar players out there: Malcolm Young [of AC/DC] obviously. [Scorpions founding member] Rudolf Schenker and I would say Johnny Ramone had just a great right hand: a lot of down picking, da-da-da-da [he sings a guitar down-picking part], really machine-like. I just gravitated toward that. And obviously the musicality of a riff: Somebody like a Tony Iommi, who is the ultimate riff master in my opinion—so a combination of heavy and great melodies within the riffs.
As rhythm guitarist, how do you blend with Kirk's lead playing on the new record?
Well, Kirk's an amazing lead player with a great lead sound. And I wish I could play like him, but I can't. So I become the best rhythm player I can. And being the singer, I love melody. [UFO member and solo artist] Michael Schenker is probably one of my favorite guitar players as far as melody goes. All of the kind of dual harmony things are things that I do in the studio, and Kirk comes in and does the solo stuff. I think I'm a little more subtle than him. He's pretty bombastic when he comes in with a sound. Like in rehearsals, it's like, "Do you notice that you're really, really loud?" And he doesn't. He just loves noises, exploring noises. It is a great combo.
Did the recording sessions for Hardwired go smoothly? Any major blowups?
There weren't any super-arguments in the studio for sure, but you know, there tends to be, with insecure creative people, a few, like, sulking moments [laughs].
Looking way back, the band nailed four landmark albums, including Master of Puppets, in only five years.
When you're young and got nothing else to do and that is your life, that makes sense. As we get older, there is other things going on. Back then, there was touring, but it was not as intense as it became post-Black Album. Being on tour for three years didn't happen back then, so we were basically going back into the studio. And also no families to raise or to be around, wanting to be there for your kids and watch them grow. And it is amazing that in the early '80s, mid-'80s and late '80s, there was a lot of great metal happening, not from just us and the other Big Four [Metallica, Slayer, Anthrax and Megadeth] but lots of other bands that were very inspired by the movement.
There were a lot of bands from the Bay Area. Exodus was a great band, we loved watching them, we did quite a few shows with them; the band in Seattle called Metal Church. But it was really while growing up in L.A., us and Slayer for sure. Who can be heavier, who can be faster? And it was a very great, and healthy, competition.
Do you have a favorite early Metallica album?
I like Ride the Lightning a lot because I think that was the first time we got to be a part of it. Kill 'Em All, obviously we recorded and wrote all the songs for it, and they were basically songs from the first couple of years we had been playing in the clubs. So we just went in and recorded them, but we weren't allowed to be in there for the mix or anything. With Ride the Lightning, there was no manager telling us, "Stay away from this studio" [laughs]. We were really integrated into it, and we were able to help with the sounds, help with the ideas and all that stuff.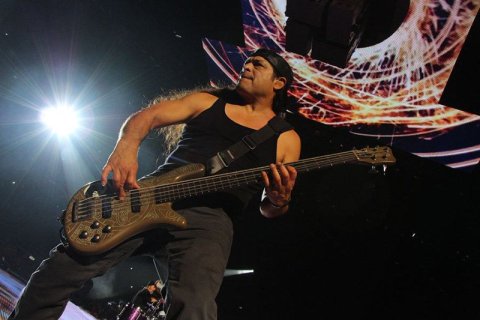 Speaking of playing live, the first time you performed the Hardwired song "Moth Into Flame" was at Webster Hall in New York City on September 27, 2016, the 30th anniversary of Cliff's death [original Metallica bassist Cliff Burton]. How does Cliff's work remain a key part of your musical life?
Well, he planted a harmony seed in me that I've never forgotten. He was a big, big Thin Lizzy fan. We were pretty—and I hate to use the word—bombastic, we were a little punk rock, and he brought in a little more musicality. He was the one that went to junior college and studied musical theory, and he loved all kinds of different music. Obviously, his bass playing, his unique sound, continues to live in the fans and live in us. So Robert [Trujillo] is respectful of him. And Robert is his own amazing player.
Some of the riffs on the new album have an early-Metallica thrash feel.
Well, "Hardwired" for sure. It's short, sweet, it bashes it out, and there's no question on where it's going. With every album, we're influenced or excited about something. And it's just possible that this time, when we went in, there were a lot more riffs that felt like that. At least for me, after not having released a studio record of just Metallica after eight years, I missed the guitar layering, the harmonies, some of the melody stuff and the speed. So I wanted some simplicity from Kill 'Em All, combined with the good sonics and depth of The Black Album.
But I'll tell ya, we just write the next record that we have. And when people say, "Hey, it reminds me of this and this and this," that's great, but we don't see it. We just see it as the next Metallica record. And we're not delusional that we're gonna re-create Master of Puppets or Kill 'Em All. There's no reason to 'cause there already is one there, and if you like it, listen to it.
We are explorers and we love to keep moving forward, and there's always a better album, there's always a better riff, there's always a better lyric and a better gig for us.