Watch: Michigan Meteor Shakes Detroit—Fireball Seen Across Six States Causes Earth Tremors
Just past 8 p.m. on Tuesday, a meteor tore through the skies of Michigan. The blazing beast crash-landed five miles away from New Haven, causing the earth to tremor.
The ball of flames was so bright it was seen as far away as Canada and Illinois.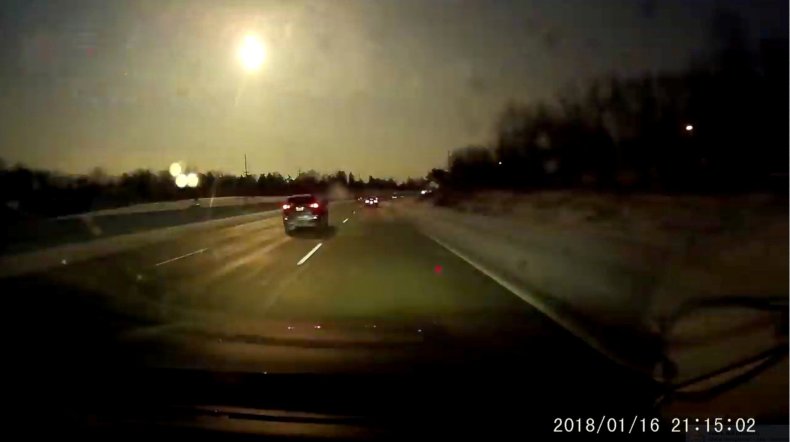 Detroit residents reported a flash of light, a loud boom and shaking houses. After rife speculation that the event was weather-related—or even the start of an alien invasion—the National Weather Service confirmed it was likely a meteor:
The impact of the meteor was so strong it caused a 2.0 magnitude earth tremor, the U.S. Geological Survey confirmed.
The American Meteorological Society (AMS) has collected more than 355 fireball sightings as of 4.15 a.m. ET January 17, spanning five other states: Ilinois, Pennsylvania, Ohio, Indiana, and Missouri, plus Ontario in Canada. The booming sound of its crash-landing was heard by at least 77 people.
The brightness of the meteor's tail indicates it was a large hunk of rock, the AMS says. The society believes it hurtled through the sky at about 28,000 miles per hour, which is quite slow for a meteor.
Keep an eye on the ground if you live near the site of impact, as the AMS believes chunks of the meteor are probably waiting to be found.
Motorists in the area were stunned by the bright streak of light:
One local resident caught the intense flash of light on a home camera:
Local residents were so shaken by the event they inundated local emergency services with calls—prompting several to recommend caution:
Elsewhere on social media, other users had fun with the dazzling display: