Video Shows Meteorologist Covering Hurricane Laura Narrowly Avoiding Being Hit by Blown Transformer
A meteorologist in Texas narrowly avoided injury while covering Hurricane Laura as his camera caught the moment powerful winds blew a transformer on the power line directly behind him.
KSAT 12's Justin Horne went live early Thursday morning, describing the conditions brought on by the massive Category 4 storm in his town of Orange, Texas.
The clip opens with Horne describing the 80-mile-per-hour winds, which are so strong he can barely be heard as he continues detailing which direction the storm might go next. The camera picks up a sudden flash accompanied with a loud boom, as the screen goes almost entirely blue and white from the light.
"Oh," Horne said to the camera, letting out a small laugh as he runs away from the blast. "That's not good. We're going to get out of the way of that."
The clip ends with Horne entirely out of the frame. Sparks can almost immediately be seen surrounding the tree that was standing directly behind Horne, where the transformer blew.
The meteorologist and storm chaser tweeted a video of the scary incident, adding that everyone was safe.
"This is what we feared may happen," Horne wrote with the accompanying video. "Watch until the end when you see the big flash. We are safe."
Horne later clarified that it was the blown transformer, not a fallen power line as some early media reports of the incident stated, that created the big flash.
Horne and his team had spend some time Wednesday staking out a spot to broadcast from, and ultimately decided on this particular location because they felt it to be safe, he wrote in an email to Newsweek.
They were about 100 yards from the transformer, Horne said.
"We felt we had a safe distance between us and any trees or powerlines," he added. "The transformer blowing definitely made us jump, but we never felt that we were in danger. I think it looked a little worse on camera than in person."
Nothing caught fire after the transformer blew, and Horne and his team opted to stay put and continue reporting, he said.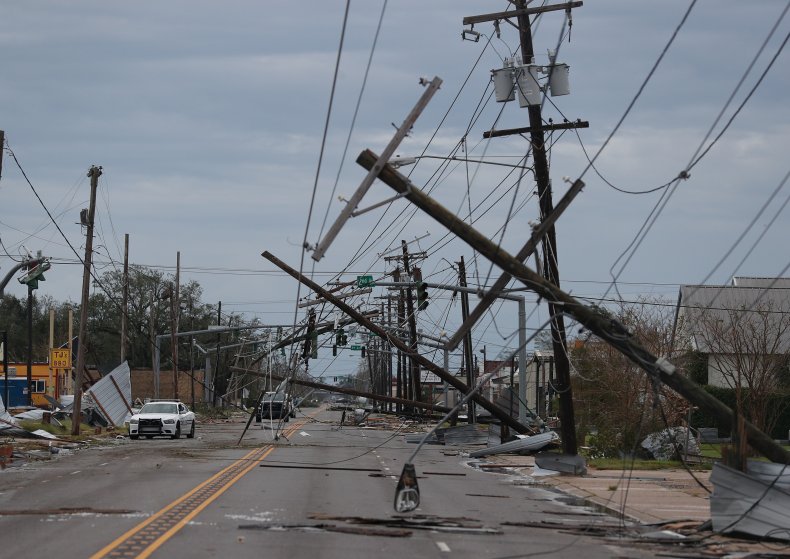 Hurricane Laura made landfall as a Category 4 storm near Cameron, Louisiana, around 1 a.m. CDT Thursday. The hurricane had maximum sustained winds of 150 miles per hour, just on the cusp of it being designated as a Category 5.
More than half a million Texas and Louisiana residents were under mandatory evacuation orders as of Thursday morning. Storm surge warnings were in effect from High Island, Texas, to the mouth of the Mississippi River, with the National Hurricane Center (NHC) cautioning that the conditions were "life-threatening."
According to its latest update, the NHC said Laura is continuing to move north as a Category 2 storm, reporting maximum sustained winds at 85 miles per hour. The center still warned of damaging winds and flooding rainfall in addition to the powerful storm surges.
Lake Charles, Louisiana, took heavy damage from Laura's eyewall. The coastal city faced destroyed buildings, fallen trees and downed power lines, The Washington Post reported. One of the high-rises downtown showed many of its windows had been blown off by the wind.
The governors of Texas and Louisiana both agreed that the storm surge wasn't as bad as they had originally feared. Search and rescue teams are still assessing the damage in both states, but neither governor had received reports of widespread casualties. Louisiana Governor John Bel Edwards said he received a report of the first fatality in his state, a 14-year-old-girl who died after a tree fell on her home, The Associated Press reported.
Update 08/28/20,10:07 a.m. ET: This article has been updated to include comments from Justin Horne.
Video Shows Meteorologist Covering Hurricane Laura Narrowly Avoiding Being Hit by Blown Transformer | News