Two people have been arrested in San Fransisco for allegedly building a meth lab in a hotel room, which was donated to the homeless amid the COVID-19 pandemic.
The discovery was made in the Civic Center neighborhood, on the 300 block of Ninth Street. Newsweek spoke to the Civic Center Motor Inn, where a representative confirmed that the incident happened at the property. The representative opted not to comment on the incident.
A City of San Francisco representative said to local news outlet SF Gate, that the hotel was being used to house rough sleepers during the coronavirus pandemic as part of a city-wide COVID-19 alternative housing initiative named the Safe Streets program.
One guest was astonished when they were told by police there was a methamphetamine laboratory above their room. "I was just, like, shocked," said the resident to KTVU news.
Meth labs are highly dangerous, not only do they give off harmful fumes but they contain highly explosive chemicals that can create a bomb-like effect with a single spark. The illicit activity of making methamphetamine is highly profitable, with the average street price for crystal meth costing around $80/gram.
Police on Saturday investigated after they were called due to a "chemical odor emanating from a guest room" they found "chemicals known to make narcotics, which were isolated to one guest room," said San Francisco Police department in a statement.
Police had been conducting regular checks of sites used to house vulnerable sleepers since March, but the regular visits ended at the beginning of July ahead of the easing of coronavirus-related restrictions in the city and the opening of other services.
During site patrols "deputies responded to domestic disputes, overdoses, and persons in crisis and checked in on all sites every few hours," said San Francisco Sheriff Paul Miyamoto.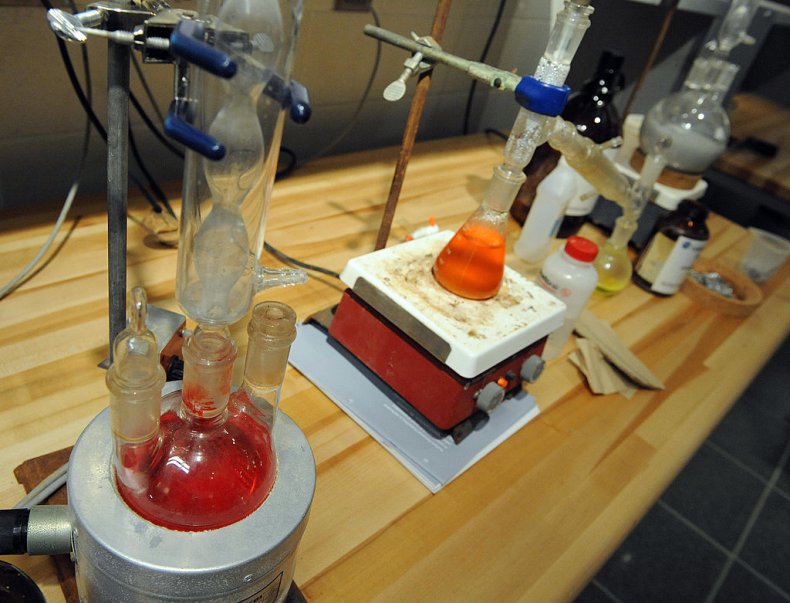 The San Francisco Department of Public Health and the San Francisco Police Department are investigating the hotel incident.
As part of the San Fransisco's response to coronavirus, the city opened 'alternative housing sites,' including 20 hotels to help vulnerable residents with nowhere safe to isolate during the pandemic. It made more than 2,500 hotel rooms available plus 120 RVs. It plans to house a further 1,000 rough sleepers in shelters, and other 'safe sleeping sites'.
The city also wants to make sure the people they initially helped get off the streets don't end up sleeping rough again when the pandemic is over. The Homelessness Recovery Plan includes "new and existing Permanent Supportive Housing, maintaining safe sleeping sites, and reactivating some spaces in the shelter system at a safe capacity with COVID-19 modifications in place," read a city statement.
Newsweek has contacted San Fransisco Mayor and the San Fransisco Police Department for comment on the aforementioned incident.