South Dakota Governor Launches 'Meth. We're On It' Campaign
South Dakota governor Kristi Noem unveiled her state's new anti-drug campaign on Monday, but many are criticizing the program's name, "Meth. We're On It."
The Argus Leader reported that the state spent $449,000 on the program, which includes television advertising, billboards, posters and a website.
Noem released a video today where she introduces the campaign. In it, she says "South Dakota's meth crisis is growing at an alarming rate. It impacts every community in our state, and it threatens the success of the next generation" and asks South Dakotans to call a toll-free number to report meth-related behavior or people who need help getting off the drug."
The new campaign is only a part of Noem's attempt to address South Dakota's drug program. When she presented her state budget in January, the governor carved out $4.6 million towards anti-methamphetamine efforts.
That included $1.4 million in one-time funds to a statewide education and awareness campaign, of which "We're On It" is part. It also earmarked $731,000 for in-school meth education and $2.1 million in ongoing funding for treatment.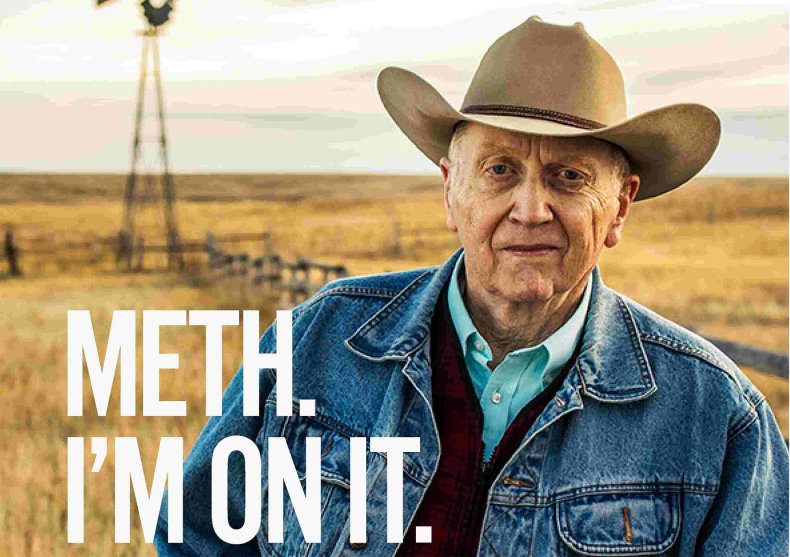 Images released for the campaign show a number of people next to the phrase "Meth. I'm On It," including a trio of football players and a young man at a coffee shop.
Laurie Gill, South Dakota Secretary of the Department of Social Services, said of the program in a release, "The campaign is inclusive and empowering and establishes a movement for all South Dakotans to take an active role in keeping our state a great place to live. We're encouraging everyone to work together to eliminate meth."
Twitter users are already mocking the name, which can easily be read as an admission that everyone in South Dakota is already using the drug.
Rural Organizing executive director Matt Hildreth asked: "How many rural rehab centers could you have created with your $449,000 Minneapolis-based ad campaign?"
One user reminded the world of the state's 2015 campaign, "Why die on Mars when you can live in South Dakota?" which tried to target millennials with a quirky premise to lure them into relocating.
The year before, the state government withdrew its "Don't Jerk and Drive" campaign after similar public mockery. That program was intended to warn motorists of the dangers of abruptly turning their car on snowy roads, but the Department of Public Safety canceled the ads, saying that they did not "want innuendo to pull focus for the main message of saving lives on the road."
The "We're On It" campaign was created by Minnesota-based marketing firm Broadhead Co, who did not respond to Newsweek's request for comment.
Correction: this article has been updated to remove an erroneous reference to North Dakota