Police Departments Mimic Zika-Tainted Meth Facebook Posts To Reel in Drug Users, Dealers
The photo pops off the screen like a tainted Oliver Twist illustration— but instead of a full bowl of tummy-filling porridge, two open-palmed hands cradle a glass pipe and a glassine baggie wadded with shimmering rocks.
At suppertime on Dec. 29, Harahan Reserve Police Officer Keith Moody who runs the small Louisiana hamlet's Facebook page, posted a curious item below the image of cooked crank:
"***WARNING: *** If you have recently purchased meth in any area of Louisiana it may be contaminated with the Zika Virus," read the post. "Please bring all of it to your local Police Department and they will test it for free."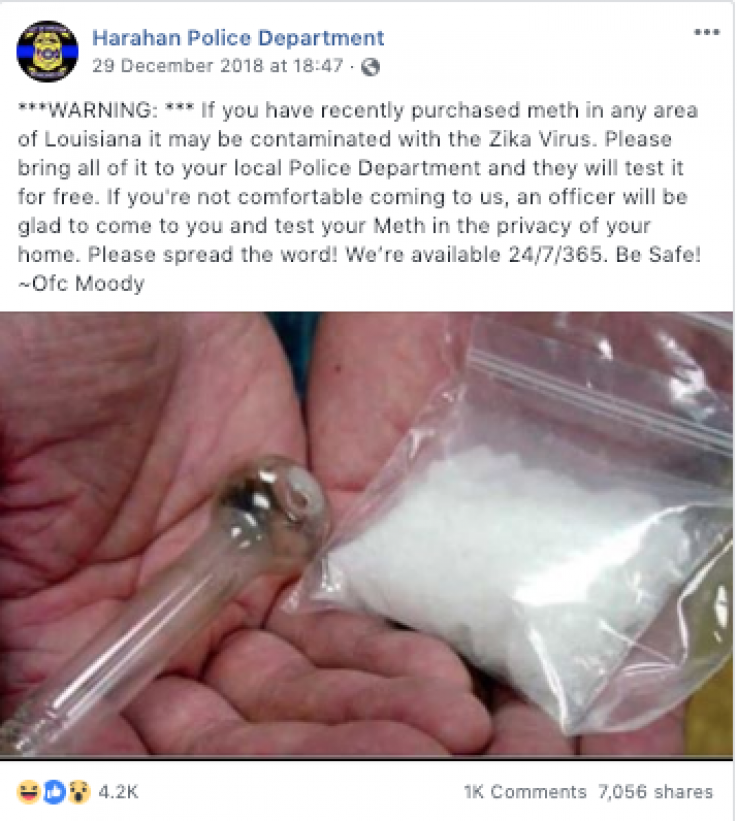 If the reader (or in this case drug-addled user or dealer) was still on the fence, the cops offered a personal touch: they would pay a visit to your address to suss out the dope's safety from Zika.
"If you're not comfortable coming to us, an officer will be glad to come to you and test your Meth in the privacy of your home."
It ended with a request to make sure to let others know.
"Please spread the word! We're available 24/7/365. Be Safe!"
The missive was a complete hoax.
Zika, is a pernicious virus that isn't spread by a puff of meth. Rather, it's transmitted directly by a bite of an infected Aedes species of mosquito or from one sex partner (who has Zika) to another.
According to the Centers for Disease Control and Prevention (CDC) those most prone aren't drug users but pregnant women who can pass the virus onto their fetus.
"...there is no evidence to support this," a CDC spokeswoman confirmed to Newsweek in an email, before directing us to its website on prevention.
Should anybody actually believe that their stash was laced with Zika and take it into the police station or get it checked out at home — Harahan Police Chief Tim Walker said they very likely could catch a case.
"We will deal with them appropriately," he told Newsweek.
Specifically he said, officers would check out the substance and then question the person to ascertain what "their reasons are for having it."
"Sometimes people find drugs and bring it to us and we check out the validity of them having it," Walker said. "Happens all the time."
But if it turned out to be their bag of a controlled substance — Zika or pixie dust — the next stop could be the pokey.
"They probably would be arrested."
So far, the post by a police force which protects around 9,000 people, has yielded almost 1 million views and been shared almost 10,000 times.
But nobody yet has come forward to take the cops up on the offer.
In the end, busting someone who believed the post was never the point.
"The purpose was to get out the attention that we have a drug problem," Walker stressed. "And if it saves one person's life or gets them assistance or shakes the addiction then it's been worth it."
The Harahan police chief, a retired New Orleans cop, started his recent four-year term on Tuesday by beaming at the results.
"I thought it was an attention-getter," the chief proudly stated. "It was to let people know, 'Hey, we got a drug problem and we need to address it.'
"And parents need to check on who their kids are hanging with."
Already the amount of traffic has gone well beyond Walker's expectations.
"What we put out on our Facebook page it has been used before," he said, marveling at the almost 1 million views he's clocked.
Indeed, the same image, and almost the same exact script used was old hand.
Newsweek has learned that at least two other police departments around the country tried the same bogus check-your-meth's purity test.
On May 28 of last year, Ohio's Gratis Police Department posted virtually the same message on its Facebook account.
"WARNING: If you have recently purchased Meth in Preble, Montgomery, Darke or Butler Counties it may be contaminated with the Zika Virus," it read. "Please bring it to the Gratis Police Department and we will test it for free."
And again, the personal visit was offered.
"If you're not comfortable coming into our office, please contact us and we'll test your Meth in the privacy of your home."
However, the police department put out a disclaimer for any teeth-grinding folks perhaps too inebriated to see through the bogus claims that their stash was contaminated.
"Disclaimer: methamphetamine can't be a host for the zika virus," it read.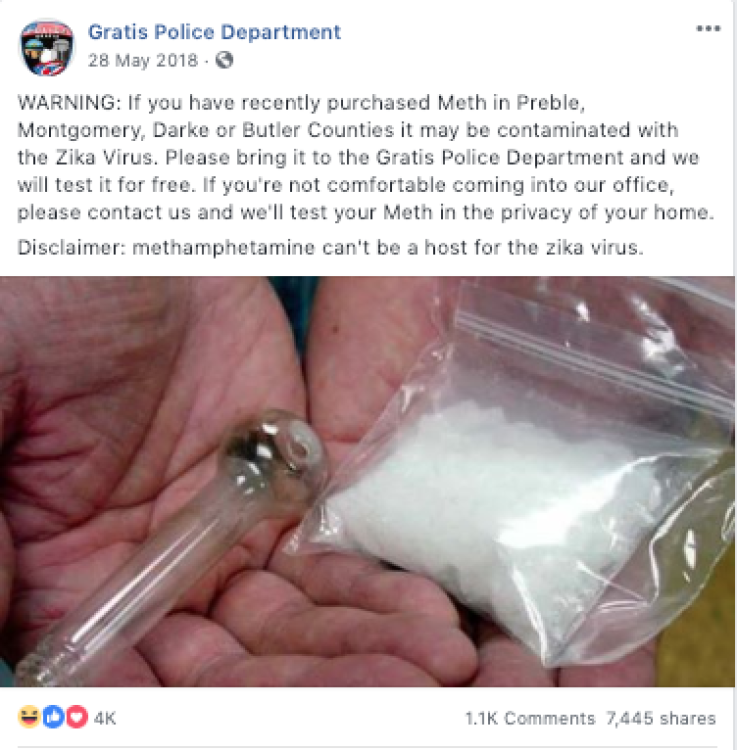 Assistant Police Chief Dennis Blankenship said that he and the department which serves around 1,000 people in a town 30 minutes from Dayton, Ohio — spent a lot of time verifying the science and taking into consideration with the city council and the mayor to be sure they weren't harming anyone before they actually posted the narc whopper.
The town was riddled with heroin overdoses in 2017 and then he said as those dissipated, methamphetamine was on the rise.
"The message was meant to to get more awareness for other drugs beyond heroin," Blankenship said.
Nobody actually contacted his department to forfeit their meth fearing it was tainted with Zika, however had they done so, Blankenship said that he made it clear that nobody needed to be arrested, and could get a pass.
"I spoke with my officers and staff — that if somebody was to bring the drugs in I didn't have any plans on charging them if it was just personal possession," he said. "The message was to help people to learn about recovery clinics they could take advantage.
The post amassed 978,000 views.
"It went crazy," he recalled of the public reaction.
Since then, Blankenship says that there have been plenty of police departments that posted similar messages on their social media accounts.
"I've seen dozens of police departments do similar things," he said. "I keep getting tagged whenever a new one goes up."
Almost a year ago, the Polson Police Department out in Montana published a similar screed warning would-be meth users or pushers of the Zika threat.
"ATTENTION METHAMPHETAMINE USERS!," the post from Feb. 11, 2017, that appears to have been taken down, reads after a screengrab was preserved by ABC Fox Montana. "If you have recently purchased meth from Montana, Washington, or Idaho it could be contaminated with the Zika virus.
"Please contact the Polson Police Department immediately so we can conduct a FREE screening on your meth to make sure it's not contaminated. Be sure to bring all of the meth with you so it can be properly tested."
Newsweek's attempts to reach the Polson Police Department were unsuccessful.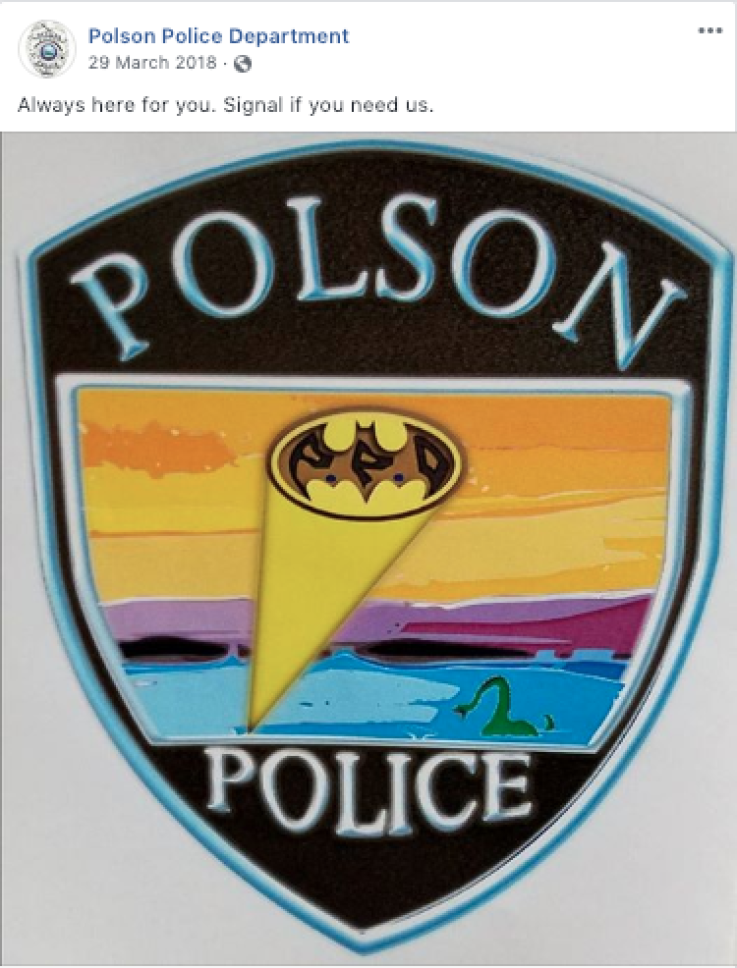 However a spokesman for the department at the time told the station that the reason for posting the message was to open a dialogue with meth users and direct them to treatment.
For Blankenship, as long as the messages to scare up interest in the methamphetamine crisis comes with the right intentions and the sworn civil servants posting them are "up front and honest," then it's a positive.
When it comes to drug addicts who may stumble on the meth message without the facilities or filters to see through the dubious science or dope logic, Blankenship believes there are still positives gained.
"Even if they did believe it then what's the worst that could happen," he asked. "One, they dispose of it in some way, which is not a bad thing because the drugs are gone."
Ideally, nobody would take the drugs from their homes, and simply ping police to pick it up safely, he said.
As long as the message possibly helps a person rid the streets of any drugs, it's a win.
"If you're doing a good thing and trying to get drugs off the street, then I'm okay with that no matter what," he said.
Joseph Pollini, a retired NYPD detective and former head of the department's Cold Case Squad is skeptical of the end game.
"What's the point here," asked Pollini after being read the claims from the posted messages. "Is it meant to lure them in and help them or lure them in and arrest them?"
He recalled how police departments turn to rounding up crooks who have outstanding warrants with a ruse that they hit the lottery.
"They walk in one room and walk out into another in handcuffs," he said. "It was all punitive to arrest people."
For Pollini, who chairs the Department of Law and Political Science and Criminal Justice at John Jay College, the virus-laced fib here strips away direly needed trust in law enforcement.
"There's better ways and easier ways to prevent the decrease of trust in police,"he said. "I'm all for new, innovative ways to counteract crime, but even if you get one or two people to distrust you after something like this — that's one or two more eyes and ears on the street that you now lost."
Police Departments Mimic Zika-Tainted Meth Facebook Posts To Reel in Drug Users, Dealers | U.S.