Nine airline employees from the Dallas/Fort Worth International Airport were arrested and charged with offering to smuggle fake methamphetamine onto commercial flights, the United States attorney in Dallas announced Tuesday.
Seven airline employees from Envoy Air, a regional carrier for American Airlines and two other employees from Spirit Airlines were arrested and charged with conspiracy to smuggle fake methamphetamine, authorities told The Dallas Morning News. The tenth suspect had yet to be arrested as of Tuesday morning, according to the publication.
"These defendants agreed to use and did, in fact, use their positions of employment to bypass security measures at DFW Airport," said U.S. Attorney Erin Nealy Cox. "They did this as well as work with others whom they knew had positions of trust at the airport in order to transport kilograms of what they believed to be methamphetamine."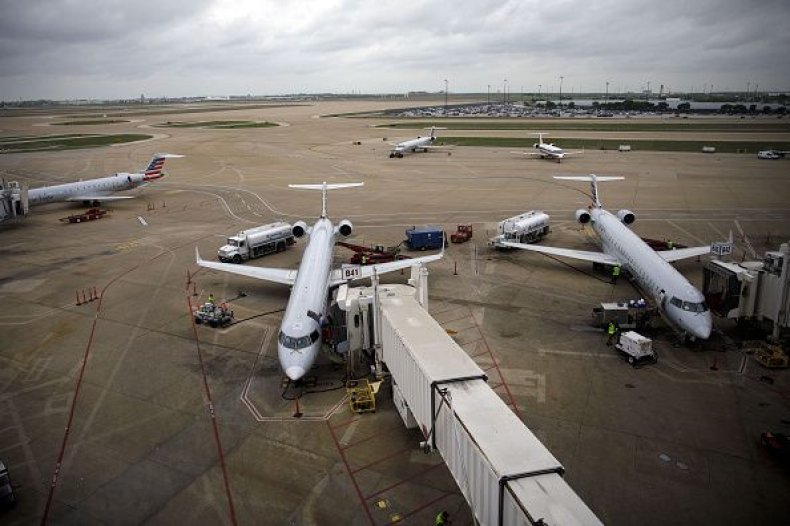 Nelson Pabon, 47, one of the defendants, told authorities he was given the okay to smuggle C-4 explosives from undercover agents for $5,500 after he was told they were not going to explode, according to an indictment received by The Dallas Morning News.
Cox said this has been an ongoing investigation since 2016 and said all of the defendants were not involved with any drug gangs. She said over 66 grams of fake methamphetamine were sent to Charlotte, Phonenix, and Newark, NJ, from August 2016 to February 2018. No drugs, explosives, or firearms were actually smuggled onto the airlines, according to Cox.
"This is about greed and people who abuse their positions of trust," she said.
In a statement sent to Newsweek, American Airlines stated all airport employees undergo a criminal background check and could not comment on the case itself, but said they were working with the proper authorities.
"At American and Envoy Air, we have an unwavering commitment to the safety and security of our customers and team members," a spokesperson for American Airlines told Newsweek. "We take this matter very seriously and are cooperating with law enforcement during their investigation."
A spokesperson from Spirit Airlines told Newsweek in an email that they are also fully cooperating with authorities during the investigation.
"Spirit has been advised of this matter and will cooperate fully with law enforcement," the statement read.
All ten suspects have been charged with one count of conspiracy to possess with intent to distribute a schedule II controlled substance.
"DFW and the FBI have a strong partnership that is focused on keeping our customers and employees safe and secure, and these arrests demonstrates how well we work together," said DFW Airport Police Chief Charles Cinquemani. "There will always be the people who attempt to access the airport for illegal activities, but we will remain vigilant by investing in security and collaboratively sharing information and resources with the FBI, TSA, Customs and Border Protection and other federal, state, and local agencies."