#MeToo Isn't About Hugging or Male Discomfort With Touching Women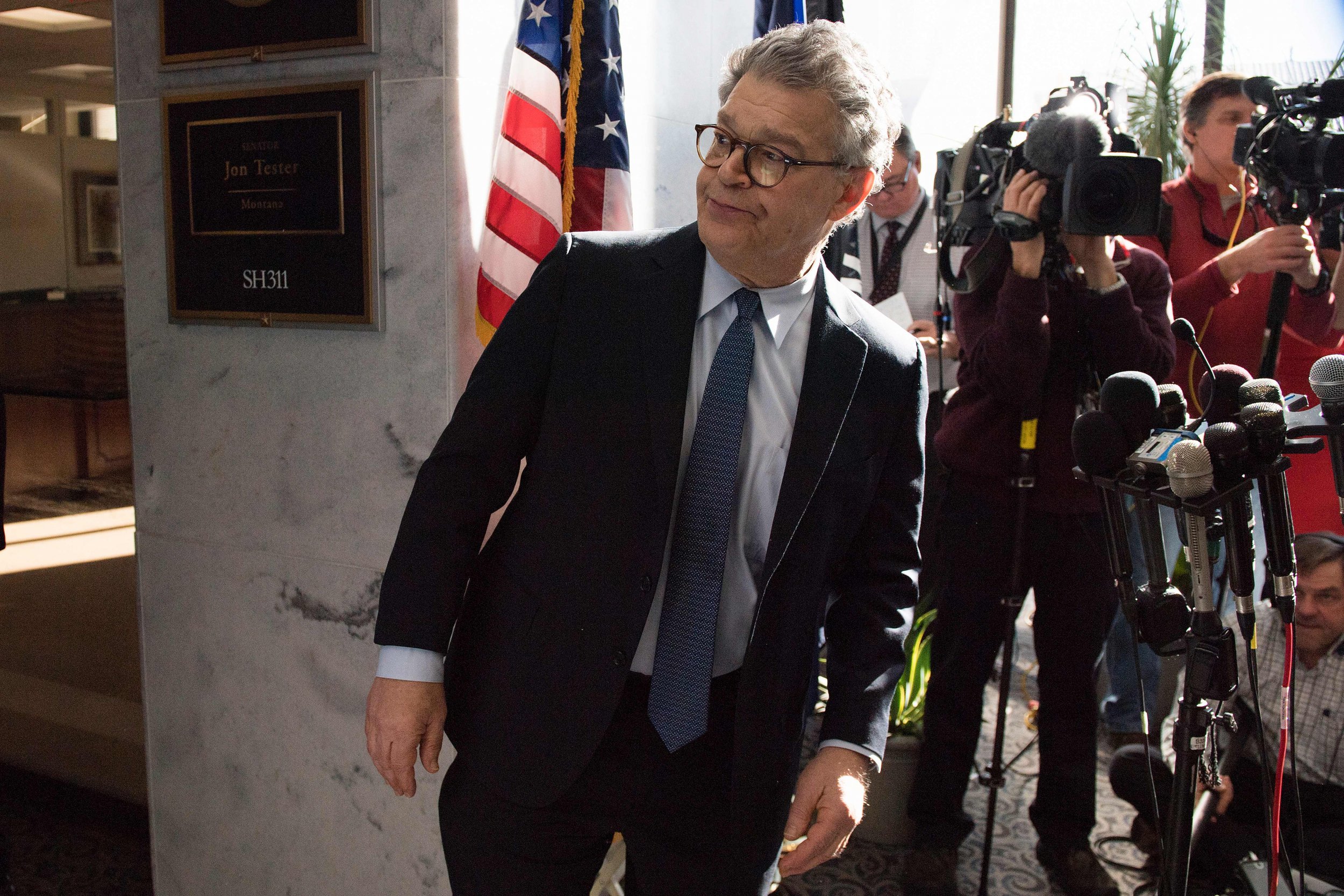 Last month, I stood in front of my open dresser, contemplating my underwear drawer. I was packing for a weeklong trip out of the country, where I would be traveling almost exclusively by myself, and I made sure that every pair of undies that came with me was comfortable, unadorned and, most important, completely unflattering. If something happened to me in the course of my travels, you see—if I were groped or assaulted, say—I wanted to make sure that my undergarments clearly communicated one thing: that I did not "invite" a single bit of attention.
The female Democratic senators who on Wednesday called on their colleague Minnesota Sen. Al Franken to resign amid a growing list of sexual-harassment allegations know what I'm talking about; the kind of calculus I mentioned above is business as usual for a great many women. We might choose shoes to wear based on how fast they can be kicked off if we need to run away from something, or someone. We'll plot out routes to and from work that have us walking by a busy 24-hour drugstore rather than a rowdy bar. We have a friend's number queued up on our phone when we get into an Uber, and alert that same friend when we're leaving on a first date. We do this not because we expect the worst to happen, but because if it does, we will be the ones under the most unstinting suspicion.
So forgive me if I'm not feeling the pain of Texas sheriff Jim Kaelin, whose takeaway from the last two months of widespread, high-profile revelations of sexual harassment, coercion and assault is deep sadness that he can no longer safely hug women at his workplace lest he be accused of improper conduct.
"[M]y hugging days (outside family and or close friends) are over," Kaelin wrote in a Nov. 29 Facebook post. "Sad, but you just don't know when this hug might come back and bite you. The workplace, for one, can become hostile if an employee 'feels' threatened by your hugs...SO IT'S OVER. In the future I will offer a hand shake, or knuckle bump, but NO MORE HUGS."
The Sheriff of Hugs is not alone in wondering what's to become of public displays of affection in this wild new era, where well-known men abusing their power in workplaces may finally face some consequences. Last week also brought deep thoughts from veteran broadcaster Geraldo Rivera, who tweeted that news is "a flirty business."
New York Times columnist Ross Douthat floated the possibility that our refusal to tolerate workplace harassment might stunt population growth. And Monday, an Associated Press story, titled "In wake of Weinstein, men wonder if hugging women still OK," found a few worried souls debating what counts as sexual harassment these days. Can you compliment a woman's hair without getting called into human resources? Can you ask about her weekend without being slapped with a restraining order? My god, where does the madness end?!
I'll address that soon, but first let's take a moment to consider that a cultural moment centering on the harm blithely done to women's careers, bodies and sense of safety by powerful men has quickly shifted to focus on how all this will affect … men. And guys, I get it. You may not be Harvey Weinstein—you're probably not even Garrison Keillor, let's be real—but even the least privileged among you (especially if you're white) has benefited from centuries of your comfort, happiness and success being prioritized over that of others. Suddenly having to exhume what seemed like normal workplace interactions and inspect them for residual creepiness has to be disconcerting. But if the question you're harboring amid these revelations and repercussions is, But does this mean I can no longer touch my female coworkers without having to ask permission first? then you haven't been paying sufficient attention.
When you need to borrow your coworker's stapler, do you just grab it without asking? No, you ask. Same with hugs. This is not difficult. But this also isn't really about hugging, and we all know it. (For one thing, none of these guys seems concerned about not being able to dole out embraces and hair compliments to their male coworkers.)
Shifting the conversation away from a woman's right to not be harassed at her workplace and toward a man's discomfort with having to consider his own behavior is an effort to discredit those who speak up. Suggesting that women react exactly the same way to an unsolicited compliment as we do to someone locking us in their office and assaulting us is a disingenuous excuse to minimize real, destructive patterns of behavior. And acting as though women frivolously point fingers any old time they feel like it erases the reality that making any accusations regularly costs them jobs and forces them to leave industries they love.
Keep in mind that the national conversation about harassment in the workplace is less than 30 years old. Though the term "sexual harassment" and several landmark court decisions came a decade or two before, Anita Hill's 1991 revelations to the Senate Judiciary Committee about the behavior of her former boss, Supreme Court Justice Clarence Thomas, gave the topic a national stage. And people's concerns then were exactly the same as they are now: But wait, should men never talk to women at work again? Is the art of flirtation dead? Will sex itself be criminalized? Where does the madness end?
But here we are: Flirtation is alive and well, sex is still being had and apparently workplace hugging is much more of a thing than any of us knew. And many men are now experiencing some of the worrying, second-guessing and panic that characterizes so many women's daily lives and routine interactions. We can all agree it's not much fun. But we share the task of making sure that everyone can thrive in their workplaces. We need to put more energy and effort into rooting out and rectifying systemic harassment, and less into bad-faith suggestions that acknowledging it is somehow a slippery slope. Men, I promise you will live to hug another day—just ask first.
Andi Zeisler is the co-founder of Bitch Media. Her most recent book is We Were Feminists Once: From Riot Grrrl to CoverGirl, the Buying and Selling of a Political Movement.​