Donald Trump Just Sexually Harassed Senator Kirsten Gillibrand, Critics Say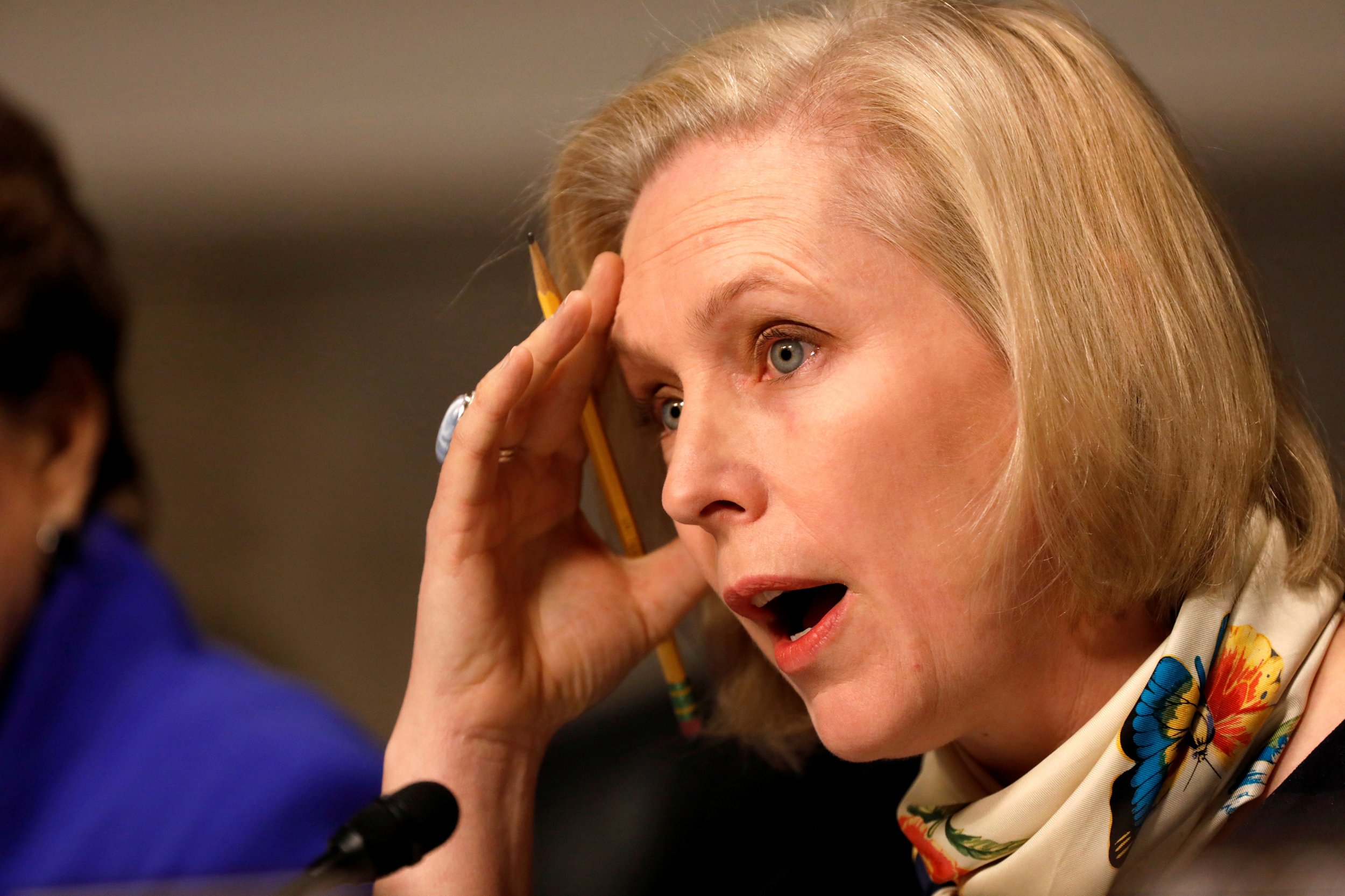 President Donald Trump posted a highly suggestive tweet Tuesday morning aimed at New York Senator Kirsten Gillibrand that many say amounts to sexual harassment.
"Lightweight Senator Kirsten Gillibrand, a total flunky for Chuck Schumer and someone who would come to my office "begging" for campaign contributions not so long ago (and would do anything for them), is now in the ring fighting against Trump," the president tweeted shortly after 8 a.m. "Very disloyal to Bill & Crooked-USED!"
Reaction from social media users and D.C. insiders was swift.
"Are you implying something sexual you monster? This is actual sexual harassment in a tweet!!! Someone please investigate this awful man," tweeted @AndeeD, capturing a widespread sentiment.
The New York Times' Maggie Haberman tweeted that Gillibrand had been "attending a bipartisan bible study group" when the tweet was fired off, and that the junior senator "had to be pulled out by aides to hear what was happening."
Gillibrand took to the social media platform to issue her response: "You cannot silence me or the millions of women who have gotten off the sidelines to speak out about the unfitness and shame you have brought to the Oval Office."
Trump has made four donations to Gillibrand: once in 2007 for $1,050, twice in September 2010 for a total of $4,800 and a final time one month later for $500, according to the Center for Responsive Politics. She was also the last Democrat to whom he ever donated, according to U.S. News & World Report.
Trump's tweet didn't explicitly mention anything sexual, but by putting the word "begging" in quotations marks and the parenthetical statement that followed, many thought the message was clear enough: This was cyberbullying and at worst, sexual harassment.
Jodi Omear, a senior spokeswoman for the Rape, Abuse and Incest National Network, an anti–sexual assault advocacy group, came to the defense of Gillibrand, who has been open about her experiences with sexual harassment while in Congress.
"The president should spend more time fighting for survivors instead of attacking those who are," Omear told Newsweek.
Trump's post was flooded with thousands of comments rebuking the tweet as lascivious and depraved.
"With his behavior towards women, Donald Trump has proven himself to be reckless and terribly unfit to serve," filmmaker Kim Sherrell tweeted. "Be gone you miserable, gross, and disgusting maniac! #TheDCRapist #TrumpToo #BreakTheSilence."
"So now you're openly sexually harassing women on twitter? The only thing women 'beg' you to do is go away. I suspect your wife is one of them," @bimmerella tweeted.
One man shot back at Trump, as well as House Speaker Paul Ryan and Senate Majority Leader Mitch McConnell.
"That's sexual harassment. You literally just sexually harassed Senator Gillibrand," wrote user @MarkCM07. "Care to put country over party yet @SenateMajLdr@SpeakerRyan?"
Others pointed out that targeted harassment is a violation of Twitter's rules—which Trump also likely violated last week when he retweeted three anti-Muslim videos from a British white supremacist. Nonetheless, it likely won't get Trump's account suspended or banned or cost him the verified-account blue check mark, because Twitter has said it allows some violations so the public can be aware of "controversial" topics.
Gillibrand has been a leading voice among lawmakers to root out sexual predators and increase transparency regarding sexual misconduct allegations against elected officials.
In November, Gillibrand and California Representative Jackie Speier announced a bill to reform the current process for filing sexual misconduct claims and require elected officials and staffers to attend sexual-harassment-awareness training.
The Member and Employee Training and Oversight on Congress Act—the acronym for which spells out "ME TOO"—overhauls the current process, which shields the accused from being publicly identified, even if the claims are verified and the victim is compensated with public tax dollars.
A day after announcing the bill, Gillibrand—who holds the seat Hillary Clinton once occupied—broke with the long-standing Democratic norm concerning former President Bill Clinton's indiscretions, saying the Monica Lewinsky affair would have cost him his job if he were in office today.
Last Wednesday, after Minnesota Senator Al Franken said he was getting back to work following allegations of sexual harassment from eight women, Gillibrand wrote on Facebook, "enough was enough" and called on him to step down from office.
The next day, Franken announced he would resign "in the coming weeks."
Not including Gillibrand, at least 16 women have come forward with sexual assault or sexual harassment accusations against Trump. Three women detailed their accusations at a press conference on Monday and called on Congress to investigate their claims.