#MeToo Movement Triggered Gender Backlash as Men Try to 'Maintain Existing Hierarchies of Power'
Levels of sexual harassment in the workplace have dropped since the #MeToo movement, according to a survey of women. But levels of gender harassment stemming from some men's dim view of the fight for gender equality appear to have risen, researchers believe.
Of the 500 women surveyed, 87 percent said they had experienced sexual harassment in the workplace. But between 2016 and 2018, levels of women reporting this dropped.
The drop, the researchers believe, could be explained by potential perpetrators being more wary of acting, as discussions of sexual harassment have become more normalized and women feel emboldened to report unwanted attention.
"It is possible that increased focus on the topic could lead to a backlash effect that increases sexual harassment as societal members try to maintain existing hierarchies of power," the authors wrote.
The study, published in the journal involved over 500 women who were asked about their experiences of harassment at work in surveys carried out in September 2016—around two months after the #MeToo movement went mainstream—and again in September 2018.
The women, who were in full-time employment, were also asked about their self-esteem and self-doubt. The participants were aged between 25 to 45, had worked for 10 years on average, were mostly white, and in mid-level positions. The first survey involved 250 women, and the second 263.
Researchers also interviewed 31 professional women aged between 25 to 64 who worked in both male and female dominated industries, who were predominantly white and also working in mid-level positions. 21 of the women were interviewed again in September 2018 and were asked if they thought sexual harassment had changed over the past two years.
Sexual harassment was defined as "unwelcome sexual advances, requests for sexual favors, and [. . .] creating a hostile offensive working environment." This included gender harassment—where a woman is targeted with sexism—as well as sexual coercion and unwanted sexual attention, which the authors described as the "most egregious forms of sexual harassment."
The answers revealed how women were afraid of the repercussions of reporting harassment, or that they wouldn't be believed. Others spoke of how they questioned their abilities after such advances.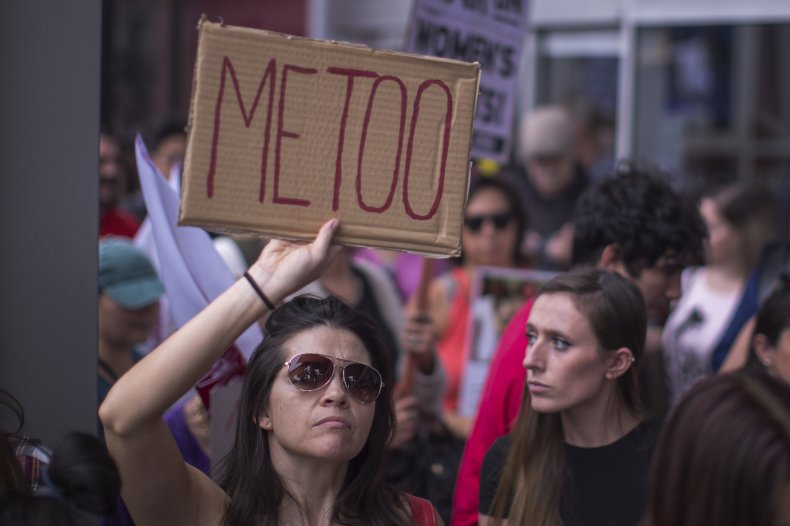 One top-level executive aged over 40 and working in public relations told the researchers: "I didn't complain about him. HR departments—I never trust anyway."
A college professor aged over 40 said of a perpetrator: "He was this fairly famous guy in this field. It was very uncomfortable."
A lawyer aged over 30 working in the tech industry said she was told: "Oh, I thought you were so hot. That's why I hired you."
Those who were sexually harassed at work were more likely to have low self-esteem and doubts about themselves in 2016. Again, this lessened in the two years between the start and finish of the study.
Perhaps, the authors said, this was because victims and survivors felt more supported and empowered to speak out about their experiences.
Stefanie Johnson, study co-author and associate professor of organizational leadership and information analytics at University of Colorado Boulder told Newsweek previous studies have shown that sexual harassment has remained relatively constant between 1976 and 2017. She also pointed to data from the Lean In Institute suggesting that #MeToo has made men afraid to mentor women to avoid accusations of sexual harassment.
"So, we see that #MeToo might have changed men's behavior in negative ways (not wanting to mentor women), but what about women? The findings show that women are experiencing less unwanted sexual attention and sexual coercion. Success! But, they reported increased gender harassment, consistent with the mentoring comments.
"But even better—among women who did experience unwanted sexual attention or gender harassment, we found that it had a weaker impact on women's self-esteem and self-doubts. The women told us that they had community and they now see that it was never their fault."
She continued: "I was surprised to see that men's response to this women's empowerment movement is not to help women but to harass them and fight back to find other ways to demean women. It is a really ugly view of men that I don't usually believe."
Johnson acknowledged the study was flawed because it was based on women's personal accounts of sexual harassment, not third-party ratings or lawsuits filed. "So, it is possible that women just think that unwanted sexual attention (for example) is decreasing because—how can it not? And the changes may not be that strong. But, if this were just optimism bias, I expect that the gender harassment would also have decreased."
She concluded: "The findings really show how nuanced the whole issue is and highlight what a power struggle we are seeing. As for business practices, I advocate for bystander intervention training so that we are all working together to keep each other in check—not, let's stop sexual harassment—but let's define incivility and integrity in our office and what we expect you to do when you see someone being treated disrespectfully."