'Metro 2033' Movie Now Russian After American Producers Tried Moving It to Washington D.C.
Post-apocalyptic novel Metro 2033 will be made into a movie, and this time it will actually be Russian. Russian media giant Gazprom-Media will produce the adaptation of Dmitry Glukhovsky's book, with an anticipated release date of January 1, 2022, Variety reports. A director and cast have yet to be announced.
Metro 2033 is set in Moscow, 20 years after a devastating nuclear war which drove survivors into the underground stations and tunnels of the Moscow Metro. Warring factions developed, pitting fascists, communists and non-human "Dark Ones" against each other. It was optioned for a movie adaptation by MGM, but Glukhovsky quickly grew disillusioned with the American studio's previous plans for Metro, which included transporting it to the Washington D.C. Metro.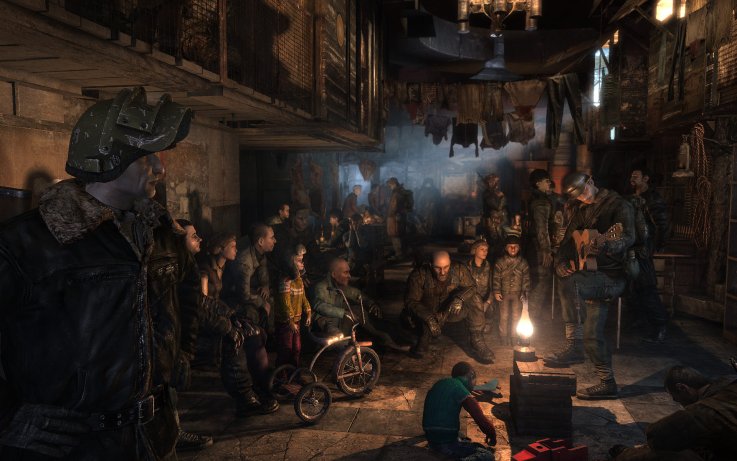 Glukhovsky wasn't happy with American producers' determination to strip Metro of its political and geographic specificity, transforming it into a more generic post-apocalyptic movie that shares its setting with Fallout 3.
"They're kind of afraid of setting it in Moscow, because Americans have a reputation for liking stories about America," Glukhovsky said after the American adaptation was cancelled in 2018, reverting the book rights to him. "We've seen the American version of apocalypse a lot of times and the audience that like the genre are educated and saturated and not really wishing to get anymore of that."
"They turned it into a very generic thing," Glukhovksy concluded after the American version of Metro 2033 collapsed.
While the newly announced Russian adaptation hasn't been confirmed to be set in Moscow, it's hard to imagine Metro 2033 moving outside of Russia, particularly since producers repeatedly cited the novel's Russian bonafides.
Metro 2033 Producer Evgeniy Nikishov described to Variety how Russia is primed for "a real mass culture cult of post-apocalyptic fiction," citing the popularity of video games like Fallout and The Last of Us, movies like The Walking Dead and Mad Max and the books by the Strugatsky Brothers.
"The book by this Russian author has become known throughout the world, and it is embedded in the cultural code of sci-fi fans and gamers all over the planet," another Metro 2033 producer, Valery Fedorovich, said, alluding to the trilogy of video games set in the world of Glukhovsky's novels. "This is a dream project, the most ambitious and large-scale film that we have ever launched. We intended to invest an unprecedented sum ... in the production and promotion of this movie, both in Russia and abroad."
"Our ambitions turned out to be similar: to create a world-class blockbuster and stun even those who have read the trilogy and know it by heart," Glukhosky told Variety. "So as not to disappoint them, I am ready to become a creative producer of the movie and help create it with both my advice and action."
Metro 2033 has sold more than five million copies and been translated into dozens of languages. Glukhovsky also wrote two sequels—Metro 2034 and Metro 2035—which will likely see movie adaptations of their own if Metro 2033 is as big as Glukhosky and Gazprom-Media intend.
'Metro 2033' Movie Now Russian After American Producers Tried Moving It to Washington D.C. | Newsgeek