Mets Appear to Troll Players, Booing Fans With Photo of Ex-Player
The New York Mets have their finger, specifically their thumb, on the pulse of their team's fan base.
The team's Twitter account posted a subtle dig at its fans and players while also wishing former pitcher Tug McGraw a happy birthday on Monday.
McGraw, who famously coined the team's legendary catchphrase "Ya Gotta Believe" during the team's NL pennant-winning season in 1973, would've turned 77 on Monday, and the Mets wished him a happy birthday by posting a photo of him giving a thumbs-up to the camera.
The photo comes on the heels of Sunday's array of thumb-related controversies from the Mets clubhouse. Mets fans have expressed their frustration over the team's second-half struggles — they are just 8-19 in August and 16-27 since the All-Star break — by booing and jeering the players at home games at Citi Field.
The players heard those frustrations and responded, specifically by celebrating their on-field success with thumbs-down celebrations, a trend started by infielder Javier Baez, who the Mets acquired in a trade with the Chicago Cubs on July 30.
"I want to let [the fans] know that when we have success we're gonna do the same thing, to let them know how it feels," Baez said after New York's 9-4 win over the Washington Nationals on Sunday. "If we win together, we've got to lose together, and the fans are a really big part of it. In my case, they've got to be better. I play for the fans, I love the fans, but if they're gonna [boo] they're putting more pressure on the team, and that's not what we want.
"[I wanted] to let them know that when we don't have success, we're gonna get booed. So they're gonna get booed when we get success. It was my opinion. It's just how I feel."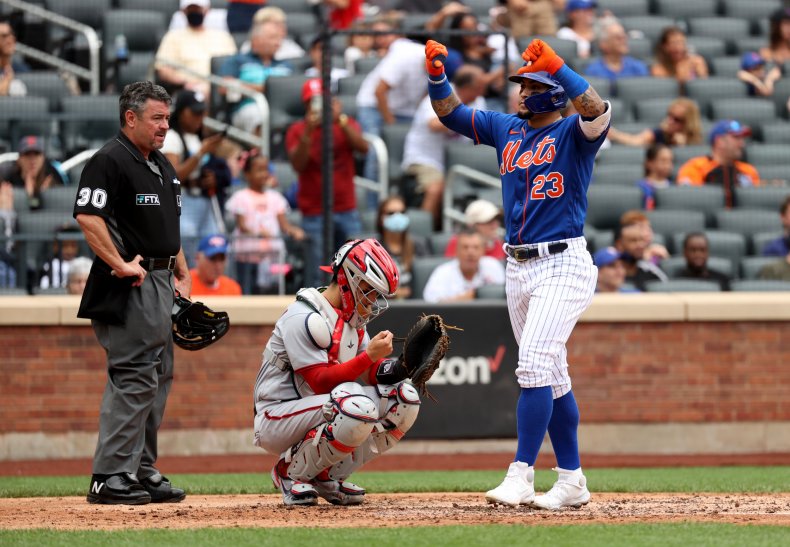 Baez's quotes set off a firestorm on Twitter, specifically among the Mets loyal, but unofficial, fan club, The 7 Line Army, and outspoken team owner Steve Cohen, who also has been critical of the team during its recent slide.
Baez's comments also prompted Mets president Sandy Alderson to release a statement condemning the thumbs-down celebration.
"Mets fans are understandably frustrated over the team's recent performance," the statement said. "The players and the organization are equally frustrated, but fans at Citi Field have every right to express their own disappointment. Booing is every fan's right."
"The Mets will not tolerate any player gesture that is unprofessional in its meaning or is directed in a negative way toward our fans," Alderson's statement continued. "Mets fans are loyal, passionate, knowledgeable and more than willing to express themselves. We love them for every one of these qualities."
The Mets social media account leaned into the controversy with the McGraw photo, and the reference wasn't lost on some especially observant fans.