Mets Owner Steve Cohen Blasts His 'Unproductive' Team in Twitter Rant
Steve Cohen is letting frustrations with his $2 billion investment be known.
The New York Mets owner blasted his team's hitting approach Wednesday after the Mets dropped their fifth straight game, 3-2 to the San Francisco Giants, on Tuesday.
Cohen, who took majority ownership from the notoriously frugal Wilpon family for more than $2 billion in September 2020, infused more money into New York's roster to bolster its sagging offense — which has long lagged behind the Mets' dominant pitching. He also hasn't been shy about sharing his thoughts on social media, providing transparency to his more than 214,000 followers on Twitter.
The Mets' five-game skid and mere five wins in the past 19 games, which has dropped the team below .500 for the first time in over three months, has Cohen fuming. They've fallen into third place in the winnable National League East, watching a four-game lead turn into a four-and-a-half game deficit behind the first-place Atlanta Braves in just 18 days.
"We are in a tough situation, that's the reality," Mets manager Luis Rojas said after the loss Tuesday. "We've been having some struggles. We've had a lot of tough losses. We know what's happening. We are working hard to get better in some areas, so we've got to get to work."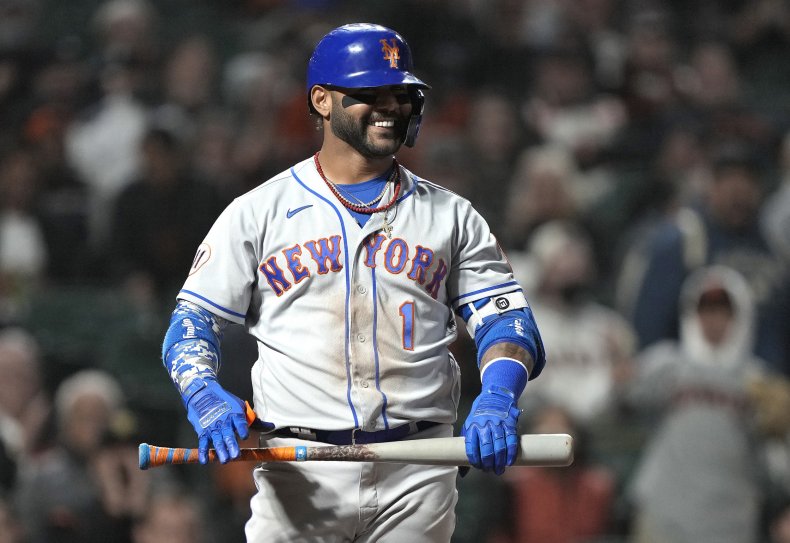 Cohen's harsh assessment of the offense comes as the Mets have scored just 64 runs over a 19-game stretch (3.3 per game). They rank 10th in the NL in on-base percentage and 12th in the NL in slugging and OPS and have just a 2.2 percent chance of making the playoffs according to Baseball-Reference.
While the Mets' struggles aren't solely due to poor offensive approach, Cohen is likely frustrated that some of New York's moves have panned out thus far. James McCann, who the Mets signed as their starting catcher, is hitting just .240/.303/.357 and was scratched from the lineup Tuesday with back spasms.
Javier Baez, the team's marquee trade deadline acquisition from the Chicago Cubs, was just 6 for 35 (.171) at the plate before landing on the injured list with back spasms on August 10.
The Mets' slide also coincides with the loss of star shortstop Francisco Lindor. Acquired from Cleveland in the offseason and then signed to a 10-year, $341 million extension, Lindor started to hit well after a slow start. He was hitting a robust .333/.489/.500 in 12 games in July before hitting the IL with a Grade 2 oblique strain.
Cohen may also be frustrated by watching his team scuffle while the crosstown-rival Yankees have overcome injuries and, as star pitcher Gerrit Cole joked "our own COVID variant," to an American League wild-card spot as of Wednesday.
Rojas was asked about Cohen's tweet before the Mets' series finale in San Francisco on Wednesday and took ownership for their recent struggles.
"We understand where he's coming from," Rojas said according to a tweet shared by The Athletic. "We've all got to be held accountable for this team's performance ... We're all in this. It doesn't single out one player. It doesn't single out one coach. At the end of the day, we need to win games."