Royals Beat Mets 5-4 in 14th Inning of First World Series Game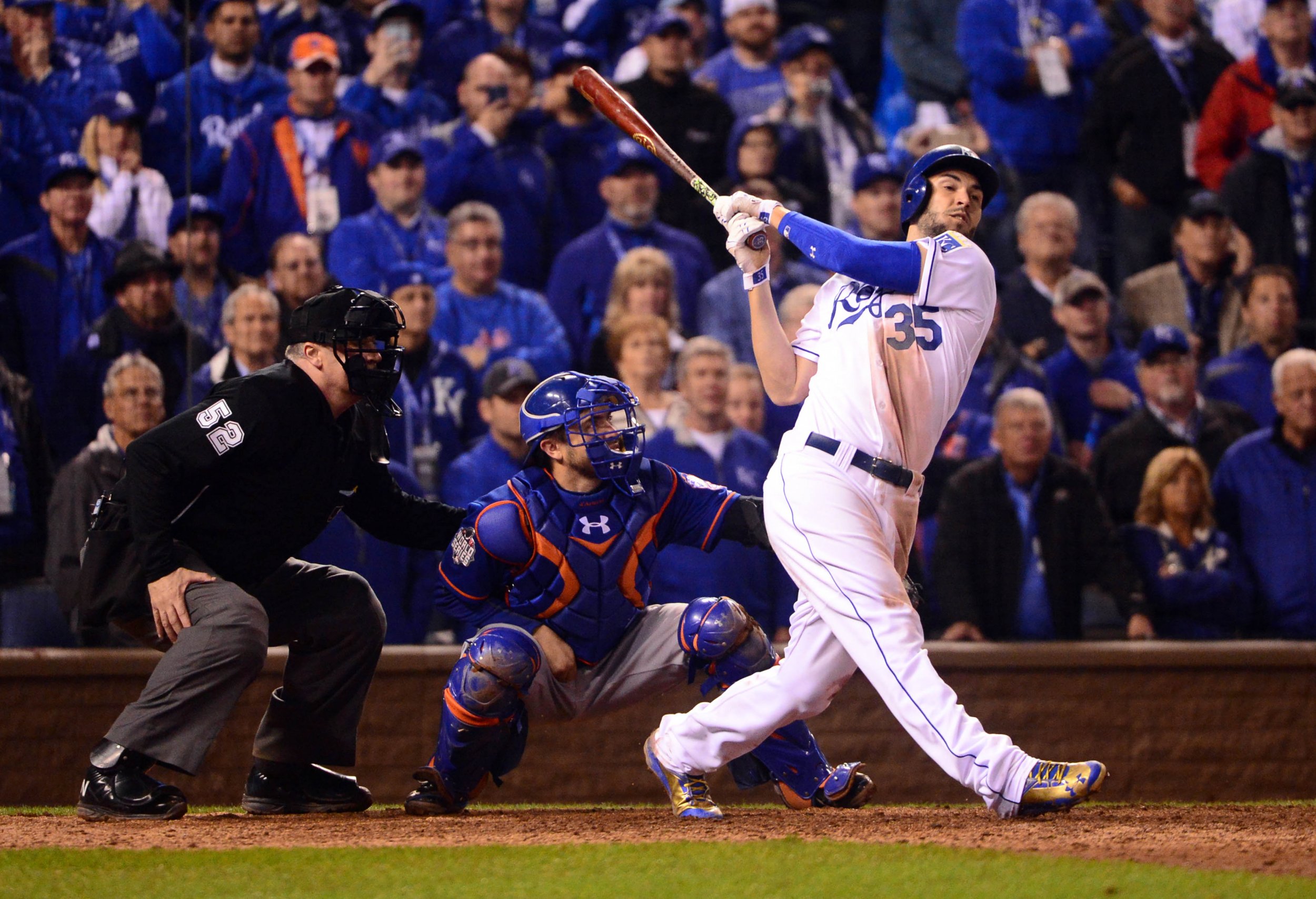 The first game of the World Series between the New York Mets and Kansas City Royals stretched into the 14th inning and the early hours of Wednesday morning after the teams tied at 4-4 in the ninth inning. After over five hours of game play, the Royals won. The game is one of the longest in World Series history.
The first run on the game went to Royals' Alcides Escobar. The Mets scored a run in the fourth innning and again in the fifth. In the sixth, the Royals tied it up and the Mets scored one run. In the 8th innning, the Mets retook the lead at 4-3. In the ninth, the Royals tied it 4-4 before winning it five innings later on a Eric Hosmer sacrifice fly. The game went into extra innings just after 11:30 p.m. ET and wouldn't end until almost 1:30 a.m.
Those watching at home got a surprise when the Fox Sports broadcast of the game went down suddenly, delaying the game and taking down the replay option.
The starting line up over on the Mets side includes Curtis Granderson, David Wright, Daniel Murphy, Yoenis Cespedes, Lucas Duda, Travis d'Arnaud, Michael Conforto, Wilmer Flores, Kelly Johnson, and Matt Harvery. The Royals will start Escobar, Ben Zobrist, Lorenzo Cain, Eric Hosmer, Kendrys Morales, Mike Moustakas, Salvador Perez, Alex Gordon, Alex Rios and Edinson Volquez. Volquez's father reportedly died earlier on Tuesday. According to ESPN, Volquez learned the news before the game, though Fox Sports said he was told during the game.
In the fourth inning, the Fox Sports televised feed of the World Series failed due to technical issues. This is an unusual interruption for any sporting event, particularly a championship game of this caliber. The game was stopped for about five minutes due to the outage, which is believed to have been caused by loss of power to the news channel's truck at the stadium.
The outage might be related to an issue Google Fiber was experiencing in Kansas City. "We know it couldn't have happened at a worse time, and we're working as quickly as we can to fix it," Google Fiber tweeted right after Fox Sports went down.
The Mets haven't seen a World Series title since 1986. The Royals last won in 1985.
Regardless whose side your own, all baseball fans will be enjoying a free breakfast at Taco Bell on November 1 because Royals player Lorenzo Cain stole a base in the game.