Mets Star Kevin Pillar 'Doing Fine' After Being Hit in the Face by Errant Pitch
New York Mets star Kevin Pillar was struck in the face by a 94.5 miles per hour fastball during Monday night's game against the Atlanta Braves.
The outfielder fell to the ground after he was hit with the bases loaded in the top of the seventh inning by a ball thrown by Jacob Webb.
The impact left Pillar cradling a bloody nose as blood gushed down his face, forcing the athlete to walk off the field.
The veteran outfielder was taken to hospital where he underwent a CT scan and other tests, his team confirmed over Twitter on Monday night.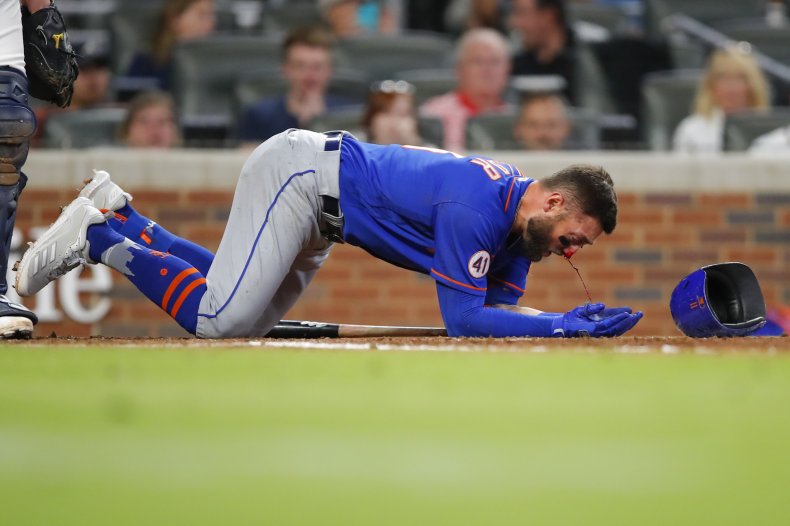 About one hour after the game finished and the Mets secured a 3-1 win, Pillar assured fans he was "doing fine."
"Thanks to everyone that has reached out!" Pillar tweeted. "Scary moment but I'm doing fine! #RBI #gamewinner."
The Mets advanced to 19–16 with Monday's victory and currently lead the National League East.
"This guy's a warrior; he shows up every day to play hard and you guys saw him: He got up on his feet and left," Mets manager Luis Rojas told The Athletic. "There's no chance I thought he was going to be able to do that after I saw the ball hit him in the face, but he got up and he left. That's at least one positive to see."
Braves manager Brian Snitker also shared his sympathies and took Webb out of the game after his pitch.
"That's about as sickening a thing you can see on a baseball field, when a kid gets hit like that," Snitker said. "I just keep that kid in my prayers. Hopefully, everything will work out OK, because this guy is nothing but a pro, the way he handles himself and the way he plays the game. He's a gamer."
Pillar is in his ninth MLB season and his first with the Mets. He is batting .250 with two home runs and eight RBIs, The Athletic reports.
Monday's injury is not the first time the athlete has taken a pitch to the face. When Pillar played for the Blue Jays he was hit by a ball on April 8 of 2016 when playing against the Red Sox.
Again, on August 30 of 2019, Pillar took a 97-mph fastball to the jaw while playing for the Giants in a game against the Padres.
Pillar's status for Tuesday's game remains unclear.