Mexican Ambassador to U.S. All But Admits No Specific Deal Made with Trump to Buy More American Agricultural Products
When President Donald Trump announced Friday that his administration had reached a deal with Mexican officials to forestall his threat of tariffs on imports from Mexico in exchange for more cooperation in curbing migration, the president claimed that our neighbors to the south had agreed to purchase more American agricultural products. However, Mexico's ambassador to the U.S. appeared to admit Sunday that no such specific deal had been reached, though she subsequently claimed to have neither confirmed nor denied this part of the agreement.
Trump tweeted over the weekend that "Mexico has agreed to immediately begin buying large quantities of agricultural product from our great patriot farmers!" However, critics noted that there was no mention of any such arrangement in the joint declaration issued Friday night by Mexico and the U.S., and no one in the administration had provided specifics on this supposed deal.
Ambassador Martha Bárcena appeared on CBS News' Face the Nation Sunday where host Margaret Brennan pressed the diplomat on Trump's claim.
When asked directly if there was any specific agreement by the Mexican government to buy additional U.S. agricultural products, Bárcena did what diplomats do best — answer a question she wasn't asked.
"It is our understanding that without tariffs and with USMCA ratification there will be an increased rate both in agricultural products and manufactured products," said the ambassador, referring to the United States-Mexico-Canada Agreement, a new North American trade agreement that is currently waiting for congressional approval.
"But none of that was actually agreed to as part of this negotiation," noted Brennan. "Because the president's been tweeting, saying that Mexico agreed to buy all sorts of agricultural products."
Again, the ambassador attempted to side-step the question.
"What I would say is that, even now, we are the second buyer of the U.S. in grains and meat," began Bárcena. "We have an integrated economy in the agricultural sector. We export fruit and vegetables to the U.S., also contributing to a healthier diet in the U.S., and we buy basically grains and meat... So what we are expecting without the tariffs is that there will be an increase. You have to remember that last year we were the third trade partner; we are now the first so we are your most important market and you are our most important market. Is trade on agricultural products going to grow? Yes, it is going to grow and it is going to grow without tariffs and with USMCA ratification."
Brennan tried for a third time to get a clear answer from the diplomat: "But there was no transaction that was signed off on as part of this deal is what I understand you're saying. You're talking about trade."
A visibly reluctant Bárcena replied, "I'm talking about trade and I am absolutely certain that the trade in agricultural goods will increase dramatically in the next few months."
CBS subsequently noted on Sunday afternoon that Bárcena claimed that she neither confirmed nor denied that a deal was made. However, as you can see from the above clip, she appeared to have conceded that no actual deal was made.
Earlier in the interview, Bárcena was more specific about what is expected from Mexico in terms of curbing migration.
"We will deploy a national guard on Monday," she said, noting that her use of the term "national guard" referred more to a state police force rather than the American, more militarized understanding of the phrase. "I want to explain that this deployment will take place now, because until two weeks ago we were still discussing the laws to implement the national guard. The deployment throughout the country has already begun and it will increase next Monday."
In making his threat to impose tariffs on Mexican imports, the White House had stated that the tariffs would remain in place until Mexico "substantially stops the illegal inflow of aliens coming through its territory," but never provided specific figures it would deem acceptable.
"Did the Trump administration give you hard numbers, say we need to see a 30 percent decrease before we go back to putting a tariff threat on the table?" Brennan asked Bárcena on Sunday.
"No, what we talked [about] was that the numbers have to go down back to previous levels that we had maybe last year," explained the ambassador. "What we are seeing is that this surge of migrants was totally unexpected, both for Mexico and the U.S. If you think that almost one percent of the Honduran population has left the country in the last five months, and the same for Guatemala, then you have to realize that we are really in front of a humanitarian tragedy."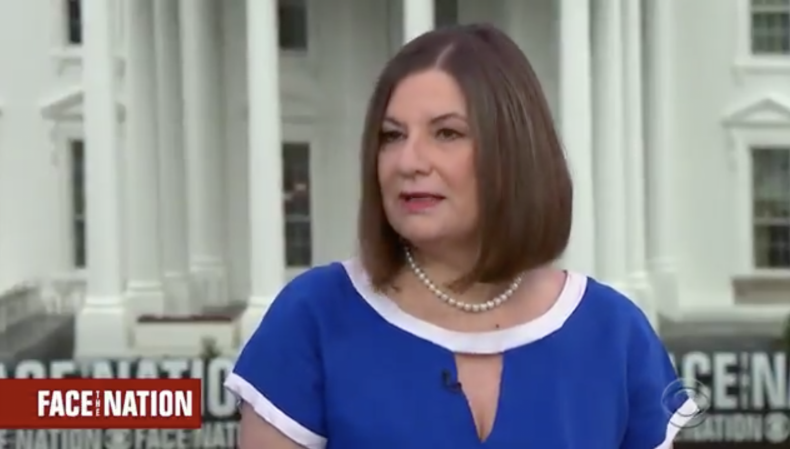 This story has been updated to include the ambassador's later claim that she neither confirmed nor denied an agricultural products deal had been reached.