Mexican Drug Cartels Turn to IEDs to Use Against Army as Drug War Rages On
Drug cartels in western Mexico have started using improvised explosive devices (IEDs) in the ongoing war with the government.
Though Mexican cartels have used explosives, drones and homemade armored cars in the past, the Associated Press reported that this is the first time they have used IEDs, or homemade explosives.
According to a report by the U.S. Department of Homeland Security, IEDs can take many forms, from a 1-pound explosive stuffed into an envelope to "a sophisticated device capable of causing massive damage and loss of life." Mexican television station Milenio described the IEDs the cartels have used as pipe bombs with a cone-shaped cap that directs the explosion.
AP reported that the city of Tepalcatepec, in western Michoacán state, is currently the center of a self-defense movement against gunmen from the Jalisco New Generation Cartel. A spokesman for the movement, who remained anonymous for his safety, told AP that the cartel used an IED in a Saturday attack against the Mexican army.
The U.S. Department of Justice said in a 2018 statement that the Jalisco cartel was "one of the five most dangerous transnational criminal organizations in the world, responsible for trafficking many tons of cocaine, methamphetamine and fentanyl-laced heroin into the United States, as well as for violence and significant loss of life in Mexico."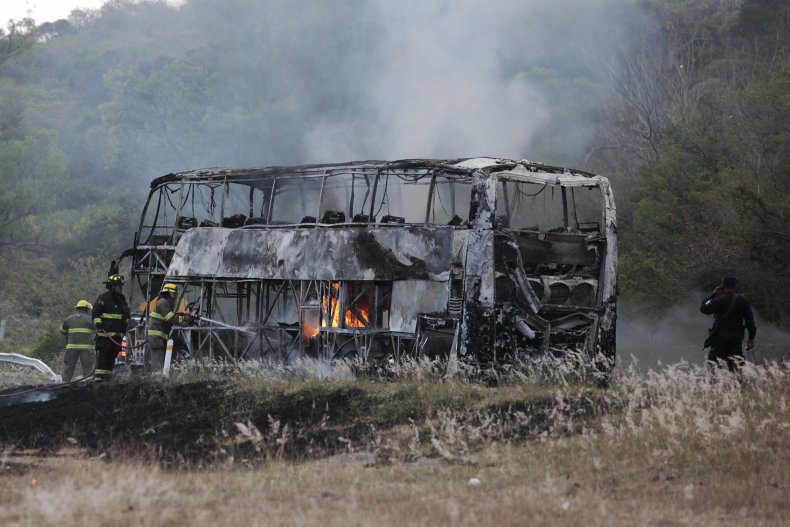 The self-defense movement spokesman told AP that the cartel's improvised land mines did a large amount of damage to one of the army's armored vehicles. Mexico's Defense Department confirmed to AP that army patrols had been attacked near Tepalcatepec with explosives four times on Saturday but did not give details on the types of explosives.
The cartel has been bombing the area in its turf war to control Michoacán, which AP said cartels value because of its smuggling routes, seaport and possibility to extort money from lime and avocado growers.
Last month, the New York Post reported that the cartel had escalated its battle for control of the area by using drones to drop bombs on at least two towns near Tepalcatepec.
The Mexican government's war against drug cartels formally began in 2006, according to the Council on Foreign Relations. Its report said thousands of people die in the country's war on drugs each year.
Jalisco New Generation is one of the country's fastest-growing cartels, with the Justice Department statement saying it has found success through its "disciplined command and control, sophisticated money laundering techniques, efficient drug transportation routes, and extreme violence."