Mexican and Israeli Task Forces Join Search For Survivors in Surfside Building Collapse
Task forces from Israel and Mexico have joined the search for survivors following the Surfside building collapse in Miami Beach, Florida.
During a public briefing on Friday, Miami-Dade Mayor Daniella Levine Cava said that people from both countries have joined search-and-rescue groups. Workers from both countries rotate in and out as work teams sift through the rubble in two 12-hour shifts covering all 24 hours of each day.
The building and surrounding area have many South American, Central American, Spanish-speaking and Jewish residents, Cava explained. Many have required continual assistance as the search for their loved ones continues.
"We have hope because that's what our search and rescue team tells us, that they have hope," Cava said at the Friday briefing. "They see opportunities. They see fissures that [survivors] could go in. They see places that they could break through. And as long as they can do that, and as long as they have encouraging signs, like the knocking sound that they've heard, then we will continue."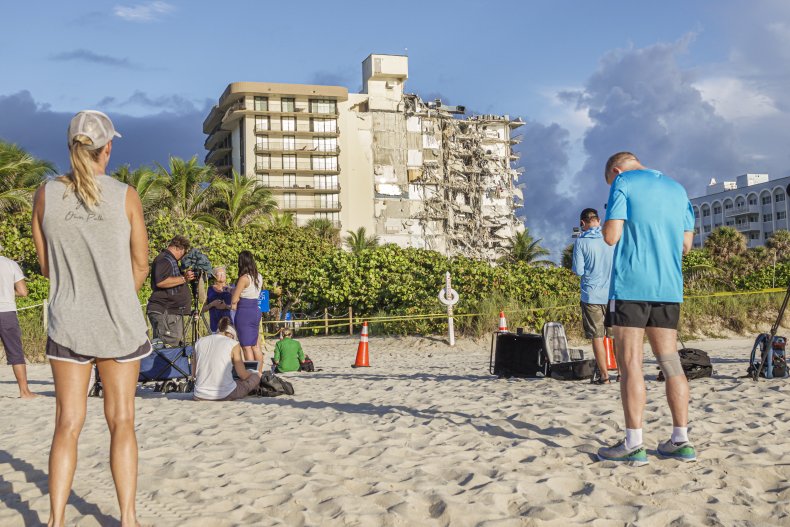 As of Friday, four people have been confirmed dead and 159 missing following the collapse of the beachfront condo building. Cava said that Friday's efforts had yet to uncover any additional individuals.
Structural engineers have advised crews to safely remove debris and push through walls and floors without causing any additional collapses that could harm survivors.
The rescue crews have used search dogs, sonar equipment, video cameras, large excavation equipment and other methods to try and locate people. Their efforts have been only slightly hampered by local rain, Cava added.
"To the families who are waiting for news of their loved ones: We are giving them twice daily briefings with details of exactly how the search is being conducted. We are providing for their living in hotels, their meals. They're with chaplains," she noted.
Of the individuals still unaccounted for, 31 are from six Latin American countries: Six are Venezuelan citizens, nine are Argentine, six are Colombian, three are Uruguayan, six are Paraguayan and one is Chilean.
The Times of Jerusalem reported on Thursday that 20 of the missing individuals are Jewish. It remains unclear whether any are Israeli citizens. Nevertheless, Israeli Foreign Minister Yair Lapid pledged his government's personnel in Miami to offer victims any assistance they require.
Cava also noted that the federal government has "come to the rescue" with disaster relief funds and assistance from the Federal Emergency Management Agency. Both have helped provide additional resources to cover the expensive and ongoing search-and-rescue efforts.
Newsweek contacted the Mexican embassy in Miami for comment.