Mexican Prisoners 'Let Out' to Kill as Cartel Assassins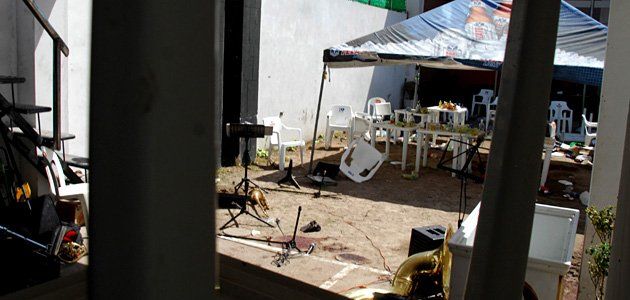 On Saturday, July 17, Héctor José Mota Méndez, 35, was enjoying a party at the Italia Inn in Torreón, in the border state of Coahuila. The fiesta was being held for his birthday—the hall was filled with friends and family who'd been invited via Facebook. People ate, drank beer, enjoyed a local band.
At about 1.30 a.m., as the revelry began to peak, men pulled up in trucks and blocked the exits. They did not say a word before they opened fire with high-velocity assault rifles. Méndez died. So did his brother. Four members of the band died too. Their instruments, covered with blood, lay next to upended white plastic furniture, and plates, cups and abandoned shoes strewn about. By the time the shooting stopped and the gunmen fled, 17 people were dead and 18 wounded. Afterward, examining the bullet-pocked walls, authorities recovered 122 shells, according to the Los Angeles Times.
Initially investigators were puzzled. The killings had all the hallmarks of a drug-cartel hit, but none of those at the party had any connection to the brutal drug war that has deepened in Mexico since president Felipe Calderón dispatched troops to fight cartels in late 2006. The party was advertised as a gay event, but it did not seem like a hate crime.
And then they examined the shells from the weapons. The spent bullets, reports the BBC, matched guns issued to guards at Gomez Palacio prison in neighboring Durango state. State prosecutors now say that a group of prisoners was supplied with guns and official vehicles and released, repeatedly, as contract killers for a drug gang. They are thought to have committed two other mass murders in Torreón this year using the same weapons.
"The criminals carried out the executions as part of a settling of accounts with members of a rival organized-crime gang," Ricardo Najera, a spokesman for the state attorney general, told the BBC. "But they also killed innocent civilians in a cowardly manner before returning to their cells." The prison director and two officers are being investigated. All the prison guards and half the inmates are to be questioned.
State investigators, according to The New York Times, believe that the partygoers on that Saturday night were killed simply because the bar they were in was owned by a rival cartel. They were just in the wrong place at the wrong time, and so their 17 names will now be added to the 25,000 who have died since 2006 in the name of Mexico's drug trade.