Mexican YouTube Star Admits Dissolving Bodies of Missing Students in Acid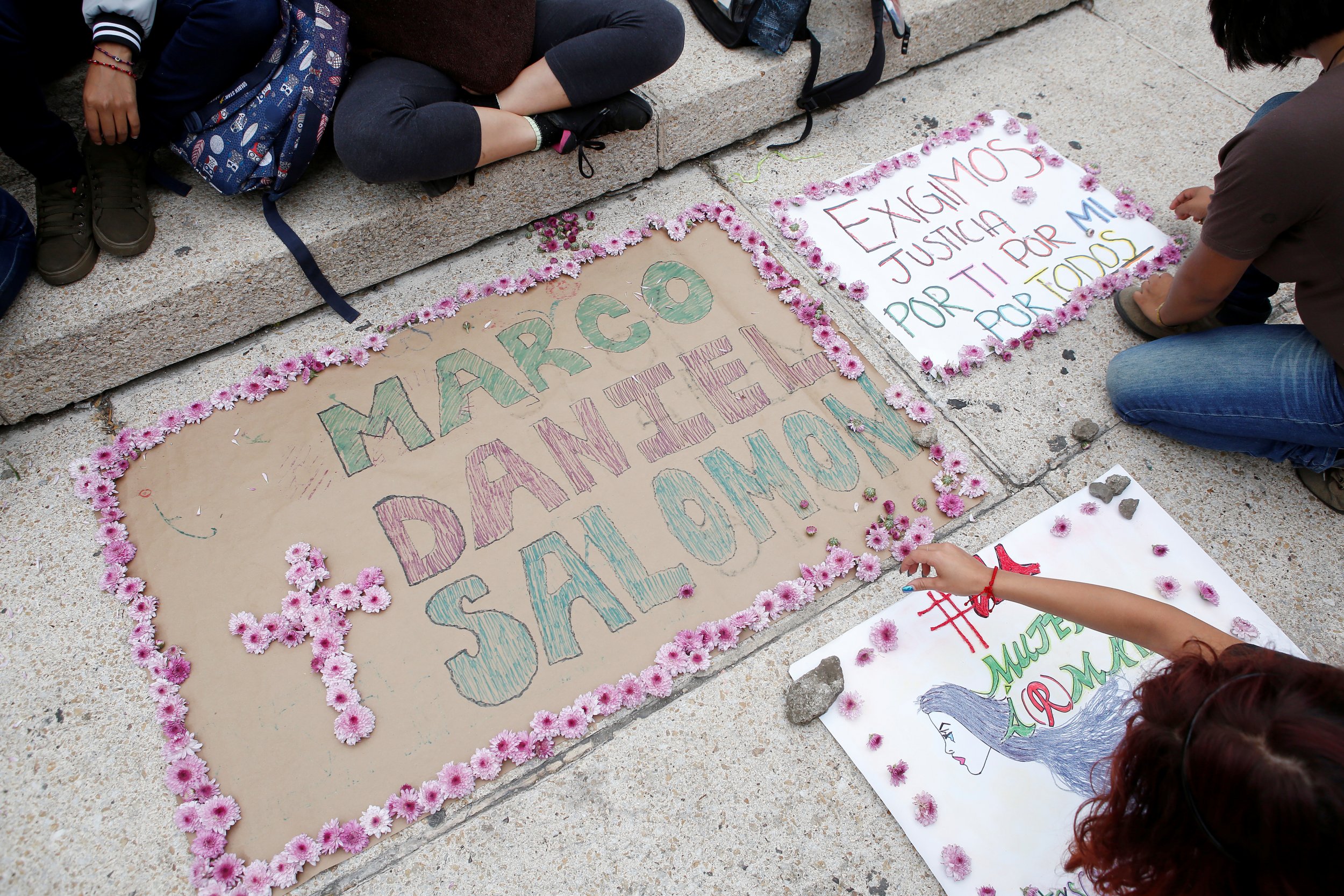 A Mexican rapper and YouTube star has admitted to dissolving the bodes of three missing students in acid, allegedly under orders from the Jalisco New Generation drug cartel.
Christian Omar Palma Gutierrez—also known as "QBA"—told investigators he was the one who disposed of the bodies after they were murdered, AFP reported.
Film students Salomon Aceves Gastelum, 25, Daniel Diaz, 20, and Marco Avalos, 20, were working on a project near a former hangout of the Nueva Plaza cartel in Guadalajara in the western state of Jalisco. New Generation members mistook them for members of the rival gang. When their car broke down on the highway, the trio were abducted by armed men in police uniforms.
Prosecutors believe the kidnappers beat Gastelum to death while attempting to question him, and then decided decided to kill the surviving two. The bodies were taken to another house and dumped in sulfuric acid to destroy evidence.
Gutierrez is one of two people so far detained in connection with the murders. The rapper's YouTube channel has more than 125,000 subscribers and his high-production music videos have millions of views. He told prosecutors he had been involved in three previous murders since being recruited to work for the cartel by a friend, around three months ago.
Though his music videos show luxury cars and designer clothes, Gutierrez told police he was being paid just 3,000 pesos—$159—per week for his work for the cartel.
Chief investigator Lizette Torres told AFP that Gutierrez's videos are forming part of the investigation. The productions depict fellow gang members in the poor neighborhoods of Guadalajara and are built around references to violence, drug use and weapons. Many of the videos show young men using drugs and brandishing firearms at the camera.
Gutierrez and the second detained suspect will be charged with aggravated kidnapping. Police said they are still searching for at least five other suspects. More human remains found at the same sites as the missing students are also being analyzed, an official told Reuters on the condition of anonymity.
Almost 29,000 people were murdered in Mexico in 2017; the country's deadliest year some records began 20 years ago. Another 33,000 people are currently listed as missing. Much of the violence is down to Mexico's U.S.-backed ongoing war on drugs. The war was escalated with the deployment of the military in 2006 and fragmented established gangs, setting smaller groups against each other in a vicious competition for control of the drug business.
The violence will be a key issue in the upcoming presidential election. Tarnished by the ongoing conflict, the ruling Institutional Revolutionary Party—led by President Enrique Peña Nieto—is expected to lose. Politicians have become targets in the lead up to the election as cartels look to eliminate threats to their business and put their allies in office. At least 82 candidates or office-holders have been killed since the electoral season began in September 2017.