Mexico: 10,000 Gallons of Illegal Alcohol Seized in Operation to Protect Tourists' Health
Mexican health authorities conducted an operation to crack down on the sale of tainted alcohol at tourist resorts in Cancún and Playa del Carmen after the suspicious death of 20-year-old American tourist Abbey Conner in January spotlighted the issue.
As many as 31 resorts, restaurants and nightclubs were raided as part of the operation to protect the health of tourists visiting Mexico, the Federal Commission for the Protection against Sanitary Risk (Cofepris) said at a press conference on Friday, resulting in the seizure of 75 gallons of alcoholic beverages found to be produced in breach of health and safety regulations.
Thanks to the raids, the authorities were able to identify a sketchy supplier and alcohol manufacturer for the resorts in the region, seizing 10,000 gallons of illegal alcohol from it.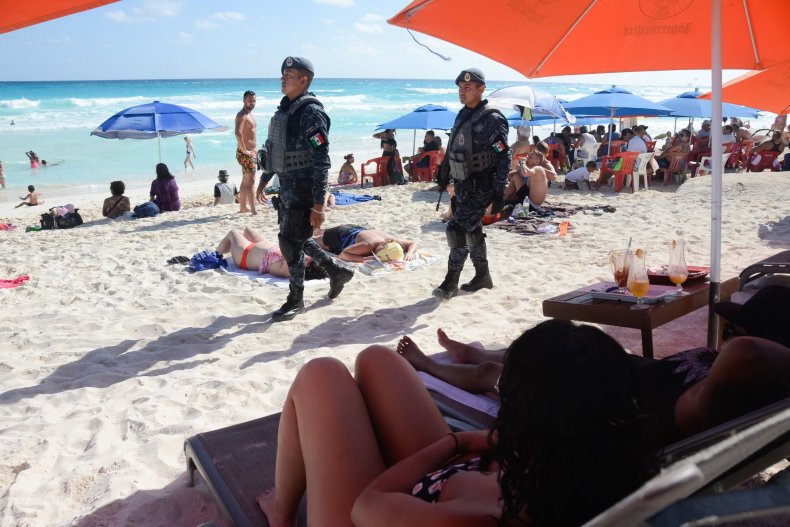 Two bars—the Fat Tuesday in Cancún, and the bar in the lobby of Playa del Carmen's Hotel Iberostar Paraíso Maya—were temporarily shut down after authorities found they did not comply with health and safety requirements or label their alcoholic beverages properly. Twenty more bars and hotels in Playa del Carmen and Cancún—including one of the Hooters bar branches in the latter town—were found to have insufficient maintenance, cleanliness and documentations, Cofepris said.
After an investigation in the Milwaukee Journal Sentinel found several cases of tourists reporting losing consciousness after drinking alcoholic beverages at all-inclusive resorts in Mexico, concerns over the condition of alcohol sold to tourists prompted the U.S. State Department to update its travel warning to the country with a paragraph about alcohol consumption in July.
According to Cofepris, Mexican health authorities have carried out more than 200 sanitary surveillance operations across the country in the past seven years, resulting in the seizure of more than 1 million gallons of illegal alcohol.
Tourists aren't the only ones at risk of drinking illegally produced alcohol in Mexico. A 2015 report from Mexico's Tax Administration Service found that 43 percent of all alcoholic beverages consumed in the country is illegally produced and can endanger people's health, as Conner's death tragically showed.
The young woman and her brother were taken to the hospital after being discovered unconscious in the pool of the Iberostar Paraíso del Mar hotel, where the siblings had consumed a couple of drinks after arriving with their parents a few hours earlier for a family vacation, as the Milwaukee Journal Sentinel reported when reconstructing Conner's case. Conner suffered brain damage, and her parents decided to withdraw life support and follow her wish to have her organs donated.