Mexico Ramps Up Security After Deadliest Year on Record, Interior Ministry Says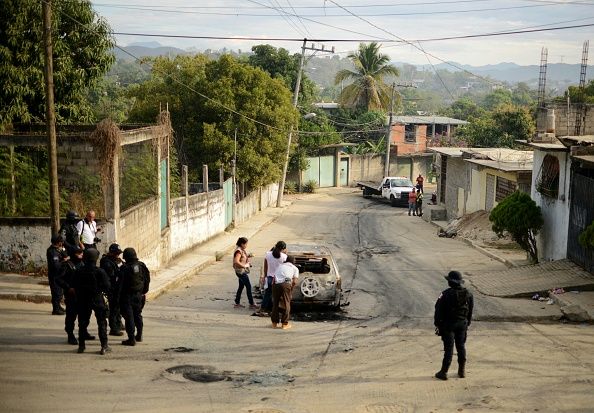 Mexico will be deploying troops to quell violence following one of the bloodiest years in the country's history, in which more than 29,000 people were killed.
The news arrived as the country reported last week that 2017 was their deadliest year on record. The numbers revealed a staggering loss; homicide rates are now higher than they were at the height of Mexico's drug war in 2011 as it struggles to fight bloodshed on its turf.
In an effort to upend the epidemic, National Security Commissioner Renato Sales said on Sunday the plan was "to recover peace and calm for all Mexicans," as Reuters reported.
Many have said that because of how the war on drugs was being handled in its militarized offensive, large cartels had fractured exponentially into small groups. The larger cartels grew weaker while the smaller cells took on a heavier presence, impacting areas that were once regarded as quieter, such as Baja California Sur, northwestern Colima and central Guanajuato.
Over the weekend alone, the official homicide rate in Mexico increased by 25 before the end of Sunday.
Sales said federal troops would work closer to local officials so that known criminals would be brought in from a result of investigations being reinforced. Agents will be deployed in Colima, Baja California Sur and the cities of Cancún and Ciudad Juárez.
Mexican President Enrique Peña Nieto and his predecessor, Felipe Calderón, have sought to cap the fight on criminal gangs. Amid Peña Nieto's past campaign promises to get the numbers of violence down and the upcoming presidential elections this year, the government's crackdown on drug cartels was criticized.
Last month, Peña Nieto put forward a new Internal Security Law, which was approved by the Chamber of Deputies and formalized the military's role in domestic security, according to news website Animal Politico.
The move was met with controversy. Nongovernmental organization Human Rights Watch urged the country to reject the measure, arguing it could curtail "transparency of the military operations or accountability for military personnel who commit abuses."
Last week, left-wing frontrunner Andrés Manuel López Obrador said he would personally take up the fight against violence, advocating that the president's seat would be more engaged through daily meetings with heads of armed forces and more discussions with security officials.
In the past, the Peña Nieto administration rejected suggestions that Mexico was one of the world's deadliest countries. Last week, when President Donald Trump reiterated the need for the border wall, Mexico refuted Trump's assertion by calling it "false."
"While Mexico has a significant problem of violence, it is manifestly false that Mexico is the most dangerous country in the world," Mexico's Foreign Ministry said, citing other Latin American countries that have homicide rates higher than Mexico's.