Mexico City: Claudia Sheinbaum to Become First Elected Woman Mayor, Succeeding Obrador
Claudia Sheinbaum is set to become Mexico City's first elected woman mayor, according to exit polls.
Although Rosario Robles served as interim mayor between 1999 and 2000 after her boss resigned, it is the first time that the country's capital has elected a woman mayor.
Sheinbaum's was the most high-profile victory of the more than 3,000 women candidates who ran in local and state elections across the country, in what the Mexican media dubbed "the year of the women." She won between 47.5 and 55.5 percent of the vote, according to exit polls, El Financiero reported.
In a press briefing on Sunday night, she said (via El Sol de Hermosillo): "We are going to lead a democratic government that makes this city a city of rights—a city that promotes social rights and that respects the human rights and dignity of the people."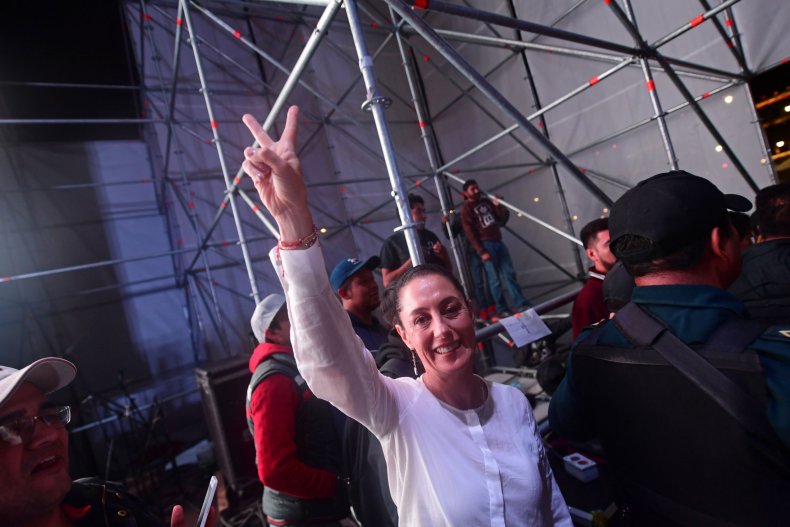 The 56-year-old had served as environmental secretary under Andres Manuel Lopez Obrador when he was mayor. With Obrador confirmed as winner of the presidential election, it's the first time the two roles have been taken by members of the same party.
In 2014, Sheinbaum left the left-wing Democratic Revolution Party (PRD) and joined Lopez Obrador's Moreno Party.
She worked as a scientist and spent four years as a Ph.D. student in California. She has worked as an environmental engineer at the National Autonomous University of Mexico.
On the campaign trail she told a rally, as reported by NPR: "Just because I might look like a skinny scientist doesn't mean I'm not going to crack down on crime here. I will."
Sheinbaum was the environmental secretary under Lopez Obrador when he was Mexico City mayor. She served as district mayor of the capital's Tlalpan neighborhood, which helped launch her mayoral campaign.
She was embroiled in controversy after her district was hit hard by a 7.1 magnitude earthquake in September 2017. A school collapsed, killing 19 children and seven adults inside.
A group of victims' families has brought criminal charges in the case, and wants Sheinbaum investigated over claims that the school's owner was granted construction permits that allowed her to have an apartment built on top of the construction, which destabilized the structure and contributed to the school's. Scheinbaum denies responsibility, reported The Times of Israel in a story not only about Mexico City's first woman mayor but first Jewish mayor, and says it is being used by her opponents for political reasons.
The local and national election campaign trail has been beset by bloodshed, with more than 130 candidates murdered, mostly by gangs wanting politicians friendly to them in power. A study by Etellekt, a risk analysis and crisis management firm, found that assassinations had been carried out in 22 of Mexico's 31 states since September.
Obrador says as president, he will fight corruption and Donald Trump's policies against migrants and Mexico.