Mexico's Day of the Dead: 54 Breathtaking Photos of El Día de Muertos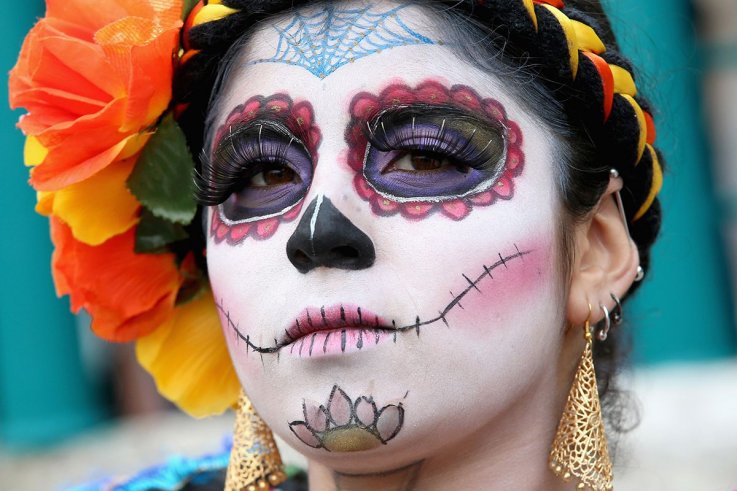 Mexico's Day of the Dead festival has become world-famous thanks to its striking skeleton costumes, flower-strewn altars and age-old rituals. The nationwide celebrations see crowds gather in the streets during the first days of November to honor their deceased loved ones.
Although skull face painting and skeleton motifs are common, their purpose is actually the opposite to the Anglosphere's Halloween celebrations, which take place the night before. Whereas Americans love to scare each other with their deathly costumes, Mexicans dress up in order to become more familiar with death, so they are more at peace when their time comes to pass on.
The Day of the Dead, or El Día de Muertos as it's known in Spanish, dates back to pre-Hispanic rituals. Back then, the summer celebrations centered on the Aztec goddess Mictecacihuatl, known as "Lady of the Dead," and lasted a whole month. When the Spanish colonists arrived, the holiday was blended with the Catholic holidays All Saints' Day and All Souls' Day and moved to November.
Celebrations vary from place to place. In some areas, people decorate grave sites in order to coax their dead relatives to return for a family reunion. Street parties can be found in most urban areas, with celebrants dressed in elaborate skeleton costumes or traditional clothes, and covered in flowers.
Children are often given skull-shaped candy known as Calaveritas. Calaveras, or decorated skulls, date back centuries. Engraver José Guadalupe Posada created a series of hugely popular skeleton engravings in the early 20th century, and his most famous, a woman in a feathery hat known as La Catrina, is now seen as the personification of the festival.
The celebration is so unique that in 2008, The Day of the Dead was inscribed in the Representative List of the Intangible Cultural Heritage of Humanity by UNESCO. The festival begins with preparations on October 31, and ends with the final Day of the Dead celebrations on November 2.
These are some of the most stunning images from Mexico's famous festival.