Mexico Ferry Explosion Caused By Homemade Explosive, Report Says
An explosion that tore through a ferry docked in a Mexican resort town and left more than two dozen people injured was caused by a homemade explosive, a leading local newspaper has reported.
The blast in Playa del Carmen last month is believed to have been triggered from a distance, El Universal newspaper reported, citing an investigation conducted by the Mexican Attorney-General's office and the country's marine secretary.
The newspaper also said the explosion might have been organized by someone with knowledge of mining materials.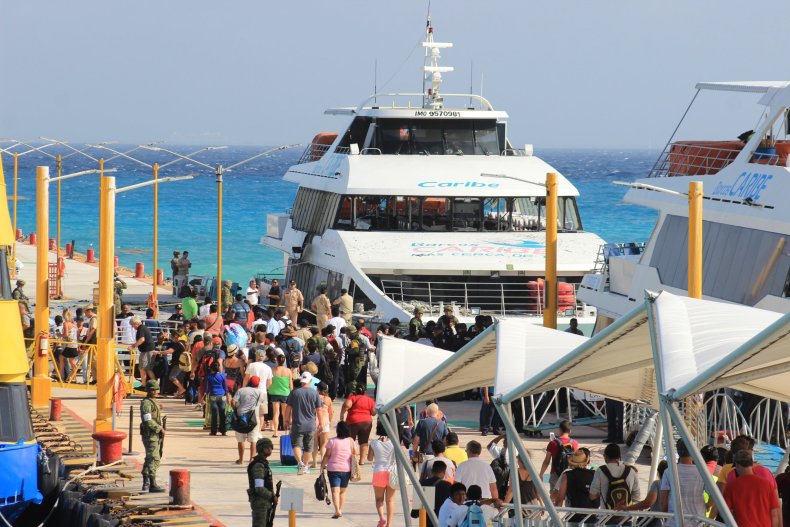 The explosion left at least 25 people injured, including U.S. tourists visiting the popular resort area, roughly 46 miles south of Cancun.
In the wake of the explosion, the U.S. government banned employees from traveling to Playa del Carmen, citing an unspecified "security threat," mentioning the blast in its warning.
The government updated the ban on Friday, limiting it specific neighborhoods in the resort town.
Read more: After Playa del Carmen blast, Mexico Travel Alert Issued By U.S.
The U.S. State Department also advised tourists to exercise "increased caution" in the state of Quintana Roo, which includes Playa del Carmen and Cancun.
Investigators have yet to determine a motive in the explosion.
The ferry that appeared to be targeted in the blast was operated by Barcos Caribe, according to local media reports.
The company is owned by the family of former Quintana Roo governor Roberto Borge, who was extradited from Panama to Mexico in January to face corruption charges, according to Reuters.
Increased drug cartel activities over recent years have marred Mexican tourist destinations.
The U.S. Department of State warns in its travel advisory that "violent crime, such as homicide, kidnapping, carjacking and robbery, is widespread."