President Joe Biden's administration has reached a deal with Guatemala, Honduras and Mexico to help stem the flow of migration.
Tyler Moran, special assistant to the president for immigration for the Domestic Policy Council, told MSNBC on Monday that they've "secured agreements" from each country "for them to put more troops on their own border."
"That not only is going to prevent the traffickers, and the smugglers, and cartels that take advantage of the kids on their way here, but also to protect those children," Moran said, according to a separate report from CNN.
The news comes as the surge of immigrants crossing into the United States, including record numbers of children, continues along the southern border.
In March, border agents encountered the highest number of migrants at the U.S.-Mexico border in at least 15 years. U.S. Customs and Border Protection (CBP) apprehended nearly 172,000 people last month, including roughly 19,000 unaccompanied children.
The number of unaccompanied minors is a 64 percent increase from the previous monthly record, set in May 2019, when nearly 11,500 migrant children traveled to the border to enter the United States.
Moran told MSNBC that the administration is looking to address why people are coming from Mexico and Central America.
"This is really important," he said. "If you just focus on our border, you're not addressing why people are actually coming to our border. The president has a blueprint and he's working with the vice president on this."
Biden announced on March 24 that he was tapping Vice President Kamala Harris to lead efforts to stem migration across the southern border. Harris said at the time there "is no question that this is a challenging situation."
Harris said she planned to work with leaders in the private sector and civil society in other countries, as well as with members of Congress, on the need to address root causes for the migration.
"Needless to say, the work will not be easy, but it is important work. It is work that we demand and the people of our countries, I believe, need to help stem the tide that we've seen," the vice president said.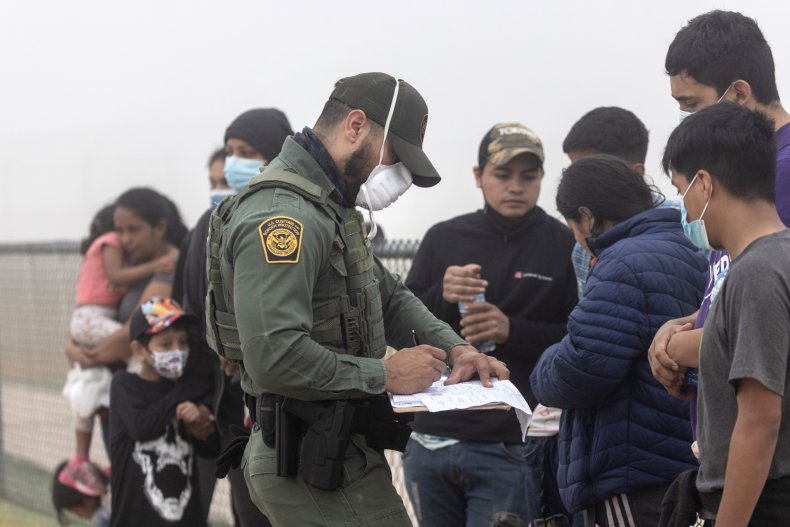 But Biden and Harris have been criticized by conservatives for not visiting the southern border.
Meanwhile, many GOP members of Congress have made trips to immigration facilities in Texas. Last week, House Republican Whip Steve Scalise of Louisiana led a delegation of 10 members to the southern border.
In a video posted to Twitter allegedly showing migrant children crossing into the country illegally, Scalise blamed Biden's policies for creating a situation that "is out of control."
Newsweek reached out to the White House for additional comment on the agreements with Guatemala, Honduras and Mexico but did not receive a response before publication.