Mexico Kidnapping: Who is Footballer Alan Pulido?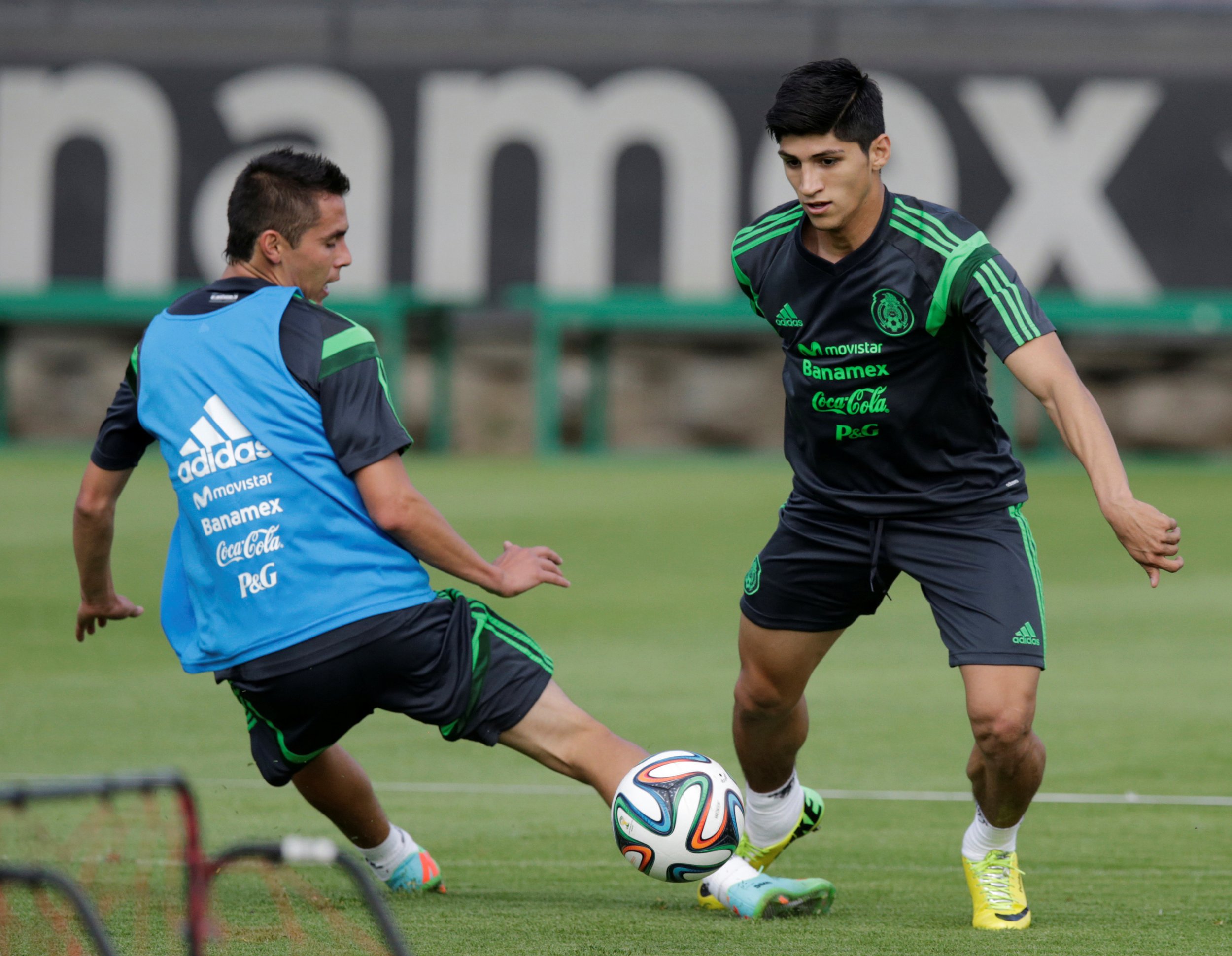 Mexican international footballer Alan Pulido has reportedly been freed following a kidnapping ordeal.
Pulido, 25, was kidnapped late on Saturday evening in Ciudad Victoria, in Mexico's northeast Tamaulipas state, after his car was reportedly intercepted by several trucks and the footballer abducted by masked gunmen.
The state government issued a statement early on Monday to say that the striker—who went to the 2014 World Cup in Brazil with Mexico but did not play at the tournament—had been rescued in an operation led by the Tamaulipas Coordination Group. The statement said Pulido is now being medically assessed. Mexican media outlet Noticias MVS published a video purporting to show Pulido alongside Tamaulipas state governor Egidio Torre Cantú, who addresses reporters on the rescue operation. Pulido has a bandaged right hand but otherwise appears healthy.
The striker, who plays his club football for Greek champions Olympiakos, broke into the Mexican national squad in style in January 2014, scoring a hat-trick on his debut against South Korea. He has so far scored four goals in six appearances, but did not manage to get any game time at the last World Cup. He has been left out of Mexico's squad for the Copa America—South America's leading international tournament which kicks off in June and is being hosted by the United States—due to an ongoing legal wrangle with his former club Tigres.
Pulido played for Tigres' senior team in Monterrey for four years between 2010 and 2014. Following the 2014 World Cup and amid transfer interest from several European clubs, Pulido declared that his contract with Tigres had expired and that he was a free agent. The Mexican club denied this and so started a legal dispute that continues until the present. In January 2015, Pulido announced that he had joined Greek side Levadiakos, for whom he played six games before being signed by Greek giants Olympiakos in July 2015. The Mexican scored five goals in eight games in his first season at Olympiakos, including the third goal in a 3-0 win over Veria in February which meant that the club clinched its 43rd title with six games to spare.
His kidnapping led to an outpouring of concern by teammates and fellow footballers on social media. These included former Manchester United and Real Madrid striker Javier Hernandez—known by his nickname of Chicharito—and Mexican international goalkeeper Guillermo Ochoa.
Tamaulipas is on the border with Texas and has one of the highest kidnapping rates in the world, with government figures estimating that at least 1,000 people are abducted each year, though the figure may be much higher, the BBC reported. The state is the site of a bloody dispute between criminal syndicate the Gulf Cartel and its former armed wing Los Zetas, which split from the Cartel in 2010.