Weed Ban Sticks in Gang-Ravaged Mexico While U.S. Opens Up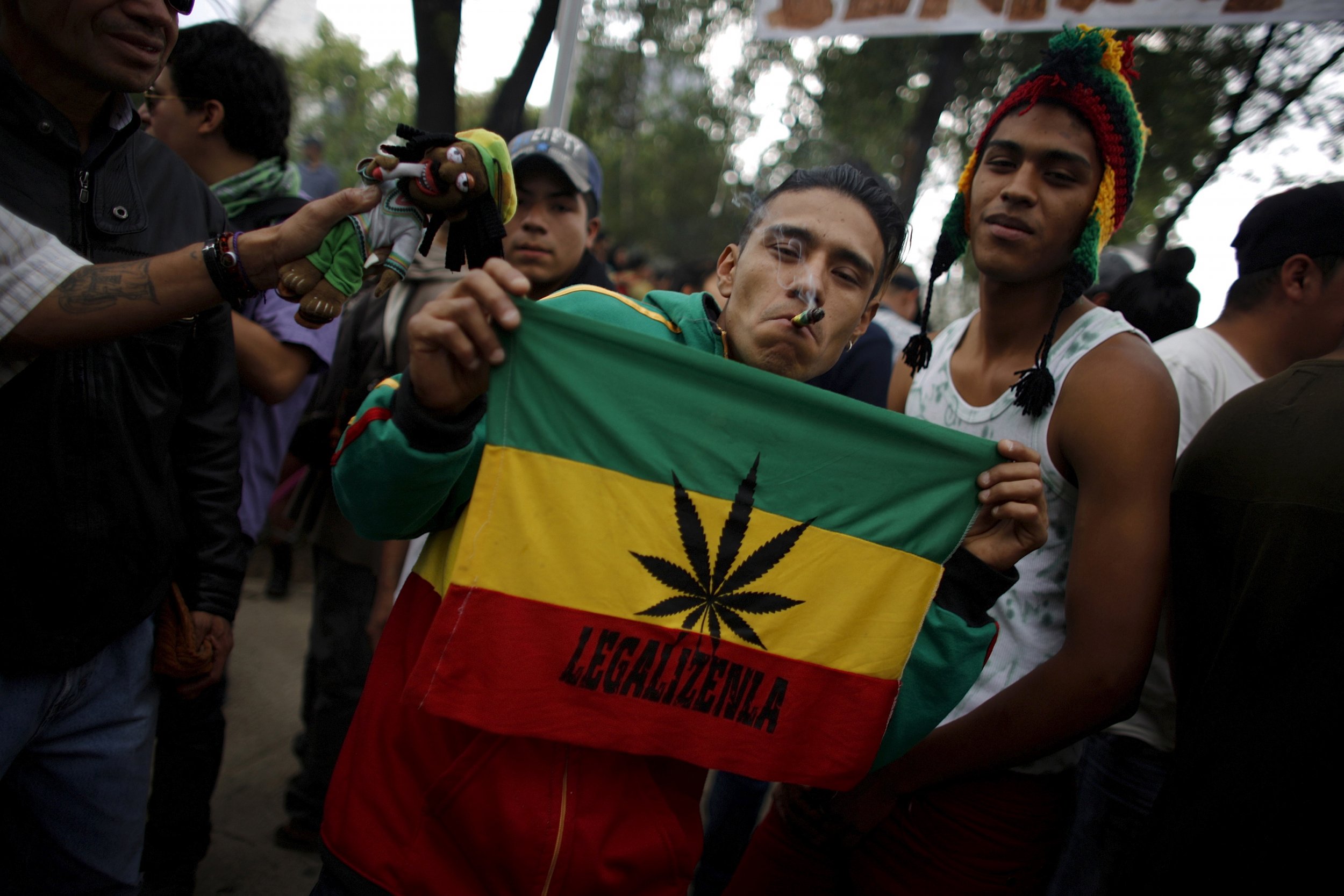 Mexican advocates for drug reform are voicing alarm about the country's widening gap with the United States on marijuana legislation, as criminal violence surges again south of the border.
Tens of thousands have been killed over the years in Mexico, on the front line of a U.S.-led war on drugs. The country's prohibitionist approach to marijuana is increasingly at odds with the United States, where liberalization is advancing.
California in November became the first state on the U.S.-Mexico border to vote for comprehensive cannabis legalization, further pressuring Mexican legislators to change policy.
Earlier this month Mexico's Senate duly passed a limited medical marijuana bill. But it has yet to be approved by the lower house and critics say it is still far too little.
"It's a teeny, tiny reform for an enormous problem in the country," opposition leftist senator Mario Delgado said during the discussion of the medical marijuana bill.
"It's absurd that on this side of the border we continue with the violence, the deaths; and on the other side ... this same drug is considered legal for recreational use."
Driven by widespread gang violence, murders are on track to breach the 20,000 mark in 2016 for the first time in four years, adding to more than 100,000 gang-related deaths in the decade since the government began a military-led crackdown on drug cartels.
Many thousands more have disappeared.
Pena Nieto said in 2014 that Mexico could not pursue diverging paths with the United States on marijuana. Earlier this year, he submitted a bill to close the gap on U.S. legislation. But his own lawmakers have been reluctant to follow his lead.
Starting with Washington and Colorado in 2012, U.S. states have begun to legalize recreational use of marijuana, and many more now permit medicinal use, as does Canada.
California, which has an economy roughly twice the size of Mexico's, was widely seen as a bellwether for a shift in policy.
Mexico's Supreme Court last year set the ball rolling in a landmark case, granting four people the right to grow and consume weed, and inspiring hope for change.
In April, Pena Nieto proposed decriminalizing possession of up to 28 grams of marijuana for personal use, and said it would allow people jailed for holding up to that amount to go free.
But senators in his Institutional Revolutionary Party (PRI) put the initiative on ice, saying it "requires a greater analysis," and only backed medical marijuana use.
The PRI blamed heavy losses in state elections in June on Pena Nieto pushing a liberal agenda, notably his bid to legalize gay marriage, said Lisa Sanchez, drug policy director at the organization Mexico Unido Contra la Delincuencia.
"They immediately transferred that discussion into the drugs issue by saying, 'If we go too liberal, we might lose more elections,'" Sanchez said.
Opinion polls show that while there is public support for medical marijuana use, Mexicans are still resistant to the idea of an outright liberalization of the drug for recreational ends.
While Congress procrastinates, some people are even taking advantage of the U.S. opening, said Jaime Andres Vinasco, a doctoral student at university Colef in Tijuana, a border city synonymous with Mexican drug traffickers selling to U.S. buyers.
In Tijuana, moneyed consumers enjoy medical marijuana brought over from California dispensaries that is more potent and of higher quality than local weed, said Vinasco, who has spoken to users and dealers for his research on the reverse flow.
"The cannabis from California, for the Tijuanenses, or residents of Tijuana, has become, for the great majority, a luxury item," he said. "Quite a paradoxical phenomenon."