Mexico's President-Elect Obrador Stuck For Hours on Commercial Flight After Vowing to Sell Presidential Plane
Mexican President-Elect Andres Manuel Lopez Obrador has vowed to sell the country's presidential plane as part of his populist crusade against corruption.
But the leftist leader could be forgiven for having second thoughts after getting stuck on a commercial jet for several hours Wednesday due to bad weather while on his way to the Pacific beach resort of Huatulco.
Obrador, who will be inaugurated on December 1, was among hundreds of passengers stranded at Mexico City's airport after the hub closed due to particularly bad weather as the country experiences its rainy season, Reuters said.
But despite his frustrating delay, Obrador said he will not call off the sale of the presidential Boeing 787 Dreamliner, purchased by current President Enrique Peña Nieto for around $218 million.
"I'm not going to change my mind because of this, I won't get on the presidential plane," Obrador said in a video taken while the aircraft waited on the tarmac. He and his fellow travelers were eventually delayed by four hours, three of which was spent sat on the plane itself.
Obrador comfortably won July's presidential election by securing 53 percent of the vote against three competitors. His populist and anti-corruption message set him apart from more established politicians, propelling him to a landslide victory.
On the campaign trail and since becoming president-elect, Obrador has sought to portray himself as a man of the people, intent on making government more accountable and transparent.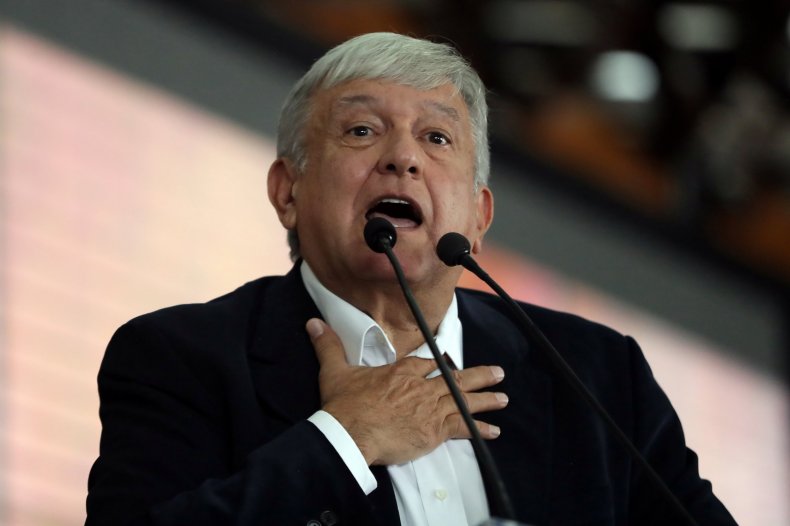 Alongside ditching the luxury plane, Obrador said he will stop other officials using private jets and helicopters to travel around the country. "We cannot have a rich government and a poor people," he explained.
He has already said he will not live in the presidential palace in Mexico City, known as Los Pinos—the Pines. "I won't live in a mansion of any kind," he vowed, promising instead to turn the building into a public arts center.
Despite Mexico's rampant violent crime—including towards politicians—the president-elect has repeatedly said he will not maintain a security detail. After his election victory, he told reporters bodyguards would not be necessary as he would have the protection of the people.
"He who fights for justice has nothing to fear," Obrador argued, and told a rally in May, "I don't want to go around surrounded by bodyguards. I want you to take care of me, I want the people to look after me."
Obrador's salary will be less than half that of predecessor Nieto as per the president-elect's own orders. He said the savings made—and helped by reduced wages for other public officials—would be passed on to normal citizens.
The new president will earn around $5,000 each month and no other government official would be allowed to earn more than him. "The teachers will earn more, the nurses, the doctors, the cleaners, the police, the soldiers, the marines," he has said.