Mexico Presidential Election Results: Meet Anti-Trump Winner Andrés Manuel López Obrador
Mexico chose left-leaning Andrés Manuel López Obrador to become its 58th president for the next six years, in what is considered the country's largest election in history.
López Obrador of the Together We Will Make History coalition won the election with more than 40 percent of the vote, defeating Ricardo Anaya from centrist For Mexico to the Front coalition, who obtained 27.6 percent of the vote. José Antonio Meade of the Everyone for Mexico coalition came in third place, with 18.3 of the vote, and Jaime Rodriguez Calderón "El Bronco," who ran as an independent, pulled in about 5.2 percent of the ballots. Mexico's former first lady and independent candidate, Margarita Zavala, dropped out of the race in May because her campaign lacked funding and failed to garner support from more than 10 percent of likely voters, according to polls.
Eligible voters also cast their ballots for more than 3,000 posts at the state and federal level, which also include the election of eight governorships, 500 chamber of deputies and 128 Senate seats. López Obrador's coalition is projected to win most of the congressional positions. This is the first time in 21 years that a party will hold control over both legislative chambers and the executive office.
In addition, Mexico City residents elected Claudia Sheinbaum, also from Together We Will Make History, will become the first female mayor.
Mexico's presidential campaign took place amid allegations of electoral fraud, reports of Russia's possible meddling and rampant violence against public servants. As the country embarked on a new electoral campaign, more than 132 politicians and party employees were killed since last September, according to local reports. However, the National Electoral Institute declared a "peaceful polling day" on Sunday.
López Obrador, who also goes by his initials AMLO, has been in Mexican politics for more than 40 years. He first joined the Institutional Revolutionary Party in 1976 but left it in 1988 over internal problems and ideological differences. In 1989, AMLO became a member of the social democratic Party of the Democratic Revolution, which he led between 1990 and 1996. He served as Mexico City's mayor between 2000 and 2005 and ran for the Mexican presidency in the 2006 and 2012 elections. At the age of 64, AMLO ran for the third time this year.
A father of four, López Obrador has married twice. AMLO is also nicknamed "El Peje," for pejelagarto, a fish from his native Tabasco state in southeast Mexico. AMLO has often been called a populist, especially since the 2006 election cycle, when he received 35.51 percent of the vote but lost by a razor-thin margin against then-conservative hopeful Felipe Calderón. AMLO then alleged electoral fraud, proclaimed himself to be a "legitimate president" and spearheaded massive protests that led to a political crisis and street manifestations for months. However, his efforts did not upend the results, and Calderón assumed power until 2012.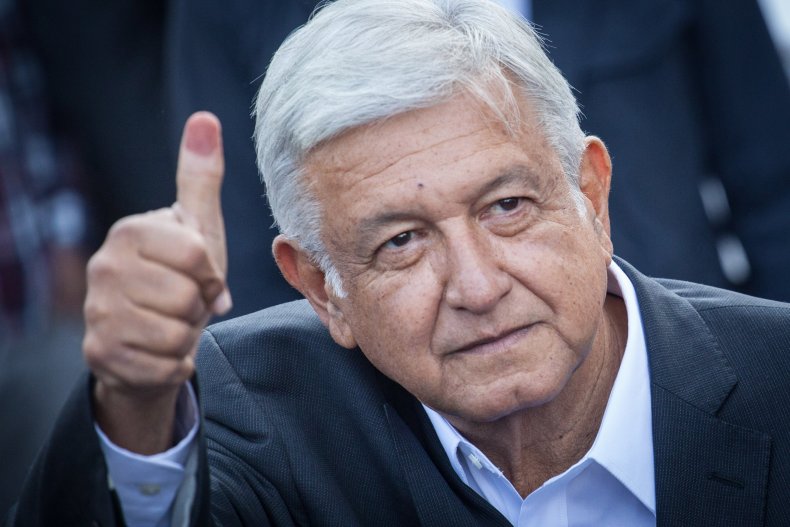 AMLO's presence in politics has stoked fears, and this election was no exception. For years, López Obrador has been compared to Venezuela's late leader Hugo Chávez because of his populist ideas, including the construction of oil refineries, the reduction of oil prices and equal distribution of wealth among the population, to name a few reasons. Even staunch detractors, such as former President Vicente Fox, accused him of wanting to implement the same policies that had led to Venezuela's economic and humanitarian crisis.
But some experts believe this tactic did not work this year.
"Mexico is not Venezuela—it boasts a diversified economy based on exports and led by advanced manufacturing; oil represents less than 10 percent of its economy. And AMLO is not Chavez. He is a distinctly Mexican nationalist populist," Shannon K. O'Neil, Mexico expert at the New York-based Council on Foreign Relations, told Newsweek.
Duncan Wood, director of the Wilson Center Mexico Institute in Washington, D.C., echoed the same thoughts. "Mexicans no longer believe the tactics of comparing AMLO with Nicolás Maduro or Chavez. This has more resonance among upper-middle classes, but it doesn't among with people in the poorer echelons of society. AMLO's economic policies are based on free trade and foreign direct investment, so this is an economic platform that any center or center-right candidate would actually be happy to embrace."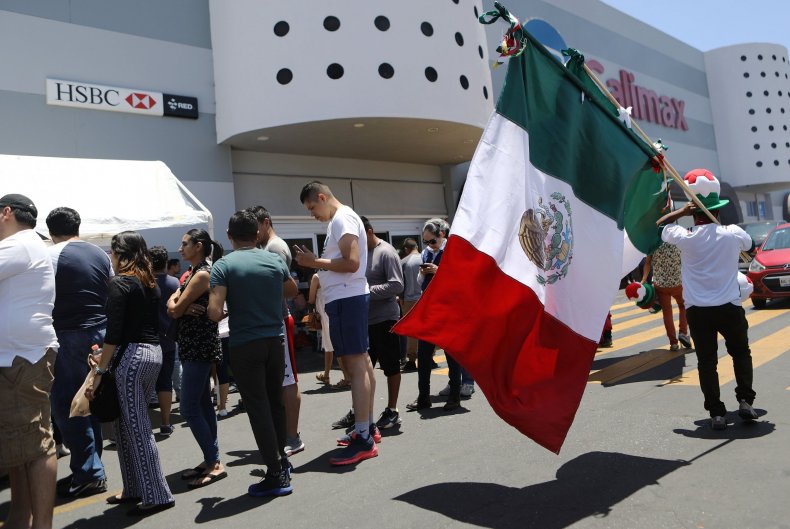 However, this doesn't mean AMLO's presidency won't face hurdles. Here are some of the biggest challenges the new president-elect will face when he assumes power on December 1.
President Donald Trump, NAFTA and Immigration
Following the election's results, Trump lauded AMLO via Twitter Sunday evening. "Congratulations to Andres Manuel Lopez Obrador on becoming the next President of Mexico. I look very much forward to working with him. There is much to be done that will benefit both the United States and Mexico!"
López Obrador's candidacy has been hailed as "Mexico's response" to Trump's protectionist policies. As Trump's stance on the North American Free Trade Agreement (NAFTA) has stagnated renegotiations with Canada and Mexico, some experts believe that AMLO could take the same draconian approach, especially since he pledged to untether Mexico from U.S. agricultural imports and promised the creation of oil refineries.
"The main threat of protectionism still comes from the United States," O'Neil said. "AMLO's government may help some of his supporters and constituencies through subsidies and protections. He has talked of promoting both food and energy sufficiency through supports for small farmers and by building refineries in Mexico. This could affect U.S. agriculture and southern U.S. refineries."
Others argue that the next president must take a different take on NAFTA negotiations. "We must forge meetings with U.S. business people who benefit from this treaty, mainly farmers and those who work in the automotive industry, that way they can pressure the president and members of Congress to ratify NAFTA," Angel Ávila, spokesperson for Anaya's For Mexico to the Front coalition, spoke with Newsweek prior to the election results. "It'll be a disaster for Mexico and the U.S. if there is no solution because many jobs would be at stake."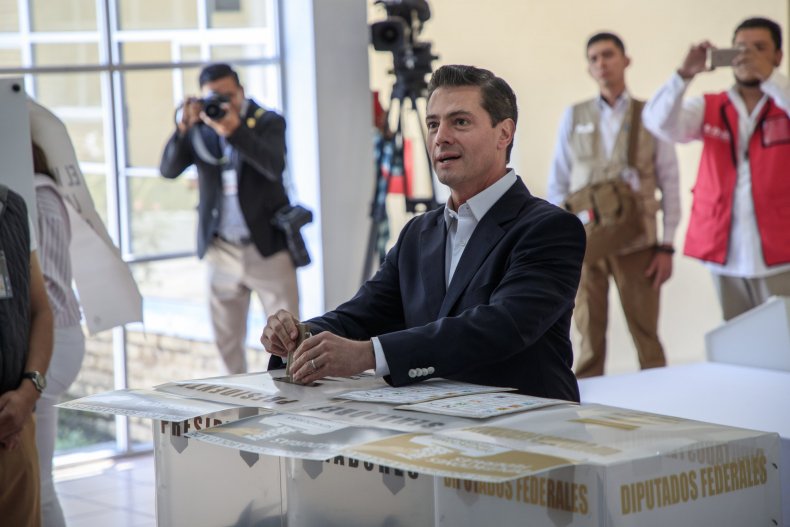 Despite these differences, AMLO very much resembles Trump in personality.
"It's important to recognize him as an economic nationalist, and in that sense, there is a great deal that he has in common with Donald Trump," Wood said. "AMLO talks about producing food, gasoline and automobiles in Mexico. He wants to bring much more production back to Mexico, which is very similar to Donald Trump's rhetoric. He has been criticized for having authoritarian tendencies. He doesn't like people to disagree with him, so that's another thing he has in common with Donald Trump."
When it comes to immigration, AMLO and the other candidates had also criticized Trump's handling of militarization across the border in April. López Obrador said that the president "is using this campaign as propaganda against Mexico...he says that there is a threat alongside the U.S.-Mexico border, but there is no such threat."
The Mexican president-elect also condemned Trump's "zero-tolerance" policy that had separated migrant children from their families, calling the president "oppressive, racist and inhumane." AMLO had pledged to stand up to any "repressive" immigration policies from the White House if were elected president of Mexico. "With the triumph of our movement, we'll defend migrants from Central America, Mexico and from all over the continent … it's a human right we will champion," he told a crowd in the city of Culiacán this month.
Little, however, may change between the two countries.
"Much of the relationship will continue as it has—day-to-day interactions between assistant secretaries and others on both sides of the border. But the guarded silence of [President] Peña Nieto in response to Trump's tweets and taunts will likely end," O'Neil said. "AMLO may not confront Trump directly, but he knows how to play to his own political base, and it has always involved standing up for the little guy. Within Mexico domestically that has been against their elites. But internationally, Trump is the consummate foil."
Organized Crime
Mexico has grappled with rampant violence ever since former President Felipe Calderón declared war against drug cartels in 2006. In 2017 alone, there were more than 29,000 homicides—the highest number since 1997, according to The Guardian. Murder investigations increased by 40 percent last year when compared with 2013, when outgoing president Enrique Peña Nieto completed his first year in office.
AMLO's comments about offering amnesty to those involved in the drug trade sparked controversy, but others believe that Mexico must initiate coordination among several police forces and that cooperation between corrupt authorities and criminals would end.
"We have lived the bloodiest six years in our country, so a new strategy [from the next president] is needed. Mexico has a deficit of 200,000 policemen and we need them to be better paid so that we can withdraw the military from the streets," Ávila said. "We need to dismantle the entire organized crime, and not just arrest drug kingpins."
Ávila added that the Finance Ministry "could work with the financial intelligence to take over earnings from drug cartels." At the same time, he added that Mexico "must stem the flow of guns coming from the United States because they fall on the hands of drug cartels" and it needs to "create an employment program for the youth so that they are not being lured to join organized crime."
Notwithstanding, there is no easy way out from Mexico's bloodshed. "There are no new ideas on how to tackle organized crime. If we're talking about amnesty for small drug producers, that is not going to solve the problem," Wood said. "Will AMLO withdraw the military from the streets? No, because this will create a power vacuum that organized crime will quickly fill. This will take at least a generation before we see a resolution."
Latin America
Migration from Central America has also prompted Mexico to look south of its border. The Southern Border Plan, implemented in 2014 with help of the U.S., has deployed migration agents, marines and local authorities to establish a containment zone in the Chiapas state, near the Mexico-Guatemala border. Since the plan's inception, Mexico has deported more than 500,000 Central American nationals, despite Trump's tweeting that it "is doing very little, if not NOTHING, at stopping people from flowing into Mexico through their Southern Border."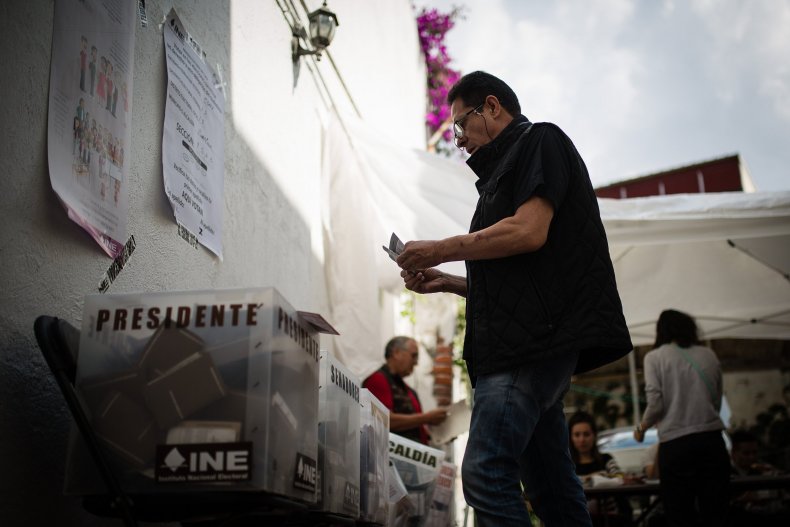 Given Trump's rhetoric, some observers believe it is time for Mexico to strengthen ties with Latin America.
"Mexico must find new roads. Because we have been dependent on the U.S. for so many years, we haven't been active in strengthening bonds with our southern neighbors. We should preserve Mexico-U.S. relationship, of course, but this should serve as a lesson to change our focus," Enrique Torres, spokesperson for El Bronco's campaign, talked to Newsweek before election night results.
"Economically, Mexico is a North American country, so perhaps that's the reason why it hasn't been the most effective leader for the Latin American region," Wood said. In this case, "AMLO will begin to turn south and he will reach out to all of the Latin American leaders, both on the left and the right. A lot of Mexicans, given the current climate with the U.S., will celebrate that."
For Anaya's spokesperson, "Mexico must assume its role of Latin America's leader. Let's not forget Mexico was an important signatory of the Contadora Group in the early 1980s that help tackle the issue of guerrillas in Central America." Ávila added, "We must establish a more open relationship with South America's economic blocs such as MERCOSUR so we don't depend so much on Washington."
What Lies Ahead
Amid the challenges that await the president-elect, it remains to be seen what kind of president López Obrador will be.
"The question today is which AMLO from the campaign turns up to govern," O'Neil said. "Through him and his surrogates, we have seen multiple and conflicting positions on everything from education reform to energy policy, from the future of the bureaucracy to their security plans. Many proposals are pragmatic, others are extreme."
The number of legislative seats clinched by the president-elect's coalition, however, will pave the way for his policies. "It would be easy for him to work with his coalition partners and some of the members of other parties to put together a majority in Congress," Wood underscored. "López Obrador doesn't have to construct an alliance like Peña Nieto did with his Pact for México. AMLO will have enough seats in Congress, so he'll only have to convince members of other parties to cross over."
Ávila said that Anaya's coalition—which is composed of the National Action Party, Party of the Democratic Revolution and Citizen Movement—signed a treaty that, regardless of the result, will work together in Congress. "We want to push much-needed changes in our country, such as the appointments of an anti-corruption attorney and the nation's attorney general, whose nominations have been stalled in Congress," Ávila added.
For El Bronco's spokesperson, the biggest challenge will be to close the political divide in Mexico. "With the exception of El Bronco, this entire presidential race has been confrontational, provoking a division among Mexicans," Torres said. "We all want a better country, but Mexicans should also change their attitude and understand that one leader cannot be wise enough or strong enough to change or transform Mexico."
Torres later added, "If El Bronco is not elected president, he'll take a conciliatory approach and support [the president-elect] because if the president does well, so will Mexico."